'Novichok' brand now a rapidly-growing trademark for Russian products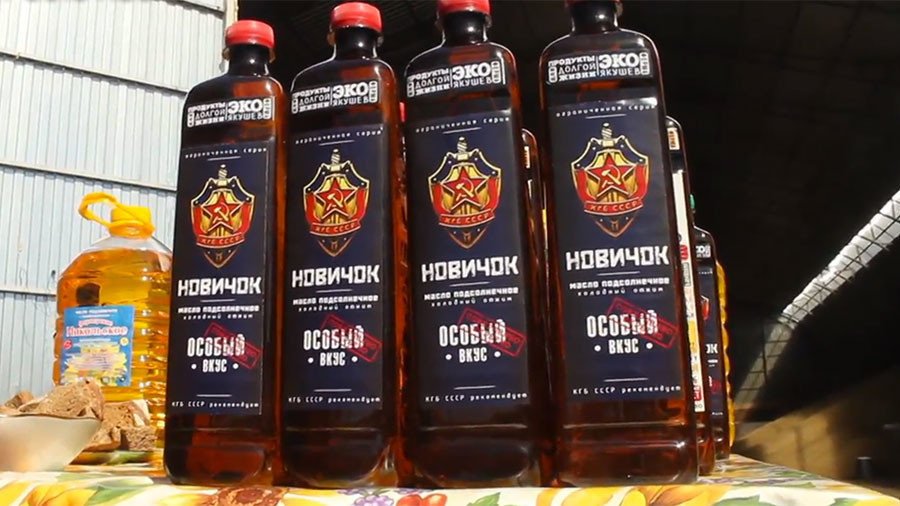 Many Russian companies are now registering products under the 'Novichok' trademark – the chemical the UK says poisoned ex-spy Sergei Skripal and his daughter Yulia. From sunflower oil to detergents, 'Novichok' is the new black.
The Russian Federal Service for Intellectual Property (Rospatent) has confirmed that it received several applications for the Novichok name. "The applications concern alcohol and non-alcoholic products, pharmaceutical products," the service told RIA Novosti.
The hype around 'Novichok' first appeared on Russian Twitter and Instagram accounts, where users uploaded photos of sunflower oil under the name – with a KGB logo on the bottle. The mayor of Shikhany – a closed town in the Saratov region – has said his administration plans to copyright a 'Novichok' brand of household detergents. The town is famous for being the location of the Shikhansky chemical testing ground of the Soviet Army.
Various British media outlets have claimed the chemical, which poisoned the Skripals in Salisbury, England back in March, was developed in Shikhany. In an interview with RIA Novosti, Shikhany Mayor Andrey Tatarinov thanked the British media for promoting the small town. "No-one knew about us before they started this promotion campaign."
London has accused the Russian state of involvement in the poisoning of Skripals but Moscow categorically denies this.
For more stories on economy & finance visit RT's business section
You can share this story on social media: