'English tourists wanted a cocktail - we gave them one!': Russian mixologist explains Novichok drink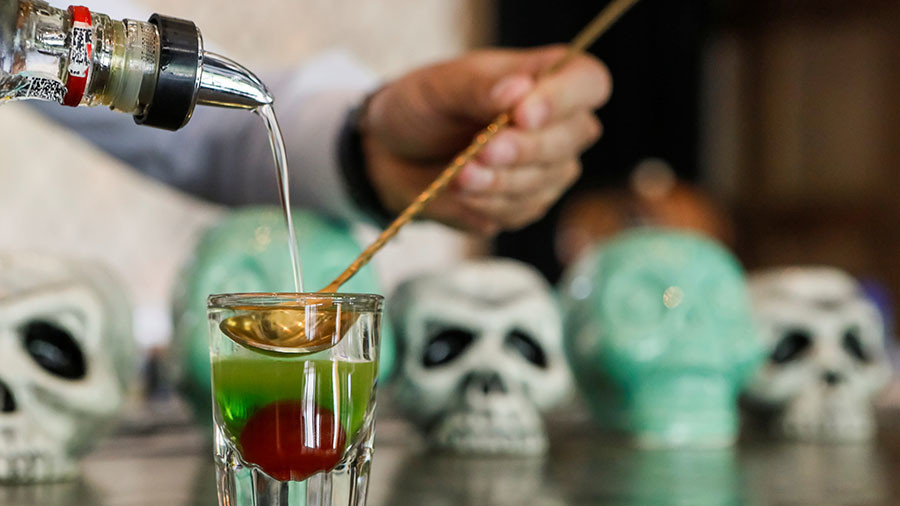 A Volgograd barman has revealed how a chance get-together with English tourists led to him creating possibly the world's most controversial cocktail – named 'Novichok'. Volgograd will host England's game with Tunisia on June 18.
Infamous nerve agent 'Novichok' gained widespread notoriety when it was allegedly used in the poisoning of former spy Sergei Skripal and his daughter Yulia in Salisbury. The incident led to a major diplomatic row, with the UK accusing the Russian government of responsibility for the attack.
Brazen barman Denis Kamaev, art-director and mixologist-in-chief at the popular 'Gradushka' establishment, explained that he christened the new concoction as he hung out with English tourists exploring the town on the Volga River.
England fans will descend on Volgograd for the Group G opener with Tunisia on June 18 at the brand new Volgograd Arena, where supporters of The Three Lions will be able to sample the aperitif.
Kamaev said: "Quite recently we had English tourists visit us here. They are really nice people, nice guys. We hung out together."
Regarding the tense political climate between the two nations' governments, Kamaev said that there was brief reference to the topic, but a light-hearted libation managed to break the ice and warm the cockles – all in one swig.
READ MORE: 'Questions need answering': Academics pull apart UK's Skripal poisoning claims
"We understand that everything is blown out of proportion on television, and by the UK government. It is simply politics.
"Actually we were hanging out with these guys and we of course brought up the subject because there is no chance to avoid it.
"They [the England fans] themselves suggested we make them a cocktail and we made them one and named it 'Novichok'."
Last week, the bar posted a mock video of the cocktail being made to its page on Russian social media network VKontakte. Entitled 'Football fans in Volgograd meet Novichok,' it begins with news reports on the Skripal case.
The clip shows barmen dressed much like the characters in hit US television series 'Breaking Bad' receiving a mysterious package before preparing the drink in a mock-laboratory decorated with quintessential Soviet decor, such as a portrait of Stalin.
A message reading "Novichok by Soviet Union," follows. Then an explosion occures before the words, "For Fans of England from Volgograd with love" appear on the screen.
READ MORE: 'The Lieutenants' Team' - The story of CDKA, Russia's unbeatable wartime footballers
The entrepreneurial bar caused a stir with several Western media outlets when the video was posted last week, but cocktail creator Kamaev underlined that the English "newcomers" were the original inspiration for 'Novichok' – which went down well.
Aside from Volgograd, the Russia 2018 World Cup will be held in 12 host stadiums in 11 host cities from June 14 to July 15.
You can share this story on social media: