'The Lieutenants' Team' - The story of CDKA, Russia's unbeatable wartime footballers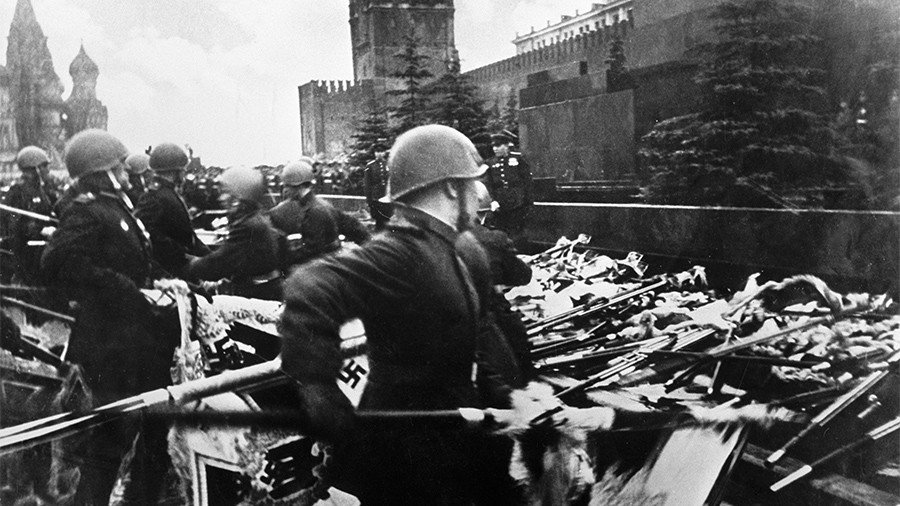 On May 9, Russia celebrates 'Victory Day' to commemorate the veterans of World War II. In tribute, RT Sport brings you the story of Russia's greatest wartime team – CDKA.
The outbreak of World War II in 1939 largely truncated football leagues worldwide while conflicts raged across the globe. Nevertheless, football and war overlapped as footballers and soldiers became one and the same.
Poignant tales are recalled of prisoners of war playing matches against guards with their freedom at stake or bitter enemies emerging from trenches to mark Christmas Day with a friendly game in nomansland.
Russia has its very own story of preserving footballing traditions despite devastating war, suffering and loss. It's embodied by The Central House of the Red Army football team – or CDKA – who became the all-conquering side of the wartime and post-war eras.
CDKA already had long-established military roots. It had been founded by members of the Red Army under the Tsar as the Society of Ski Sports Amateurs in 1911 and, after the Russian Revolution of 1917, the Red Army began to encourage sports activities in military units – especially in the cavalry.
In March 1942, eight months after the beginning of the 'Great Patriotic War,' CDKA footballers were sent on a fast-track course in physical education and, upon completion, they received the rank of junior lieutenant.
The moniker 'The Lieutenants' Team' stuck, and the most talented footballers in the country were immediately given this rank after they joined the squad. Consequently, the CDKA team had a huge pool of talent from which to choose.
Fabled strike duo Grigory Ivanovich Fedotov and Vsevolod Mikhailovich Bobrov spearheaded the CDKA attack. The latter of that duo was such a talented sportsman that he also turned out for CDKA ice hockey and bandy teams, winning a 1956 Olympic gold medal in the former.
They were joined in the squad by left winger Vladimir Timofeyevich Dyomin, a previous Soviet title winner with Spartak Moscow, the People's Club, in 1939.
Perhaps the most important piece of the CDKA jigsaw was added when manager Boris Andreevich Arkadyev joined the club from rivals Dinamo Moscow – the team generally recognized as representing the police force – in 1944.
Arkadyev had already carved out a reputation as one of Russia's top coaches; having won the Russian championship in 1940, he was awarded the highest Soviet sporting honor in 1942: Merited Master of Sport.
But the recognition proved a jinx as Arkadyev then endured a league title drought, eventually being sacked for his lack of success.
Arriving at CDKA, Arkadyev was intent on providing his charges with an acid fitness test and immediately began daily training camps lasting two to three hours. The camps focused on technical aspects but also featured gruelling 8-10km cross-country runs, designed to whip the players into shape and seek out weak links.
These players formed the core of the USSR team which made its international debut at the Helsinki Olympics in 1952 with Arkadyev at the helm.
However, they found it difficult to repeat their club feats at national level. In the first round, the Soviets met Yugoslavia. Bobrov scored a hat-trick in a game which finished 5-5 after extra-time.
In an age before penalty shootouts, a replay was arranged which the Yugoslavs won 3-1, Bobrov again netting for USSR. It was a scenario Joseph Stalin could not tolerate. Yugoslavia was a country which did not follow Moscow's line of development and the defeat led to worsening relations with Yugoslav leader Josip Tito.
After the Olympics, the team was disbanded because of its "poor performance," some researchers say that the boss of the police chief and Dynamo head Lavrentiy Beria was behind this decision.
Arkadyev was stripped of his Merited Master of Sport title after the loss to Yugoslavia, but his full honor was reinstated in 1957. Nevertheless the memory of CDKA and its band of lieutenants was well-preserved even after their greatest successes. Fedotov, who died tragically aged 41, was honoured with a stadium built in his name. It hosted the matches of CSKA Moscow, the current incarnation of CDKA, before being demolished in 2007.
Fedotov's goalscoring prowess was such that even today, his legend lives on in the frankly-named 'Grigory Fedotov club' – boasting Soviet and Russian footballers who have scored more than 100 goals in their career.
In a fitting continuation of a family tradition, his son, Vladimir Grigorievich Fedotov, went on to set a record for CSKA Moscow appearances, and the club still known as 'The Armymen.'
Bobrov, who enjoyed a close friendship with Josef Stalin's son Vasily, passed away in 1979. His sporting talents in ice hockey somehow eclipsed the 82 goals in just 79 matches across four seasons for CDKA, and one of the four divisions of the Kontinental Ice Hockey League is named in his honour.
Dyomin sadly died after falling ill will tuberculosis in 1966. Arkadyev went on to coach further teams, including Lokomotiv Moscow, the team of the railyard workers and was awarded the honour of Merited Master of Coaching of the USSR in 1957. He died in Moscow aged 87 in 1986.
On a day where sport loss and remembrance intersect, the identity of football heroes and heroes of war become blurred as their feats and bravery transcend sport and war.
This May 9 we remember those and the countless others who brought victory to Russia.


You can share this story on social media: