Count Dankula and British alt-righters 'join UKIP' in order to spite anti-racist campaigners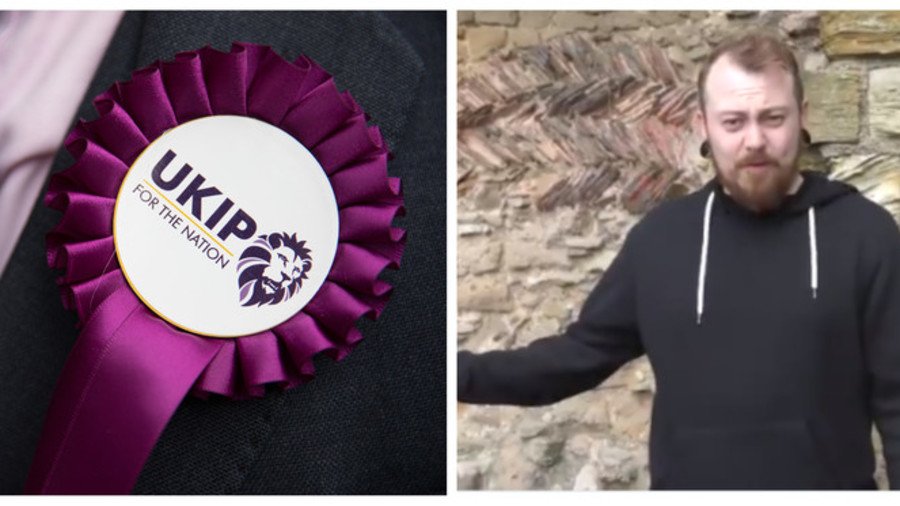 A number of prominent alt-right figures and YouTube comedians claim to have joined British political party UKIP, ostensibly to spite anti-racist campaigners who succeeded in getting them deplatformed.
The charge was led by Scottish YouTuber Count Dankula (Mark Meechan), who last Friday tweeted he would join the right-wing Eurosceptic party if he received 10,000 retweets. "I'm not joking, this is not a meme. I'm being completely serious," he said.
If this gets 10k retweets, I will join @UKIP .I'm not joking, this is not a meme. I'm being completely serious.

— Count Dankula🏴󠁧󠁢󠁳󠁣󠁴󠁿 (@CountDankulaTV) June 15, 2018
By Saturday, the retweets broke the required ceiling, with the Count immediately starting to post videos in support of UKIP, with a video entitled "UKIP Needs You."
Other online figures, including many from the so-called 'alt-right,' have apparently followed suit, including an editor at conspiracy news site InfoWars, Paul Joseph Watson, and YouTuber Carl Benjamin, more commonly known by his alias, Sargon of Akkad.
READ MORE: Even Alex Jones didn't believe it – Tommy Robinson's 'manager' uses false stats about Muslim inmates
The move has delighted some members of the party, who have seen their support tank since the UK opted to leave the EU in 2016. Their standing was worsened by a series of leadership changes that has thrown the party into disarray.
UKIP London Assembly Member David Kurten welcomed the three amigos into the UKIP fold, enthusiastically retweeting Watson's claim that "Joining UKIP is the new counterculture."
On Monday, Meechan delved into his reason for joining the party, claiming that the weekend recruitment drive had resulted in thousands of people joining the party.
"I'd like to thank Stand Up To Racism for getting our talk cancelled. All we wanted to do was have a talk and tell some jokes to roughly 500 people, but since you deplatformed us, we needed something to do with our free time, so we instead got thousands of people to join UKIP," he tweeted.
READ MORE: Count Dankula: Free speech, censorship, and THAT pug Nazi salute (VIDEO)
The event, scheduled to take place at the Scarborough Spa and Whitby Pavilion for a recording of Sargon of Akkad's 'Week in Stupid' podcast, was due to take place last weekend. Due to protestations from Scarborough Stand Up To Racism, the event organizers were informed on June 6 that they could no longer host the event at the venue, causing it to be canceled on short notice.
Reporting on the cancellation, anti-fascist website Searchlight quoted Kim Hunter of Scarborough SUTR, who said: "It is unacceptable that Benjamin should be allowed to host a show at a family venue owned by the people of multicultural Scarborough, which recently opened its arms to families fleeing war in Syria."
READ MORE: Are Milo Yiannopoulos, Tommy Robinson and Sargon of Akkad hypocrites?
Benjamin has previously been suspended from online accounts and social media platforms, including Google, and thereby his own YouTube channel.
Meechan, who denies being part of the alt-right, shot to public notoriety earlier this year after training and filming his girlfriend's pug to perform a Nazi salute on command, while using anti-Semitic language relating to the holocaust. In April, he was convicted of being "grossly offensive" under the Communications Act 2003, and fined £800 (US$1053). Meechan claims his joke was taken out of context.
While UKIP has yet to confirm this massive influx of new members to the party – or even the membership of Meechan, Watson, and Benjamin – at least if true, the party will get better memes.
Think your friends would be interested? Share this story!
You can share this story on social media: