Too blatant to ignore? Human rights groups warn that 'radical groups' have free rein in Ukraine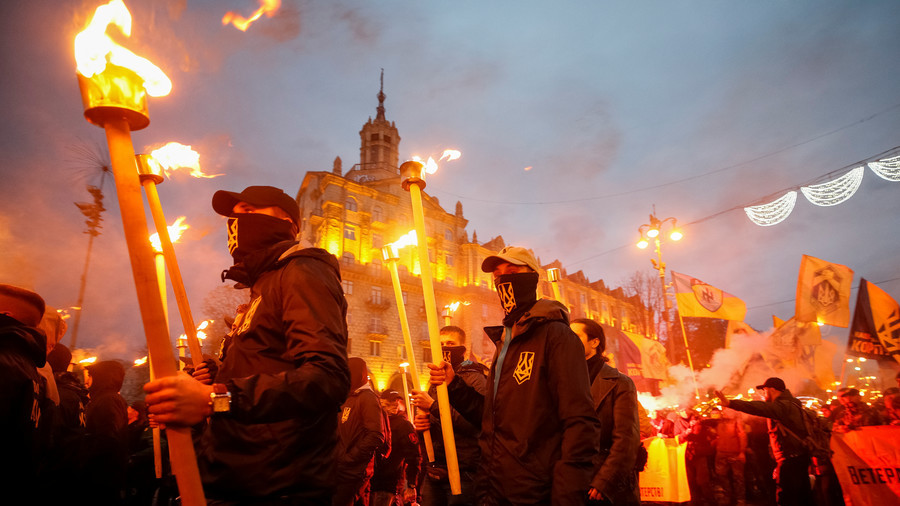 Four human rights groups have issued a joint letter to the Ukrainian government, calling on Kiev to condemn attacks and threats committed by "radical groups" which promote hate and to hold the guilty parties accountable.
Human Rights Watch, Amnesty International, Front Line Defenders, and Freedom House sent a letter to the Ukrainian Interior Ministry and the Prosecutor General's Office detailing a series of attacks by right-wing groups against minorities and activists that have gone largely ignored by law enforcement.
Since the beginning of 2018, members of "radical groups" such as C14, Right Sector, and others have carried out at least two dozen violent attacks or acts of intimidation in Kiev and cities across Ukraine, the letter says.
"The law enforcement authorities have rarely launched investigations into the threats and attacks committed by these groups. In the cases where investigations were launched, there is no indication that effective investigative measures were undertaken, and perpetrators were identified, despite attackers publicly claiming, in some cases, responsibility for the attacks on social media."
The joint letter points to a number of incidents in which "radical groups" were able to carry out unlawful acts with impunity. On March 8, participants of the Women's March in Kiev were assaulted by right-wing groups as police "merely observed the attacks and took no steps to stop them or detain them."
The letter also cites a March incident in which members of the neo-Nazi paramilitary group C14 attacked a Roma settlement in Ukraine's capital, chasing women and small children with rocks and pepper spray after burning down their makeshift camp. Two criminal investigations were reportedly opened in response to the attack, but the joint letter states that authorities have yet to make any arrests.
READ MORE: 'World must not stand by idly as Ukraine glorifies Nazism at govt level'
Ukrainian officials must "meet their obligations to guarantee the rights to freedom of peaceful assembly and expression, and the right to safety and security to all people in Ukraine," the letter goes on. However, the report is curiously silent on the fact that many of the "radical groups" – right-wing paramilitary organizations with neo-Nazi sympathies – have received direct and indirect support from Kiev, and in some cases have even been integrated into the country's armed forces.
I'm old enough to remember when pointing out Ukraine's post-Maidan Nazi problem got you denounced as a "Kremlin disinformation agent" "Putin stooge" "Russian active measures" etc etc https://t.co/aOjw25buQF

— Mark Ames (@MarkAmesExiled) June 15, 2018
Despite overlooking the not-so-flattering circumstances that led to these groups' mob rule, commentators pointed out that the letter largely vindicates those who warned years ago about neo-Nazi violence in Ukraine – but were dismissed as Kremlin stooges.
You can share this story on social media: