Are Milo Yiannopoulos, Tommy Robinson and Sargon of Akkad hypocrites?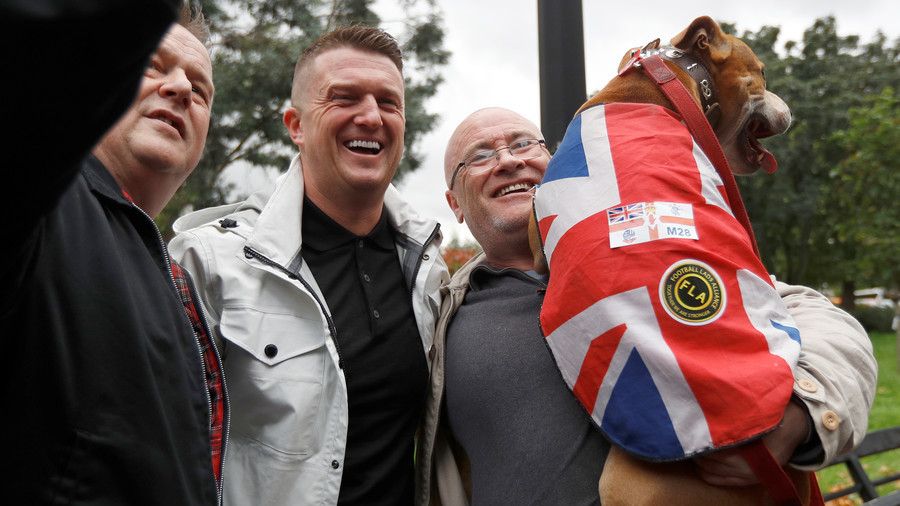 The 'Day of Freedom' rally in London on Sunday brought protesters and prominent right-wing commentators and political figures together under the banner of 'free speech.' RT takes a look at some of the leading agitators.
Billed as a protest against what organisers see as the subversion of free speech that has infiltrated British society in recent years, the 'Day for Freedom' march from speaker's corner in Hyde Park to Whitehall encompassed groups such as the Football Lads Alliance and the Veterans Against Terrorism alongside social media provocateurs such as Milo Yiannopoulos, Tommy Robinson and Sargon of Akkad.
The day did not pass without controversy over Ali Dawah, a YouTuber and co-founder of the Muslim Youth Movement channel. Dawah was due to speak at the rally but was allegedly blocked from speaking before being attacked by who he described as "Nazi thugs." Scenes that were captured on camera and tweeted by Dawah.
The Moment we got surrounded by FLA Nazi thugs & then got physically attacked by half drunk guys for attending the event where I was meant to talk lol. Full video coming soon, may Allah swt bless Mohamed hijab as he got hit most but not 1 scratch 🤣. #freedomofspeechstoppedpic.twitter.com/Vo3wBPFpXI

— Ali dawah (@AliDawow) May 6, 2018
It begs the question, how is preventing a Muslim from speaking at an event called 'Day of Freedom' in keeping with the spirit of promoting free speech? Where is the anger from the main protagonists? Or are Muslims excluded from the free speech debate? Perhaps the question isn't surprising when you consider the history of some of the day's main speaker.
Milo Yiannopoulos
The former senior editor for Breitbart, avowed anti-feminist, self-described "cultural libertarian" and alt-right provocateur has been embroiled in many controversies over recent years. He was permanently banned from Twitter in July 2016 for initiating the abuse against Ghostbusters actor Leslie Jones after the film crashed at the box office.
Of Jones, Yiannopoulos tweeted: "If at first you don't succeed (because your work is terrible), play the victim. EVERYONE GETS HATE MAIL FFS."
Followed by: "Ghostbusters is doing so badly they've deployed @Lesdoggg [Leslie Jones] to play the victim on Twitter. Very sad!" Concluding with, "Barely literate. America needs better schools!" and "rejected by yet another black dude."
In 2017, Yiannopoulos was accused of supporting child abuse in an internet live stream, claiming that "you can get quite hung up on this child abuse thing" and suggesting that "younger boys" and older men could be a "coming-of-age relationship … in which those older men help those younger boys discover who they are."
His comments resulted in the American Conservative Union rescinding its invitation to have him speak at the group's annual CPAC conference in 2017.
Despite being openly gay and marrying his long-term boyfriend in Hawaii in 2017, Yiannopoulos wrote an article for Breitbart where he insisted that "gays should pipe down and get back in the closet" because there had been too much "mollycoddling of homosexuals" in today's society.
In 2016, he told Bloomberg that he didn't employ gay people because he "didn't trust them," and, more recently, he backed Trump's controversial ban on transgender people serving in the US military, claiming that they are mentally ill.
Tommy Robinson
Robinson, the former leader and co-founder of the English Defence League, whose real name is Stephen Yaxley Lennon, took to the stage on Sunday to tell protesters that he was going to take Twitter to court for banning him from their social media website. Since his banning, Robinson has taken to beating the free speech drum.
"What I'm going to do, is I'm going to take Twitter to court," he declared on Sunday. "I won't get my Twitter account back, but what we'll be able to prove –which needs proving– is that 'facts' are now seen as 'hate', and the government is pushing its agenda with private companies."
He famously blamed "every single Muslim" for "getting away" with the 7/7 London bombings, and he called Islam a fascist and violent religion in a speech in Tower Hamlets, as reported by the Guardian in 2013. Freedom, exempt for Muslims, in the UK?
In 2010, Robinson was found guilty of using threatening, abusive or insulting behaviour during a football fan brawl in Luton in August 2011. He was given a three-year ban from football and a 12-month community rehabilitation order.
He was widely condemned for launching a tirade against Muslims and the religion of Islam after the Westminster terrorist attack in 2017, claiming that "this is the reality. The reality is these people are waging war on us," as reported by the Independent.
His attack was seen by many as exploiting a tragedy. "Far-right figures like Tommy Robinson are vile opportunists: using victims of today's attack to spread their anti-Muslim message," Maya Goodfellow, a journalist, wrote on Twitter.
Sargon of Akkad
Part of the growing alt-right, Sargon of Akkad, whose real name is Carl Benjamin, rose to prominence during 'Gamergate,' an anti-feminist backlash by a section of gamers, from which Benjamin developed a reputation for opposing anti-misogyny movements and writers, garnering himself 800,000 YouTube subscribers in the process.
He controversially tweeted Labour MP Jess Phillips after she wrote in the Huffington Post that, "people talking about raping me isn't fun, but has become somewhat par for the course", in which he said he "wouldn't even rape [her]," which drew criticism from many on Twitter.
The Daily Dot claims that Benjamin does not seem to be a part of the 'alt-right' movement himself, but does enjoy attacking alt-right targets like feminism, Islam, Black Lives Matter, and the notion of straight white male privilege.
In a Youtube video, he describes 'Black Lives Matter' as "a black supremacist movement that is violent and dangerous and wants to kill police officers." Is this the kind of rhetoric that empowers black people, or is it the rhetoric of someone that wants to delegitimize the concerns of a movement whose goal is to establish equal rights for black people in the US?
Those are three supposed proponents of 'free speech,' yet it's up for debate as to whether they are genuinely seeking to bring about freedoms for all people no matter their colour, creed, gender or sexuality.
Omar Baggili, RT Journalist
Like this story? Share it with a friend!
You can share this story on social media: