Lunch and bananas: Leave.EU backers explain what really went on in those meetings with Russia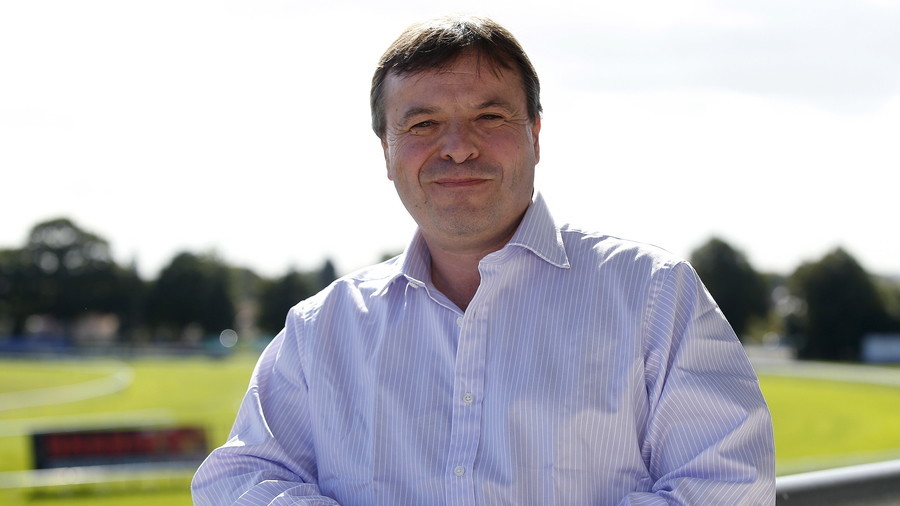 Arron Banks, who helped bankroll the Leave.EU Brexit campaign, has faced off with MPs about claims he has links to the Kremlin. Banks met with Russia's UK ambassador three times but insists that he did not take Russian money.
Appearing before the Digital, Culture, Media and Sport (DCMS) Committee, Banks and Leave.EU's Communications Director Andy Wigmore fielded questions about their business activities, meeting Trump, Brexit, and – of course – Russia.
Labour's Ian Lucas was the first to launch into a Russian line of questioning. "What do you think first attracted the Russian embassy to Arron Banks, the biggest political donor in UK history? Do you think it was the fact that you were involved in the Brexit campaign?" he asked the pair.

"I'll tell you why, because I asked to meet them," Wigmore shot back. "We thought it would be nice to meet them, because [Arron's] wife is from the Russian diaspora." Banks then added his two-cents worth, likening the inferences of Russian wrongdoing levied against them to a witch-hunt.
"Ian, if the French ambassador called up and asked to meet you for lunch, you'd go," Banks said. "What I'm saying is, we've now got a full-scale Russian witch-hunt going on, but before that it wasn't an issue."
Wigmore then chipped in: "Can I explain why I met them? I'm a diplomat for a small country called Belize… it needed someone to buy its bananas. It wasn't anything to do with the referendum."
Later in the DCMS hearing, MP Giles Watling also had Moscow on his mind while questioning the Leave.EU duo. "I'd like to move on to big, scary Russia," he said, launching into questions about lunch meetings with the Russian ambassador to the UK, Alexander Yakovenko. "I get the point that if the Russian ambassador asks you round for a drink, you go, but this relationship went on for quite some time. What were you hoping to get out of it?"

Banks' response was simple: "A good lunch, and that's what I got. Many good lunches," he said. Wigmore then chimed in: "The first was the best." The pair were then asked blatantly, "Did you accept money from Russia?" Watling said. "No. Nyet," came Wigmore's cheeky response.
Appearing earlier on the LBC radio show of his old ally Nigel Farage, Banks said that the Leave.EU campaign did not accept money from Russians, despite meeting with Moscow's ambassador to the UK, Alexander Yakovenko, three times in 2015 and 2016 to discuss Brexit and US President Donald Trump's election. Banks said any claims that he had taken money from Moscow were "part of a fake news narrative."
He added that the accusations against him and Leave.EU's Communications Director Andy Wigmore were nothing but a political witch-hunt aimed at prominent Brexit supporters.
The Leave.EU funder added that if there was any attempt at Russian interference in the 2016 referendum, then it was at an "amateur level." Banks' comments fly in the face of repeated claims by various individual MPs that Russia interfered in the Brexit referendum with a social media bot campaign; accusations that have been shut down by social media companies… twice.
Since Britain voted to leave the European Union in June 2016, questions have surfaced about Banks and Leave.EU's unofficial campaign.
On Sunday, it emerged that Banks had two more meetings with Yakovenko than he had previously admitted in the book he penned on the referendum battle, 'The Bad Boys of Brexit.' The final meeting with the Russian ambassador was in November 2016, three days after Banks, Leave.EU's Communications Director Andy Wigmore, and ex-UKIP leader Nigel Farage met Trump in New York after he had been elected president.
According to details of emails reported by the Sunday Times and The Observer, Banks and Wigmore also discussed potential business opportunities in Russia. Talks allegedly included a proposal involving six gold mines. The duo will now appear before the Commons Culture and Media Committee on Tuesday to face questions about alleged Russian involvement in the EU referendum campaign.
Like this story? Share it with a friend!