The disappearing PM: A G7 summit to forget for Theresa May, as she's upstaged by Trump and friends
Published time: 11 Jun, 2018 17:13
Edited time: 12 Jun, 2018 08:35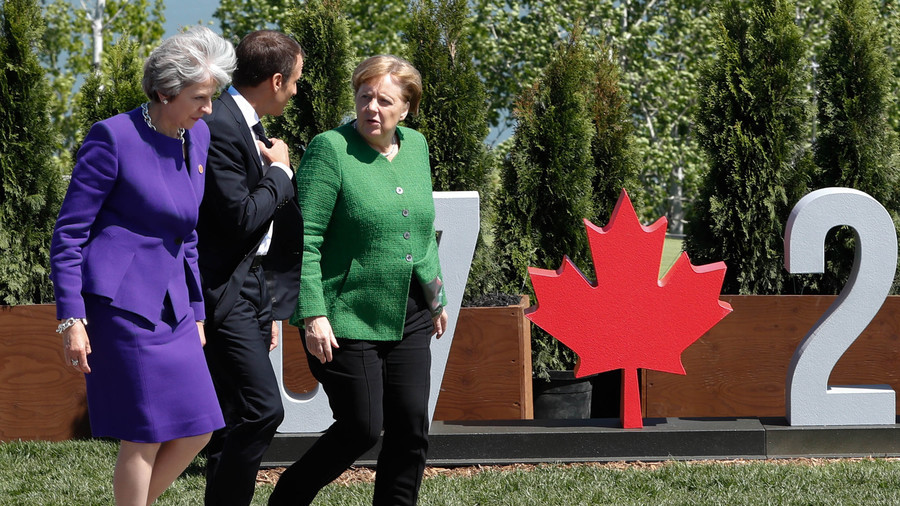 Theresa May disappeared without trace at the G7 summit, which was unsurprisingly dominated by US President Donald Trump. Her weakened mandate post-2017 general election on a global stage.
The UK PM May returns to Britain, after a G7 summit, that was as notable - in these parts - for the Tory leader's insignificant contribution, as it was for Trump's headline grabbing grandstanding and threats against his opposite numbers.
It was no real surprise that President Trump stole the limelight at the summit, causing a stir even before it had began, with his pre-summit gripe that Russia should have been joining the respective countries to form a G8 event, insisting they would have been an "asset" to proceedings.
That suggestion was not welcomed by May in Canada. "Before any such conversations can take place, Russia needs to change its approach," she said of Trump's request.
It's true, only the newly-elected Italian Prime Minister, Giuseppe Conte, responded to Trump's call for the inclusion of Russia with any kind of openness to the idea. The disagreement highlights just one of many differences between May and Trump.
May, seemingly wanting to isolate Russia further on the world stage, while Trump appears to want to foster improved relations after numerous controversies and worsening relations between the West and Moscow.
During the summit a photo was posted on social media, displaying a striking stand-off between Trump and the rest of the G7 leaders, with German Chancellor Angela Merkel and French President Emmanuel Macron at the forefront, leading the apparent protestations against the US President. Theresa May is barely in view, and looks to be taking a backseat, in keeping with her summit contributions.
This is the photo of Merkel and Trump that is going viral for all the right reason. Fact is, the world hates Trump, rightfully so.

He's literally that school bully that the rest of the school calls out and embarrasses.
Photo Credit: Bundesregierung/Jesco Denzel/Handout/Reuters pic.twitter.com/UHGdcgVYog

— Ed Krassenstein (@EdKrassen) June 10, 2018
Both G7 host, Canadian Prime Minister Justin Trudeau, and Macron were highly critical of Trump's punitive tariffs on aluminum and steel exports to the US during the event. It was they, and not May, who threatened retaliatory tariffs.
During the summit, Trudeau revealed to reporters that he had told Trump that "it would be with regret but it would be with absolute clarity and firmness that we move forward with retaliatory measures on July 1, applying equivalent tariffs to the ones that the Americans have unjustly applied to us."
This angered Trump so much that he withdrew endorsing the G7 joint communique, late on Saturday. Tweeting his disgust at Trudeau's comments about his imposed tariffs and annoyance at Germany's small financial contribution to NATO compared to the US.
Based on Justin's false statements at his news conference, and the fact that Canada is charging massive Tariffs to our U.S. farmers, workers and companies, I have instructed our U.S. Reps not to endorse the Communique as we look at Tariffs on automobiles flooding the U.S. Market!

— Donald J. Trump (@realDonaldTrump) June 9, 2018
PM Justin Trudeau of Canada acted so meek and mild during our @G7 meetings only to give a news conference after I left saying that, "US Tariffs were kind of insulting" and he "will not be pushed around." Very dishonest & weak. Our Tariffs are in response to his of 270% on dairy!

— Donald J. Trump (@realDonaldTrump) June 9, 2018
....Germany pays 1% (slowly) of GDP towards NATO, while we pay 4% of a MUCH larger GDP. Does anybody believe that makes sense? We protect Europe (which is good) at great financial loss, and then get unfairly clobbered on Trade. Change is coming!

— Donald J. Trump (@realDonaldTrump) June 11, 2018
In a world dominated by Trump and his brand of personality-led politics, getting attacked by the US leader is often a prelude to him taking notice of you and coming to the table. We have seen this with his "Little Rocket Man" tirades at North Korean leader, Kim Jong-Un - they're now meeting for historic talks in Singapore. He ignores May, while London twiddles it's thumbs waiting for a post-Brexit US-trade deal.
What's Trump's nickname for Theresa? Well he hasn't descended into name calling on social media, but a former White House Official told the Telegraph that Trump views her as a "too politically correct school mistress."
May's perilous position as UK PM, since her mandate was weakened following the 2017 general election, has most certainly affected her reputation at home as she is now seen by many as indecisive on key Brexit issues. However, what may be more alarming for those looking into the post-Brexit future, is her noticeable lack of clout on the international stage; vacating space for Trump and EU big hitters, Merkel and Macron to dominate proceedings.
Before Trump's somewhat predictable Twitter outburst against Trudeau, the US President had commented on how his relationships with particular G7 leaders were faring, as he was leaving the summit.
He said: "We have a great relationship. Angela and Emmanuel and Justin - I would say the relationship is a 10." There was no mention of Theresa May.
May delivered a G7 statement to the UK parliament on Monday where she told the House that there had "been some difficult conversations and strong debate". An understatement?
On the subject of Trump's new tariffs on steel and aluminum she said that she had registered "our deep disappointment at the unjustified decision by the US to apply tariffs to EU steel and aluminum imports." Confident to say it now, but where were these strong statements during the summit?
While on Russian relations, May declared that the G7 recognized "the need to maintain sanctions on Russia in light of Russia's failure to fully implement the Minsk Agreements in Ukraine.
"We have agreed to stand ready to take further restrictive measures against Russia if necessary."
An authentic united front on Russia, or a case of papering over the cracks - given what we know about Trump's views?
May continues to cast a timid figure both at home and more widely on the global stage, unable to exert any sort of authority. She now embarks on a week of highly critical Brexit votes that have the potential to end her uneasy time in office.
Omar Baggili, RT Journalist
Like this story? Share it with a friend!