'You're being reported': Royal Navy chases away Spanish military's patrol boat from Gibraltar
Published time: 24 May, 2018 11:29
Edited time: 26 May, 2018 16:16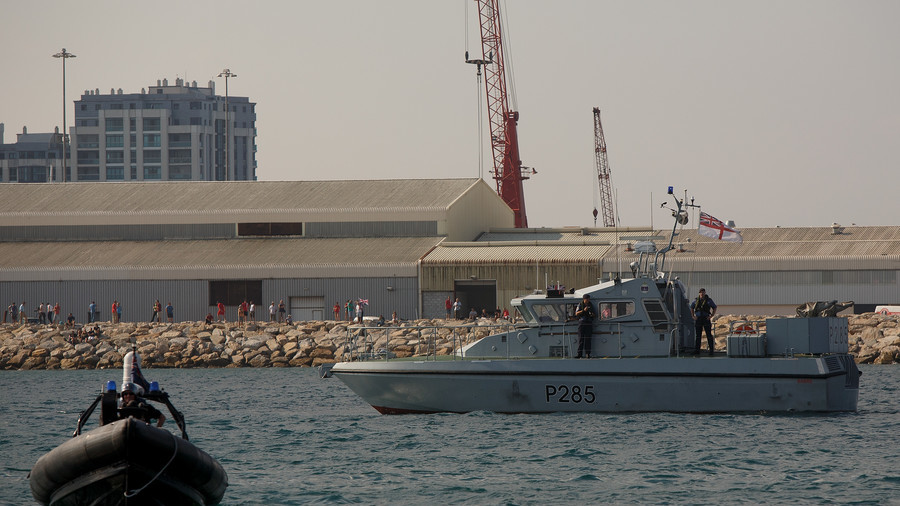 A British Royal Navy vessel chased away a Spanish military ship from its territorial waters off Gibraltar. With Brexit on the horizon tensions are mounting over 'the Rock's' sovereignty.
The incident happened at the weekend after a Spanish Navy Serviola-class patrol boat first entered British waters around the headland on Saturday, May 19. The incursion was spotted and reported on Twitter by Gibraltar-based naval researcher Michael Sanchez.
In response, the Royal Navy dispatched HMS Sabre, a fast patrol boat assigned to the service's Gibraltar Squadron, and a Royal Navy RHIB, a small inflatable vessel, which chased away the Spanish ship, named as 'Vigia.'
A statement from the Foreign and Commonwealth Office (FCO) later said that the vessel has been expelled without incident.
"The Royal Navy challenges all incursions into British Gibraltar Territorial Waters, and did so on this occasion. The Foreign and Commonwealth Office backs this up by making formal diplomatic protests to the Spanish government," an FCO spokesperson said.
The FCO added that it would be backing up the action by "making formal diplomatic protests to the Spanish government."
During audio of the incident, obtained by British tabloid The Sun, the Royal Navy crew can be heard issuing sovereignty warnings to the Serviola, switching to Spanish to say the vessel was "sailing imprudently and endangering traffic".
In English the crew member says: "You are violating international regulations and are in British Territorial waters. Your actions are being reported to higher authorities."
The incursion is one of several by Spanish naval vessels reported in recent months.
A British Overseas Territory since 1704, the territory's 30,000 citizens voted overwhelmingly to stay in the European Union during the 2016 referendum, with the result coming in at 95.9% to remain.
Since the vote, as with Northern Ireland, questions have arisen as to what will happen with the territory's border once the UK exit's the bloc in March 2019.
The Spanish government had called for joint sovereignty over Gibraltar after the UK decided to leave the EU.
Speaking on Spanish radio, Spain's Foreign Minister Alfonso Dastis said: "It's a complete change of outlook that opens up new possibilities on Gibraltar not seen for a very long time. I hope the formula of co-sovereignty – to be clear, the Spanish flag on the Rock – is much closer than before."
However, Gibraltarians may beg to differ, with Gibraltar's Deputy Chief Minister Dr Joseph Garcia telling members of the US Congress last week that he will not cede an inch of its sovereignty as the Rock prepares to leave the EU.
"It remains to be seen whether Spain can find the political goodwill to move forward with solutions that do not impact on sovereignty. We welcome such solutions but we will not give an inch on sovereignty, jurisdiction and control. It is clearly not just about sovereignty but about the attributes of sovereignty as well," he said.
Like this story? Share it with a friend!