US flexes naval muscle as North Korea summit hangs in the balance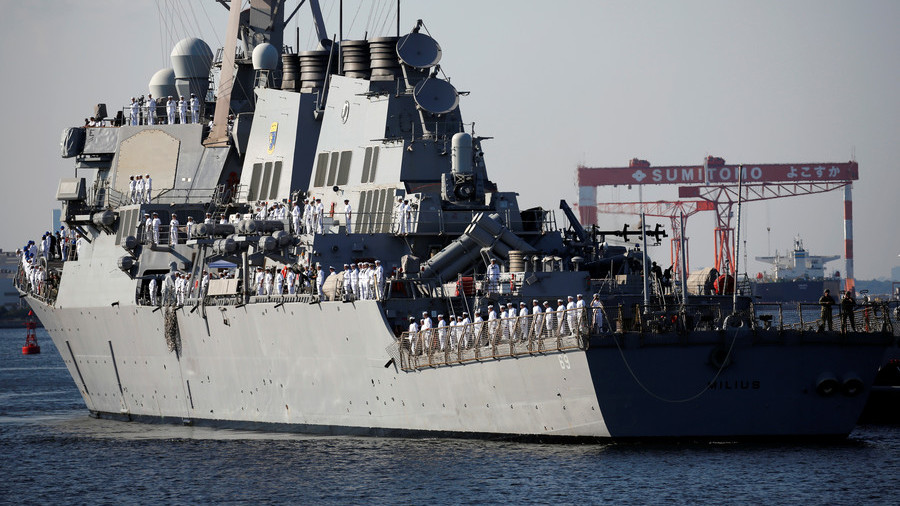 The USS Milius, an advanced guided missile destroyer, has arrived in Japan to bolster the US Navy's permanent presence in the region. Its arrival comes as uncertainty over a historic North Korea/US summit mounts.
The Milius' deployment had been delayed by almost a year so that its Aegis air defense system could be upgraded. After leaving San Diego on April 20, the destroyer sailed into the docks at Yokosuka Naval Base on Tuesday. It joins 13 other ships of the US Navy's Seventh Fleet, including the USS Ronald Reagan, America's only forward-deployed aircraft carrier.
The Seventh Fleet had been in need of reinforcements after two of its destroyers were damaged in fatal collisions with commercial ships last year.
Armed with missiles capable of intercepting other long-range ballistic missiles, the Milius would be the US' first line of defense against North Korean warheads if a conflict were to break out.
While the Milius' deployment comes at a crucial time for relations between North Korea and the US, it is not the ship's first deployment in the region. A deployment in 2014 saw the destroyer spend 250 days in the western Pacific Ocean conducting presence operations.
The Milius arrives in a vastly different climate than if its 2017 deployment had gone ahead. Then, President Donald Trump and North Korean leader Kim Jong-un were locked in a game of escalating rhetoric and nuclear threats.
Whereas Trump had once threatened to rain "fire and fury" down on the regime of "little rocket man," relations between the two leaders entered an unprecedented conciliatory phase this year, and a summit is scheduled to take place in Singapore on June 12.
However, the fate of the Trump-Kim summit has been hanging in the balance in light of the ongoing US-South Korean Max Thunder Air Force drills, as well as recent remarks by US National Security Adviser John Bolton that North Korea should strike a deal similar to the one Libya made in 2003. Eight years after Libya gave up its nuclear weapons, its leader, Muammar Gaddafi, was overthrown and brutally murdered in NATO-backed unrest.
Bolton and North Korea have history, previously clashing when Bolton worked in the Bush administration. "We shed light on the quality of Bolton already in the past, and we do not hide our feeling of repugnance towards him," North Korean Vice Minister Kim Kye Gwan said. "[The] world knows too well that our country is neither Libya nor Iraq which have met [a] miserable fate," he added.
In spite of the gathering clouds, the White House remains hopeful that a meeting will take place. "The president is ready if the meeting takes place," said press spokeswoman Sarah Huckabee Sanders. "If it doesn't, we'll continue the maximum pressure campaign that's been ongoing."
A positive meeting with Kim would be a major diplomatic achievement for the Trump administration. No sitting US president has ever met with his North Korean counterpart before. Failing that, Vice President Mike Pence said this week that the military alternative "never came off" the table.
You can share this story on social media: