Collision that killed 10 US sailors caused by warship's mistaken maneuver – official probe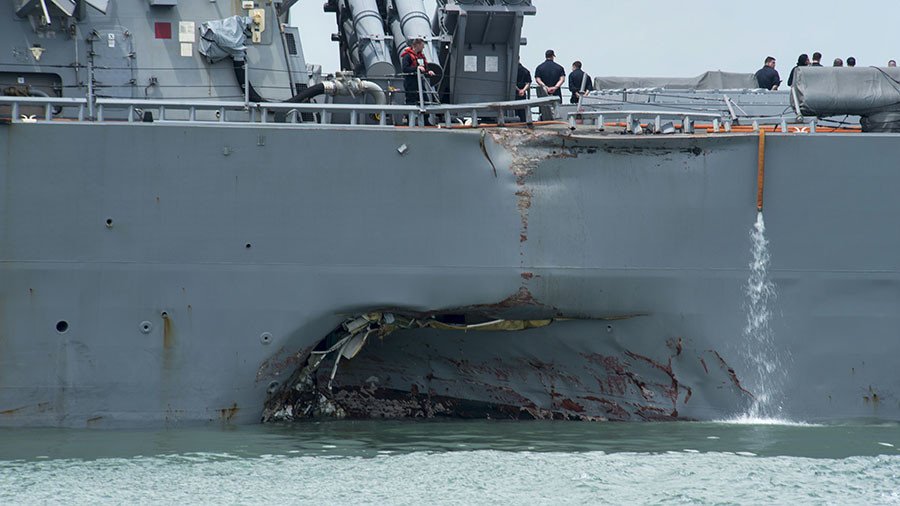 A sudden turn made by a US destroyer lead to a collision with a commercial vessel that killed 10 American sailors, an investigation by Singaporean authorities has concluded.
The incident on August 21 was one of several such collisions last year, which tarnished the reputation of the US Navy. The guided-missile destroyer USS 'John S McCain' (DDG-56) collided with a Liberian-flagged merchant ship in the Singapore Strait.
A report released on Thursday by the Singapore's Ministry of Transport's (MOT) Transport Safety Investigation Bureau (TSIB) said the American warship "made a sudden turn to the left into the path of [the merchant vessel, 'Alnic MC'] because of a series of missteps that took place after propulsion controls were transferred."
The US Navy's internal report last November arrived at similar conclusions, blaming the incident on avoidable navigational errors made by the destroyer's crew.
The incident that occurred near Singapore last August happened just two months after a similar collision involving the destroyer's sister ship, USS 'Fitzgerald,' near the Japanese capital Tokyo. On June 17, she collided with a container carrier, resulting in the deaths of seven sailors. This case was also blamed on lapses of the warship's bridge team.
Think your friends would be interested? Share this story!
You can share this story on social media: