Sleeping next to royals: Windsor's homeless struggle on amid Harry & Meghan wedding hysteria (VIDEO)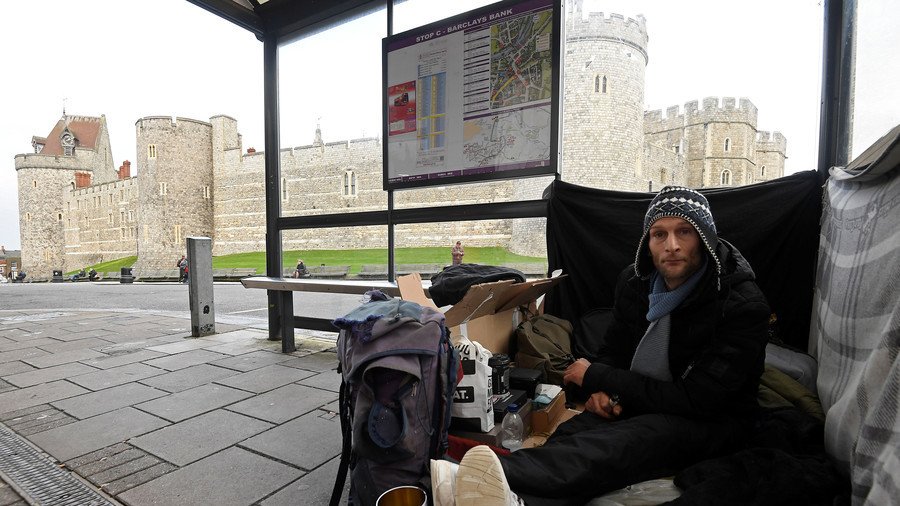 Royal fans will sleep on the streets on Friday to get a prime viewing spot for Saturday's royal wedding. Meters away, Stuart Hatcher will bed down in a bus stop – where he has slept since becoming homeless eight months ago.
An estimated 100,000 people will descend on Windsor to celebrate Saturday's royal wedding between Prince Harry and Hollywood starlet Meghan Markle. An estimated £32 million ($43 million) has been spent on the royal knees-up, a sum that seems a slap in the face to those sleeping rough nearby – people like Hatcher.
"It's disgusting," Hatcher said. "At the end of the day we're all people. We've all got thoughts and feelings. We should be heard a bit more and [get] a bit more help. I didn't expect to be here eight months down the line. I lost my flat eight months ago and I thought I would have got help by now.
"I'd like a lot more help – not just for me but the other homeless people here. This is a cry out for help."
In the lead-up to Harry and Meghan's big day, police have been confiscating sleeping bags and other belongings from Windsor's homeless. Thames Valley Police have defended their actions, with a spokesperson telling RT that "a scheme has been set up for those who choose, to store their belongings at the Windsor Homeless Project… officers have been assisting with transport of belongings, however this is entirely voluntary to ensure the safety of the homeless community.
"…everyone in Windsor on the day of the wedding will be subject to a search and screening. Anyone with large items that are deemed to be a security risk are likely to have those items removed. Also any large items left unattended at any time will be removed if they are deemed to be a security risk."
READ MORE: Out of sight, out of mind: Windsor Police threaten to tow charity bus parked outside castle
A Royal Borough of Windsor and Maidenhead spokesman said that "[the] council has been working with local charities, health partners and the police to ensure that those who are homeless know what support is available to them and how they can access it… those who are homeless and have a local connection have been offered safe places to stay."
Homelessness activist Martine Munt, from Windsor-based charity Unity in the Community, said while she understands the safety concerns, she believes police, the council, and government could do more to help the homeless. "...This is their home, and if we're removing them from their home we need to make sure we're providing them with an alternative space," she said.
Nationally, 4,751 people were recorded as sleeping rough in 2017 – a 15 percent rise from the year before – but these numbers don't include the hidden homeless. Those who don't show up in official figures include people who become homeless in a temporary solution like staying with family members or friends, living in squats, or other insecure accommodation.
This weekend, the number of those sleeping on the streets will be higher, thanks to those sleeping outdoors to catch a glimpse of the royal newlyweds. Come Monday, however, the real rough sleepers like Stuart Hatcher will remain.
Think your friends would be interested? Share this story!
You can share this story on social media: