Out of sight, out of mind: Windsor Police threaten to tow charity bus parked outside castle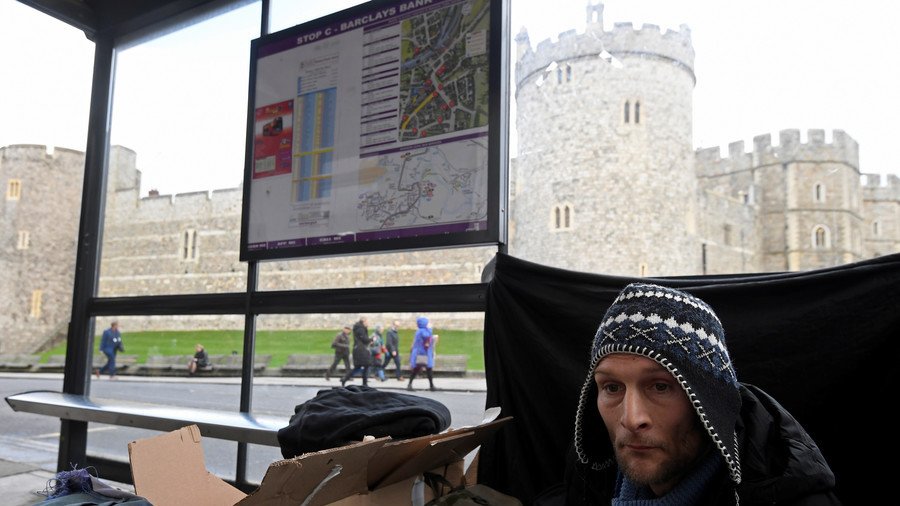 A homeless charity bus, in Windsor for the royal wedding, was branded an "obstruction" by police who threatened to tow it. The charity believes officials were waiting for media to clear off before police issued the directive.
The Ark Project charity bus had spent 12 hours parked across from the castle during the day, as thousands of people and cars descended on Windsor in the lead-up to Saturday's royal wedding. The Reading-based charity told RT that they "ran into issues straight away."
"Yesterday at 11am [on arrival] we were told it was an obstruction," Ark Project CEO Michael Longsmith said. "For hours, tens of thousands of people were walking and driving past but it was okay. Then last night at 11.30pm we got a phone call telling us to move or they'd tow us away."
Longsmith, 42, said that the late-night sense of urgency was likely due to the absence of the media's prying eyes. "[We felt] disbelief but we got up and moved it," he said. "Now we're just parked round the corner, out of eyesight from the castle."
The Ark bus offers local homeless people the "full monty service – beds, showers, toilets, a change of clothes," Longman said. The charity also provides individual case workers to each rough sleeper, to take them to appointments, help them find permanent housing, and work or rehab.
READ MORE: BBC's 'mindless' late night Royal Wedding push notification pushes some over the edge
The police have already been spotted taking sleeping bags and other belongings from Windor's homeless in the lead up to the wedding. A Royal Borough of Windsor and Maidenhead spokesman told the Times that for those "not wanting to take up the offer of somewhere to stay, an offer is being made to keep their possessions safe while the town sees an unprecedented number of visitors."
On Wednesday, Thames Valley Police said that the royal wedding "is a public event, so everyone is welcome". Thames Valley Police Superintendent Jim Weems told the Express that the police "will support people on the procession route and we will work with them in what will probably be very busy streets."
Local residents have told RT that police are telling the public there is a "zero tolerance" policy on sleeping bags, and that the homeless "are being told that they'll be arrested, however both the law and press statements say otherwise."
Longsmith told RT that some rough sleepers in central Windsor have turned down their help so they can make the most money from the influx of royal wedding tourists to feed their drug addictions.
The 42 year old added that of those who had refused help, the majority were drug addicts raising money to fuel their narcotics habit. "They will not move out of the city centre," he said. "They've got addictions they need help with. We're not going to give up on them so we're hoping they'll learn to trust us."
One person begging reportedly made £400 on Wednesday and was arrested in the early hours of Thursday morning by police after being caught smoking crack cocaine at a bus stop across from Windsor Castle, where Meghan Markle will wed Prince Harry in two days' time.
The Ark Project CEO added that some vagrants who reside outside of the city center have gladly accepted their assistance.
Think your friends would be interested? Share this story!
You can share this story on social media: