Moderates' fantasy Labour leader Miliband warns real Labour leader of 'hard Brexit fantasy island'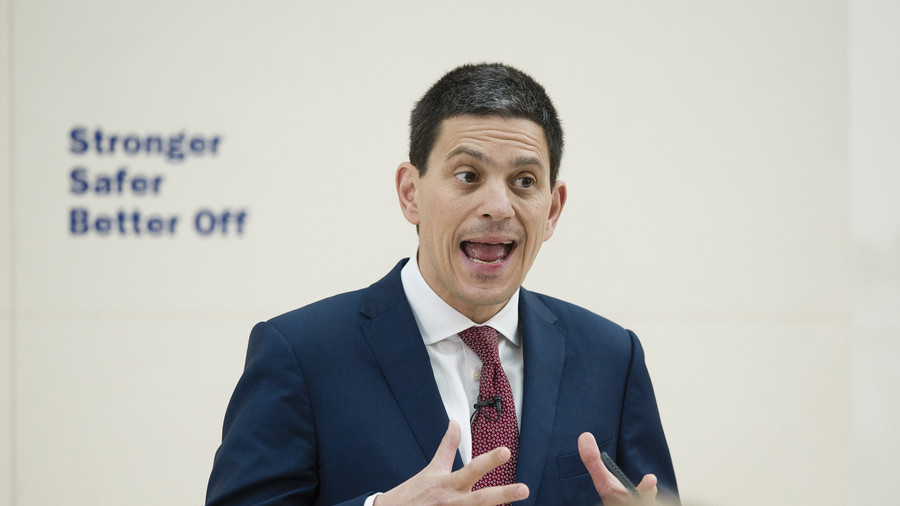 Former Foreign Secretary David Miliband, who lost out to his brother Ed for Labour leader in 2010, is returning to the UK in an effort to block what he sees as a "hard Brexit fantasy island" scenario, orchestrated by the Tories.
The ex-Labour minister has assembled cross-party allies in Tory MP Nicky Morgan and former Lib Dem leader Nick Clegg, both of whom are staunch 'remainers,' in an attempt to "stop Brexiteers holding Britain to ransom," the Huffington Post claims.
READ MORE: 'Could the army overthrow a Corbyn government?' Telegraph op-ed piece gets slammed
Speaking today at rice manufacturer Tilda's in Rainham, Essex, alongside his pro-European counterparts, Miliband appeared defiant when asked by a reporter why the public should sit up and listen to him on the subject of Brexit.
"I don't take the referendum result as the end of the story," he said. "Democracy cannot be allowed to end on 23 June 2016, debate cannot be allowed to end," Miliband said.
Earlier in the day, he spoke on BBC Radio 4's Today program, warning Labour leader Jeremy Corbyn that if he "is not careful, he will be the midwife of hard Brexit that will threaten the living standards of the very people that he says he wants to stand up to represent."
READ MORE: Probe finds pro-Brexit group backed by Farage broke the law, massively exceeding spending cap
Son of a renowned Marxist sociologist, Ralph Miliband, the former foreign secretary has been a constant critic of Jeremy Corbyn's leadership, even comparing him to Donald Trump after his call to maintain dialogue with Russia after the UK's punitive actions in response to the poisoning of the Skripals.
Barely a week goes by without a report in the UK press that David Miliband is primed to become the next Labour leader. He appeals to many moderate Labour MPs who are dismayed at Corbyn's leadership, despite the small issue of him currently being ineligible for the role, as he is not an MP.
The rumors of Miliband's return have reached comical levels, with the New Statesman declaring that 18 separate reports have been published over a three-year period claiming he's on his way back to "save" British politics. He insisted today that this latest venture back to the shores of Great Britain was not his pitch to head a new pro-European centrist party.
In the aftermath of losing a bitter battle to become the UK Labour party's leader in 2010, the older brother of Ed Miliband pulled up stakes to set up a new life in New York, quitting as MP and becoming president and CEO of the International Rescue Committee (IRC) charity, to oversee the agency's humanitarian relief operations in "40 war-affected countries," according to his website.
His charity has been embroiled in controversy following claims it "hushed up 37 allegations of fraud, sex abuse and bribery" in 2016, according to the Mail Online. The UK government consequently froze funding to Miliband's organization following the allegations.
A leaked report from the Department for International Development (DFID) showed that funding to the charity had been cut after "direct reporting of sexual harassment and fraud."
In February, a DFID spokesman told The Sun: "DFID became aware of serious allegations relating to this programme in August 2016. The Department acted swiftly to ensure the reported misconduct was fully and comprehensively addressed by the IRC and relevant authorities."
It comes on the eve of UK PM Theresa May's cabinet meeting to decide which of her government's two preferred customs arrangements is to be the UK's chosen option. There are some reports surfacing today that the PM has decided to drop her favored 'customs partnership' option due to pressure from Brexiteer Tory MPs and criticism from Boris Johnson and Michael Gove in recent days.
Like this story? Share it with a friend!