Probe finds pro-Brexit group backed by Farage broke the law, massively exceeding spending cap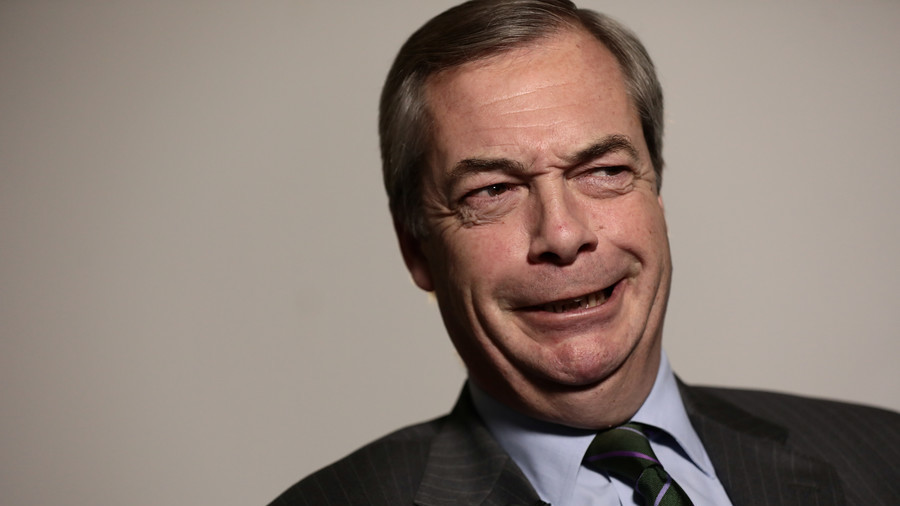 Leave.EU's outraged founder Arron Banks has vowed to take the Electoral Commission to court after an investigation found that the pro-Brexit campaign failed to declare more than £70,000 in spending, exceeding the legal cap.
The pro-Brexit group backed by Nigel Farage was caught breaking electoral law, exceeding the spending limit by more than 10 percent and then hiding the overrun with incomplete or inaccurate paperwork. Leave.EU's chief officer has now been referred to the police as a result.
Co-founder of the pro-Brexit campaign Arron Banks lashed out at the findings, threatening to "see [the Electoral Commission] in court." He said: "We view the Electoral Commission announcement as a politically motivated attack on Brexit and the 17.4 million people who defied the establishment to vote for an independent Britain. The EC went big game fishing and found a few 'aged' dead sardines on the beach. So much for the big conspiracy – what a shambles. We will see them in court."
The Electoral Commission's (EC) probe into the financial records of the pro-Brexit campaign discovered that Leave.EU omitted at least £77,380 ($104,600) worth of claims from its spending returns paperwork. Investigators found that the campaign exceeded its legal spending limits by more than 10 percent ahead of the 2016 referendum, which resulted in the UK voting to leave the European Union.
The Leave.EU campaign has been fined £70,000 ($94,600) for the breach. Group campaign chief Liz Bilney now faces a police investigation as a result of the suspected financial bungle. The Electoral Commission said it had reasonable grounds to suspect that Bilney "knowingly or recklessly signed a false declaration accompanying the Leave.EU referendum spending return."
The Electoral Commission also said that services the pro-Brexit campaign received from the US strategists Goddard Gunster were not included in the spending records "despite a proportion of them having been used during Leave.EU's referendum campaign." However, it did not find any evidence that the campaign received any donations or paid-for services from embattled data firm Cambridge Analytica.
It also said the "unlawful overspend" by Leave.EU was at least £77,380 ($104,600) but "may well have been considerably higher." The probe also discovered that the campaign inaccurately reported three loans it had received.
"This included a lack of transparency and incorrect reporting around who provided the loans, the dates the loans were entered into, the repayment date and the interest rate," the EC said. "Finally, Leave.EU failed to provide the required invoice or receipt for 97 payments of over £200 ($270), totaling £80,224 ($108,500)."
Leave.EU was one of the biggest pro-Brexit groups during the 2016 referendum, however, Vote Leave was the official campaign organization.
If you like this story, share it with a friend!