MPs to consider Corbyn's War Powers Act in crunch emergency debate on military action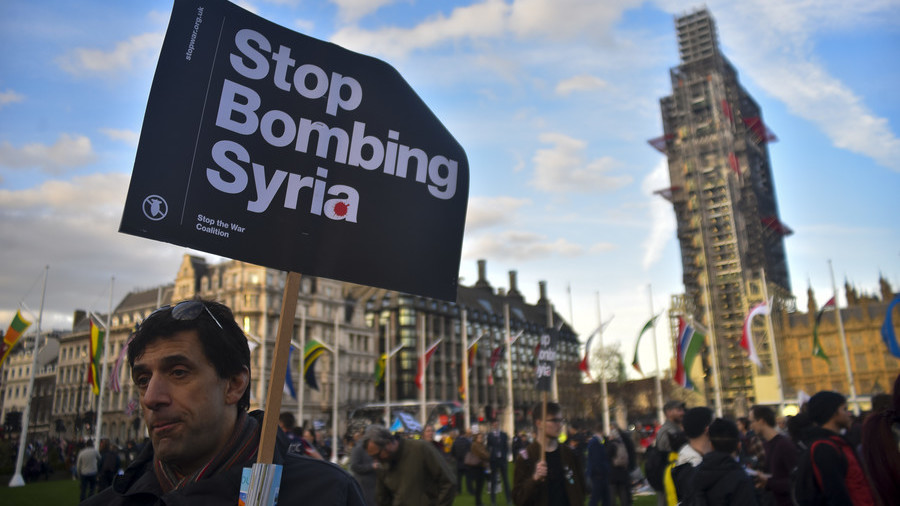 Jeremy Corbyn has secured an emergency debate in parliament to consider a new War Powers Act that would stop the government from bombing foreign countries without prior parliamentary consent.
During a scheduled three-hour Commons debate on Tuesday, the Labour leader will propose the new legislation that would make it mandatory to attain parliamentary approval for military action. Speaking during a heated debate on Syria on Monday, Corbyn said it would "to transform a broken convention into a legal convention."
Often speaking over jeers from the Tory benches, Corbyn said: "The prime minister is accountable to this parliament, not to the whims of the US president. We clearly need a War Powers Act in m this country to transform a now-broken convention into a legal obligation."
READ MORE: Democracy inaction: MPs thrown a bone with parliamentary debate two days AFTER strikes on Syria
He hit back at the Tory leader's claim that the British contribution to the US-led operation against Syrian leader Bashar Assad was legal and moral. May argued that the strikes prevented further human suffering. On the same grounds, Corbyn argued that the UK should "arrogate themselves the right" to intervene against Saudi Arabia's bombing of Yemen, which has been branded the "world's worst humanitarian crisis."
Corbyn's position got support from some MPs and prominent figures. SNP Westminster leader Ian Blackford, who condemned the UK's intervention in Syria, tweeted: "Once again, we are being dragged into military action with little regard for the humanitarian situation on the ground [and] no long-term strategic plan. Glad to hear the Jeremy Corbyn support our plans for War Powers."
Jeremy Corbyn asking the incisive questions despite attempts from the benches opposite to shout him down. Theresa May can't justify her double-standards regarding Saudi Arabia's use of banned cluster bombs and white phosphorus in Yemen, so avoids the question. #SyriaStatement

— Dan Carden MP (@DanCardenMP) April 16, 2018
Some Good questions raised by @jeremycorbyn of @theresa_may including would it be legitimate to bomb Saudi airfields because of its role in the humanitarian catastrophe in Yemen. No doubt the £billions worth of weapons we continue to sell & export to them will influence her reply

— Peter Stefanovic (@PeterStefanovi2) April 16, 2018
The idea of a new War Powers Act was shot down by former foreign secretary William Hague, despite previously calling for similar legislation guaranteeing parliament a say before any military action is launched. For Hague, there is now a "grey area" when it comes to defining what military action needs parliamentary approval. "I came to the reluctant conclusion that enshrining in law all the circumstances when ministers need to use armed force overseas was not practical," the former Tory leader wrote in The Telegraph.
"What about the moments when acting with our allies requires an immediate decision? Or the best way to defend ourselves is to launch a pre-emptive attack? Or complete secrecy is essential for the safety of our forces?

"Or serious force is to be used but stopping far short of becoming engaged in a war? Is cyber warfare included in the legislation? There are endless questions of this kind, particularly given the rapidly changing nature of warfare, which are extremely difficult to allow for in a law and which would then be open to judicial interpretation."
International Development Secretary Penny Morduant was also critical of the act, as she said MPs need intelligence to make an informed decision. "To take a decision on whether something is legally justified, and whether what we are actually intending on doing in terms of targets is appropriate, you would need to know information that could not be shared with every MP," Morduant said on Monday on the BBC's Radio 4 Today program.
"And so, outsourcing that decision to people who do not have the full picture is, I think, quite wrong. And, the convention that was established, I think is very wrong. I support governments being able to take those decisions, parliament should hold government to account for that decision."
If you like this story, share it with a friend!
You can share this story on social media: