Democracy inaction: MPs thrown a bone with parliamentary debate two days AFTER strikes on Syria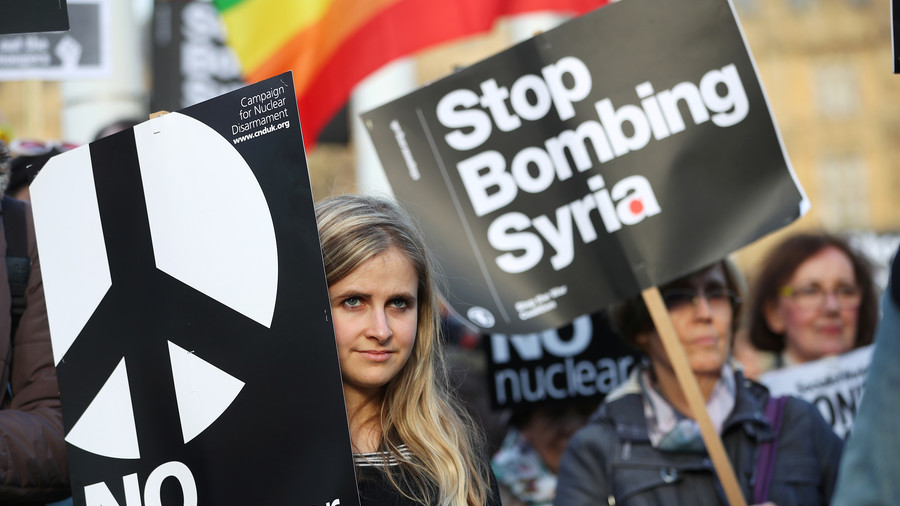 The post-factum debate in Parliament after the UK joined air strikes against Syria was a curious spectacle. MPs pontificated while ignoring the large elephant in the back benches: that no one was listening to them.
This was a debate over a military action that had already happened, and for which the government had not appeared to take Parliament serious enough to actually ask its opinion, let alone its permission. Theresa May said that there had not been the opportunity to ask for approval from Parliament before going ahead with the operation, following allegations over the use of chemical weapons in the Syrian town of Douma.
Champion of the left, Labour's Hilary Benn MP, stood up to say that while he understood why May acted quickly without asking for Parliament's position, could she offer reassurances that she would be asking MPs the next time she decided to act. The prime minister blustered but essentially said no, she'd probably do exactly the same again.
This debate on events that had already happened was a mere bone thrown to MPs to give the impression that the government was listening to their opinion on exceptional circumstances. It was soon clear, though, that May's government was going through the motions.
It's not easy to see why there was such a rush to action, a day before chemical weapons inspectors arrived in Douma to carry out an investigation. If reports are true, Britain, the US and France told the Russian military where the planes were going anyway, and perhaps even where they were going to bomb.
Labour leader Jeremy Corbyn suggested that Western jets and missiles had demolished what "appeared to be empty buildings." It's a fair bet that those same empty buildings would have still been there in a few days, giving inspectors and MPs the chance to be seen to do their jobs before the inevitable air strikes.
May said her decision "required the evaluation of intelligence and information, much of which was of a nature that could not be shared with parliament." Somehow the majority of MPs seemed to accept that.
READ MORE: 'UK govt can't demonstrate convincing evidence' – Labour's Chakrabarti questions Syria strikes
The debate in Parliament was witness to what is becoming a common theme in the Commons. Jeremy Corbyn attempting to oppose the government to the sound of jeers (he is the leader of the opposition after all). He called the strikes "legally questionable" and suggested that evidence should be found before sentences are delivered, both of which are messages not being heard in this baying Parliament. Corbyn stung May with a reminder that she was accountable to the British Parliament and not Donald Trump. Reports suggest while she couldn't wait to hear the opinion of MPs, the one thing she was forced to wait for was what Corbyn called "the whims of the American president."
READ MORE: UK PM Theresa May claims Syria strikes 'not because Trump told us to'
Away from the criticism, and there wasn't much of it considering a war had been risked, MP after MP from across the parties stood up to pat the prime minister and themselves on the back, attempting to identify with a decision that had absolutely nothing to do with them. There were words of praise for Theresa May's bold action, and strong statements of warning for Vladimir Putin and Bashar Assad that Britain had laid down a marker, that it was not to be messed with. The disconnect between the Churchillian rhetoric in Parliament and the action on the ground is particularly striking. Britain itself reportedly only fired around 8 missiles because most of its equipment wasn't modern enough to join in the action to the extent of the US or even France.
Putin and Assad are hardly going to lose sleep about the words of a few preening British backbenchers who no one cared to consult anyway.
Like this story? Share it with a friend!
You can share this story on social media: