'The PM is accountable to this parliament, not to the whims of the US president' – Corbyn (VIDEO)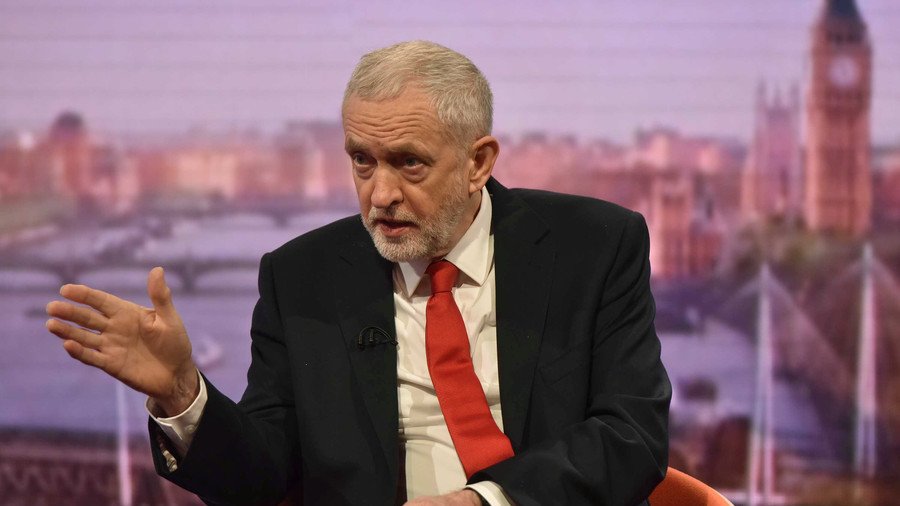 The Labour leader has responded to UK Prime Minister Theresa May's statement on recent airstrikes in Syria, saying that her statement serves as a reminder that she is accountable to the British Parliament, and not to Donald Trump.
Jeremy Corbyn said that Labour's position would be to introduce a War Powers Act "to transform a broken convention into a legal convention."
Often speaking above jeers from the Tory benches, Corbyn said: "The Prime Minister is accountable to this parliament not to the whims of the US president, we clearly need a War Powers act in this country to transform a now broken convention into a legal obligation."
Corbyn, who called the action "legally questionable," said legislation should be enacted to make it mandatory that parliament approve military action. He also asked May if she would cease arms sales to Saudi Arabia and stop the government's support for the bombing campaign in Yemen.
He also called on the Organisation for the Prohibition of Chemical Weapons (OPCW) to be allowed to carry out their investigation into alleged chemical-weapons use in Douma.
Continuing the Labour leader called on May to adhere to the recommendations in the Chilcot Inquiry, the 2016 report into Britain's role in the Iraq War which said that there must be stronger checks on intelligence. He then asked that the government take in more child refugees from Syria.
READ MORE: 'Where's the legal basis?' Corbyn challenges legality of Syria missile strikes
May responded by saying that the government has supported thousands of child refugees and that the UK is at the forefront of the diplomatic effort in Syria. She claimed that the UK was justified in carrying out the attack as it was designed to ease the suffering of victims of Bashar Assad's regime by degrading his alleged chemical weapons capability.
Responding to the leader of the opposition's insistence that parliament should have been recalled to hold a vote on military action, May said: "This was a limited, targeted strike on a legal basis that has been used before. And it was a decision which required the evaluation of intelligence and information, much of which was of a nature that could not be shared with Parliament. We have always been clear that the Government has the right to act quickly in the national interest."
The Labour leader made it clear in an interview on Sunday with BBC's Andrew Marr that he could only envisage UK involvement in Syria if there is backing from the UN. He also urged Donald Trump to exhaust diplomatic efforts and engage with Russian President Vladimir Putin.
Earlier in the day, Labour published a piece by Oxford Law Professor Dapo Akande on its website. The academic detailed that the joint British, US and French action against the Syrian government was "not in accordance with the United Nations Charter and international law."
Akande, who is a professor of public international law, said the government's position was "significantly flawed" and not representative of current international legislation.
"It is quite clear that the position advocated by the government is not an accurate reflection of international law as it currently stands," he said. "International law does not permit individual states to use force on the territory of other states in order to pursue humanitarian ends determined by those states."
The showdown in parliament comes after the UK and France, led by the US, conducted airstrikes against Syrian government targets. Over 100 missiles were reportedly fired by the triumvirate, using a combination of UK, French and US ordnance and military equipment.
The decision by May not to seek parliamentary approval for the strike drew criticism from Corbyn, his MPs and some of her own Conservative MPs.
The allied strike against Syria came as a response to an alleged chlorine gas bombing in the eastern Ghouta town of Douma, which killed up to 75 people, including women and children, and resulted in up to 500 casualties.
Syrian President Bashar Assad's government has denied responsibility.
Saturday's air raid was carried out at 2:00 am GMT by US, UK, and French forces. The attack has been described as a "violation of international law" by Syrian President Bashar Assad's government, which has also denied responsibility for the April 7 chemical attack.
You can share this story on social media: