Syria threat by 'manchild' Trump is 'most disturbing presidential statement ever made' – Galloway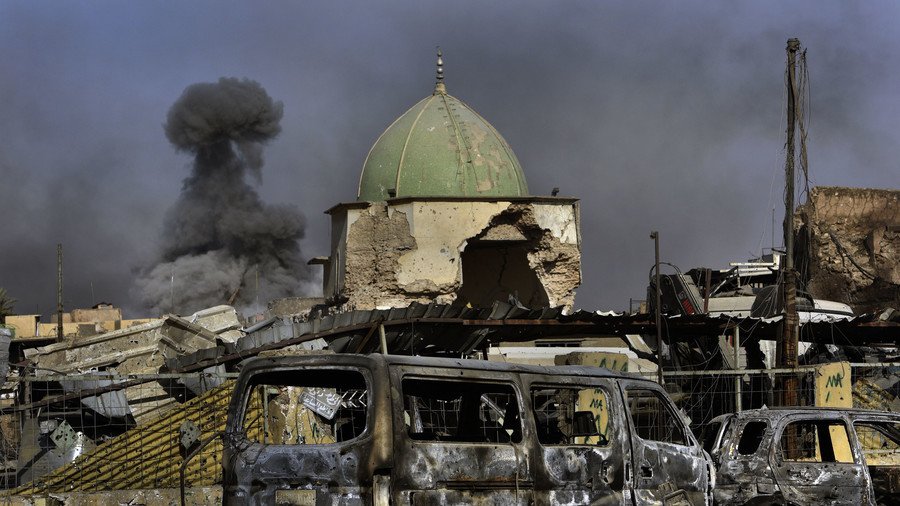 Former MP George Galloway has called on the US cabinet to impeach Donald Trump, labeling him a "man child" and questioning the American president's sanity after he promised to launch "smart" missiles at Syria.
Trump took to his Twitter account to warn Russia to "get ready" as missiles "will be coming, nice and new and 'smart!'" at its ally, Syria. Trump's comments come following a pledge made by Moscow's envoy to Lebanon, Alexander Zasypkin, who said that the Russian military reserves the right to shoot down missiles and destroy launch sites in the event of US aggression against Syrian leader Bashar Assad.
Politician turned broadcaster Galloway spoke to RT exclusively about the latest threats from Trump.
"First of all the tweets from President Trump is undoubtedly the most disturbing statement ever made by any US president and calls into question the very sanity of the person issued it," Galloway said.
"The world is watching on in horror even in the countries Britain and France that have already indicated they wish to join the putative American strike against Syria. We are on the point of what could develop into World War Three due to the unhinged, juvenile actions of a manchild."
Galloway went on to urge Washington officials to take matters into their own hands and impeach the out-of-control president.
"I believe that the US cabinet, which has the power to do so under the 25th amendment to the US constitution, must now declare that the author of that tweet is no longer fit to discharge their duties and should be removed from office."
Russia vows to shoot down any and all missiles fired at Syria. Get ready Russia, because they will be coming, nice and new and "smart!" You shouldn't be partners with a Gas Killing Animal who kills his people and enjoys it!

— Donald J. Trump (@realDonaldTrump) April 11, 2018
Trump's alarming tweets were followed shortly after by the Pentagon issuing a statement in which it said it "does not comment on potential future military actions" and referring questions about the tweet to the White House.
One hour after the threatening tweet, Trump shared a softer message about Russia. According to the POTUS, the fraught relationship between the US and Russia need not be that way.
Our relationship with Russia is worse now than it has ever been, and that includes the Cold War. There is no reason for this. Russia needs us to help with their economy, something that would be very easy to do, and we need all nations to work together. Stop the arms race?

— Donald J. Trump (@realDonaldTrump) April 11, 2018
Galloway told RT that the chance of an American missile strike seems "almost total," and a Russian retaliation "equally almost total."
"The earlier tweet has not been removed or deleted and therefore it stands. As we now know this is how Trump conducts his governmental duties – on Twitter. The subsequent tweet does not countermand the other one in any way.
"Of course it is a provocation but it couldn't be more deadly in its potentialities. It is certainly causing widespread terror in international public opinion."
Reports indicate that pro-government forces in Syria were evacuating major airports and military airbases after Trump's online threats.
While the calls for war from politicians and the media get louder, Galloway told RT that he does not think that the British people will support allied conflict in Syria. "The overwhelming sense I have of British public opinion - which may be beginning to rein in the British PM Theresa May – is that we are not prepared to go quietly into the good night of World War Three at the behest of Donald Trump...," he said.
The US, UK and France have agreed to work together and are believed to be preparing for a military strike in response to the alleged chemical attack in Douma at the weekend.
On Wednesday, UK PM May told reporters in Birmingham that "the use of chemical weapons cannot go unchallenged."
"We're rapidly reaching an understanding of what happened on the ground," May said.
"All the indications are that the Syrian regime was responsible, and we'll be working with our closest allies to consider how we can ensure that those responsible are held to account, and also how we can prevent and deter the humanitarian catastrophe of the use of chemical weapons in the future."
Think your friends would be interested? Share this story!
You can share this story on social media: