'Monsters on one side, maniacs on the other': Proposal to attack Syria splits UK Parliament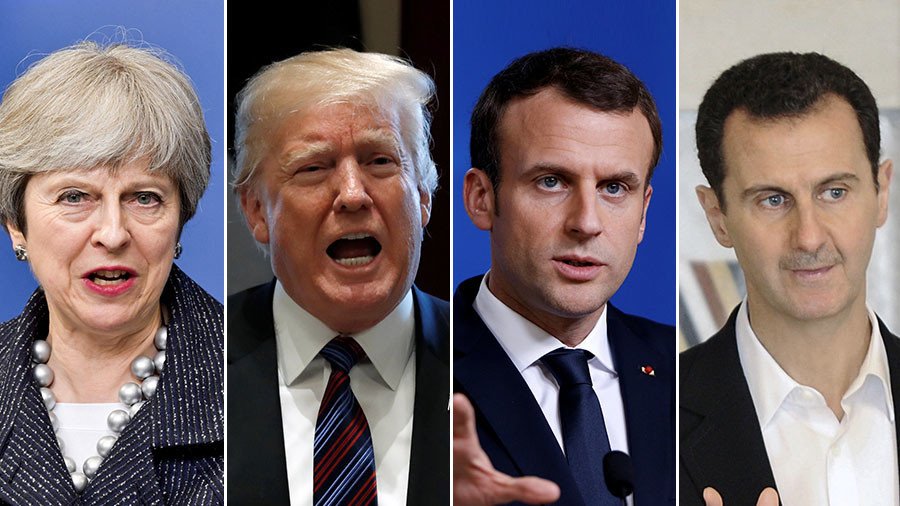 Theresa May has been warned by MPs not to ignore Parliament when joining with Donald Trump in his expected military action in Syria, following an alleged chemical attack that reportedly killed dozens.
MPs from all the main political parties have urged the UK prime minister to consult Parliament before lending military support to the US and France, which are discussing options to target Bashar Assad over the alleged chemical attack in Douma.
French President Emmanuel Macron said the three countries would decide "within days" how to respond. Macron said the decision would be made on the possibility of striking Syria's "chemical capacities," while White House press secretary Sarah Huckabee Sanders said "all options are on the table."
As the decision nears, the Commons' Defence Select Committee chairman, Julian Lewis, who voted down David Cameron when he put forward an unsuccessful motion to attack Assad in 2013, said: "When we are contemplating military intervention in other people's conflicts, Parliament ought to be consulted."
Lewis told BBC's Newsnight program that the UK would become involved "I'd not like to involve ourselves in support of either of these equally reprehensible sides in this civil war," he said. "What we've got here in Syria is a choice – monsters on the one hand and maniacs on the other.
"What is being proposed is that we should intervene massively on the side of the opposition in Syria against Assad and the truth is very different from the suggestion there is a wide range of opposition groups."
"It is absolutely untrue to say that apart from the Kurdish-led forces the Salafists and the Jihadists are not in control of the opposition groups - they are and we will be helping al-Qaeda if we help them to do a sustained military campaign against the brutal Assad regime," he stated.
Fellow Tory MP John Baron said any "substantial military commitment" should be approved by Parliament before any action.
Former Liberal Democrat leader Tim Farron agreed: "There is a strong case for military action in Syria. We cannot continue to shrug our shoulders as Assad commits despicable crimes against the innocent. But Theresa May would be making a huge mistake if she decides to follow Donald Trump and commit our country to action without consulting our sovereign Parliament first."
Labour MP Chris Bryant added his voice to the choir. The representative for Rhondda, who sits on the Commons' Foreign Affairs Committee, said it would be "bizarre" to go ahead with strikes without MPs' support, "especially since the last two times we looked at this it proved to be highly contentious across all parties."
While some from both sides of the house are calling for May to act only with the full support of Parliament, others said a vote need not be taken for a "one-off" strike in response to the chemical attack. Foreign Affairs Committee chair and Tory MP Tom Tugendhat said that UN and Geneva protocols gave the government the authority to act without a vote.
Former aid minister and Tory MP Priti Patel called for "justice," saying: "Inaction has become a stain on our collective humanity. We have reached the moment when the world must see justice done."
Russia, however, has warned against any aggressive action from the US. Russia's UN Ambassador Vassily Nebenzia said the US decision to put forward its resolution could be a prelude to a Western strike on Syria.
READ MORE: UK military action in Syria met with enthusiasm by liberal hawks, but 'dissenters' remain skeptical
"I would once again ask you, once again beseech you, to refrain from the plans that you're currently developing for Syria," he said after the council did not approve a third draft resolution on the alleged chemical attacks in Syria.
"If you took the decision to carry out an illegal military adventure, and we do hope that you will come to your senses, well then you will have to bear responsibility for it."
Moscow's envoy to Lebanon, Alexander Zasypkin, said that the Russian military reserves the right to shoot down missiles and destroy launch sites in the event of US aggression against Syria.
Think your friends would be interested? Share this story!
You can share this story on social media: