'Russia will never be our friend, we'll slap them when needed' – US envoy to UN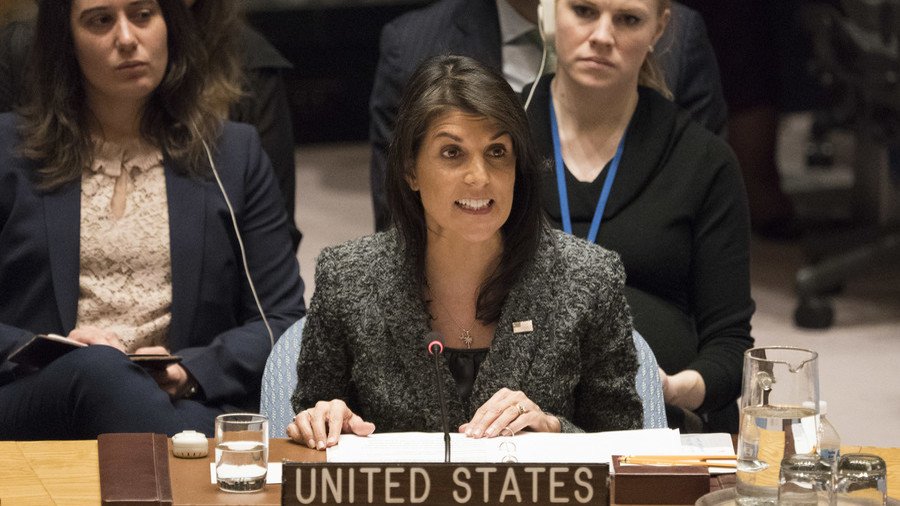 Nikki Haley has erupted in another fiery Russophobic rant, warning that Russia will "never be America's friend." Moscow can try to behave "like a regular country," but the US will "slap them when we need to," Haley said.
The US ambassador to the UN is not known for her friendly stance toward Moscow, but her new take on US-Russia relations stands out among even her most rabid ramblings. Speaking at Duke University in North Carolina on Friday, Haley admitted that friendly relations with Russia is an unlikely prospect, adding that the Trump team has done more against Moscow than any other administration since Ronald Reagan's tenure.
"Russia's never going to be our friend," Haley told students at a Q&A session, responding to a question about "holding Russia accountable" for alleged meddling in the 2016 presidential election. The diplomat said Washington still works with Moscow "when we need to, and we slap them when we need to."
She then raised the stakes further: "Everybody likes to listen to the words. I'm going to tell you – look at the actions," Haley urged. "We expelled 60 Russian diplomats/spies, we have armed Ukraine so that they can defend themselves," she added.
According to the UN envoy, the US is doing "two things Russia would never want us to do," namely enlarging the military and expanding its energy policy. "So, this president has done more against Russia than any president since Reagan," she asserted.
"You haven't seen the end of what this administration will do to Russia. You will continue to see that play out," she stressed.
READ MORE: Trump suggested meeting with Putin in Washington, DC
Cooling down the degree of Russia-bashing in her speech, Haley said the US and Russia do cooperate on Afghanistan and Africa, looking out for areas of mutual interest. Meanwhile, she claimed, "our relations with Russia depend solely on Russia."
However, the Russian leadership can make life easier "if they decide to be a good actor and deal in the international community like regular countries," the ambassador noted, adding that "they will see more countries want to work with them."
The topic of Russia-bashing and Moscow's alleged interference in US democratic processes seems far away from dwindling, despite no solid evidence being presented so far to the public. Moscow has repeatedly brushed off the claims. "Until we see facts, everything else will be just blather," Foreign Minister Sergey Lavrov said in Munich last month.
However, there could be signs of improvement on the horizon. Donald Trump has recently suggested meeting Russian leader Vladimir Putin in Washington, DC. In March, he said the two leaders "will be meeting in the not too distant future to discuss the arms race which is getting out of control." Putin and Trump have so far met twice.
The first meeting occurred during the G20 summit in Germany last July, and the second took place on the sidelines of the Asia-Pacific Economic Cooperation summit in Vietnam in November. President Putin, as well as several Russian officials, has continuously signaled Moscow's readiness to improve ties with the US and the West, based on trust and respect.
Like this story? Share it with a friend!
You can share this story on social media: