Britain's establishment is desperate for Russian guilt, and will ignore anything to get it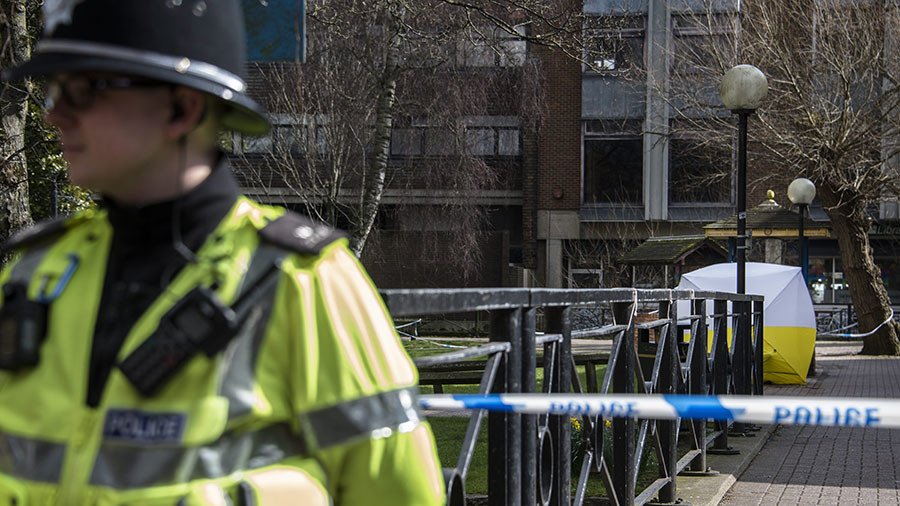 The UK Foreign Office denies its own on-the-record claims after being undermined by government scientists. The media is ignoring reports which could help avoid a major confrontation with Russia. Welcome to post-Skripal Britain.
When Jeremy Corbyn called for more evidence to be provided about Russia's alleged role in the poisoning of the Skripals, the howls from Parliament and much of the media were deafening. When the laboratory in charge of investigating where the nerve agent used in Salisbury came from said it couldn't actually back up claims it was from Russia, it was the silence that was deafening.
For some reason that's unlikely to be reflected on, the mainstream in Britain is desperate for Russia to be found guilty. There may have been a time when avoiding confrontation with another major nation would have been the desired outcome, but that time isn't now.
The BBC's flagship news show Newsnight has absolutely led the way in the coverage of the Salisbury poisoning, giving any professional Russophobe that was available a comfy seat and access to camera to unload their theories. If they were lucky, they were given the chance to do it against the backdrop of a hat-wearing Jeremy Corbyn photoshopped next to the Kremlin.
So news from Porton Down that scientists could not actually confirm that the Novichok agent was from Russia would surely be the lead story. Erm… no. In fact, the story didn't even make it anywhere into Tuesday night's program. Newsnight did find room for a report on the rise of Ukraine's far-right groups, four years after Moscow warned of the same, so perhaps just check back in 2022 for news from Salisbury.
Never forget, the BBC sees itself like a falling tree in the woods. If the BBC doesn't report it, does it really happen? The story did sneak into the sidebar of the BBC's website at least, but you'd have to squint to see it. The question should be asked, if Porton Down had announced that the Novichok definitely came from Russia, would the story have been more prominent? (Let your writer just answer that question, yes, yes it would.)
One of the reasons this admission from Porton Down is so controversial is because it undermined much of the argument made by the British government to rush to judgement. Anyone who argues that Theresa May was not insinuating that British scientists had provided the proof needed to accuse Russia is being disingenuous at best.
There is, however, no need to explore insinuations when Boris Johnson is the foreign secretary because he'll serve it up on a plate for you with a lovely garnish. He told Germany's Deutsche Welle, categorically, that a scientist at Porton Down had told him the nerve agent had definitely, unequivocally come from Russia.
Shadow Home Secretary Diane Abbott has had a security briefing on the evidence, and on Wednesday said: "Boris Johnson going on international media and saying he was 101 percent certain it was Putin. I don't understand where he got that information from." I think we all understand by now where Johnson gets his information from, he picks it out of his….
Sky News was the organization which got the exclusive interview with Porton Down's chief executive, Gary Aitkenhead. A keen-eyed tweeter spotted that the Sky report at 8pm included the apparently misleading interview from Johnson, but that it had been removed by 10pm.
Hi @pkelso good story on Sky today but can you explain why at 8pm your report included Boris Johnson saying Porton Down said there was "no doubt" the source of the nerve agent was Russia, but by 10pm that part of your report had been removed? Thanks.

— Alex Nunns (@alexnunns) April 3, 2018
The journalist responsible for the report said it had been removed because of the developing nature of the story. Apparently the story had developed beyond the point where a foreign secretary possibly misleading his country into a dangerous diplomatic stand-off with Russia by misrepresenting the available evidence was important. In defense of Sky, it has now taken up the story and is running with it.
No need to worry though, because this is not the kind of story Britain's famously independent and rabid-for-the-truth newspapers will allow to go unreported. Boris has been absolutely torn to pieces by exactly none of the mainstream press. Normally the foreign secretary only has to get out of bed to make the front pages, this time not even potentially misleading the nation is enough.
The hardest job in the Foreign Office is Boris's translator, who is sent into battle after his mouth has run away from him. The translator's first sentence normally begins with, "What Boris meant to say…."
Now though it's clear that the UK Foreign Office tweeted similar claims to those made by Johnson, before deleting the post. The British ambassador in Moscow also accused Russia directly, against the evidence. Still, nothing to see here, move along, move along.
READ MORE: Porton Down revelations: How they affect Skripal case, Russia and Theresa May's govt
The usual suspects of the Twitterati have a new argument to confirm their bias over what they think actually happened in Salisbury. It goes along the lines of, "it's not the scientists' job to decide where the nerve agent came from."
That's a fair point to make, but the British government has made an extremely serious accusation against another state, so someone has taken on the job of deciding where it came from. Until Tuesday, most of us assumed, with some gentle nudging in that direction, that it was the scientists that had provided the information to make the claim against Moscow.
The best example I've found of the current climate comes from this tweet below – sorry to pick on Dan Hodges, who is used simply as an illustration.
This is what happens in the Fake News age. A video of Boris Johnson on German TV is being broadcast. It supposedly shows him claiming Porton Down said the attack was from Russia. It doesn't. But no-one cares.

— (((Dan Hodges))) (@DPJHodges) April 4, 2018
He's so desperate to stick to the 'accepted' version of events, his own eyes and ears seem to be lying to him. He's not alone.
Think your friends would be interested? Share this story!
You can share this story on social media: