Male suicide rate is 'stain on our society,' campaigner tells RT as UK sees new death every 2 hours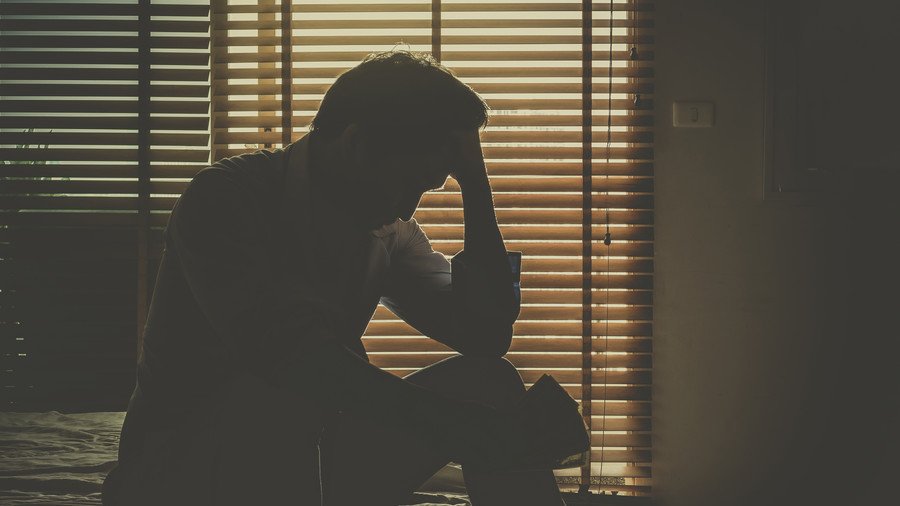 Britain's strategy to tackle male suicide is an "absolute lottery" as it does barely anything to stop 84 men from committing suicide every week, a campaigner told RT.
Amid reports of the UK seeing a male suicide every two hours, Simon Gunning, CEO of Campaign Against Living Miserably (CALM), said the staggering rates are the "clearest indicator that we are doing very badly in certain areas."
"The issue is there are 84 men a week who choose a permanent solution to temporary problems," Gunning said. "Unable to see hope, they think death is better than life."
Every week, 84 men in the UK take their own lives. Today, CALM is launching a petition calling for government action on suicide. Join us to take a stand against male suicide. https://t.co/4dUQBMt7pm

— CALM (@theCALMzone) March 22, 2018
Overall, suicide claims the lives of 6,000 people in the UK, the majority of whom (75 percent) are male. It has prompted CALM to launch Project84, a campaign aimed at raising awareness about suicide in the country.
The project entailed the erection of 84 statues on the roof of ITV News' headquarters in London, each one representing a man who chose death over life.
"[Families] look out across London with collective defiance. They are saying that it is unacceptable. What we are saying is that if there were people dying from anything else there would be public outrage," Gunning told RT.
"But because we are constricted by embarrassment we don't mention the 's' word. We want this issue to be confronted and want us to create a society were men can communicate, where they can seek help and where they can live a life less miserable."
The government's public health body claims a single suicide affects 125 people, and that 9 percent of those will themselves experience suicidal instincts as a result. Yet, for Gunning, there is little discussion about it because of the "massive stigma attached to suicide. We don't deal with death very well, let alone suicide."
A petition calling for "explicit ministerial responsibility for suicide prevention and bereavement support" has now garnered more than 165,000 signatures.
Gunning branded the government's approach to male suicide an "absolute lottery." He criticized the government's defense that it is pumping millions into mental health, saying it is a "counterintuitive" solution "because we know men don't present for mental health care."
'All emotions in check'
Jonny Sharples, 31, whose elder brother Simon committed suicide three years ago, said he had no way to anticipate it would happen.
"He was a rock with all his emotions in check" and had shown "no signs of being down and depressed," Sharples said.
"It's quite a difficult thing to wrestle within your own head. That someone so happy and smiley was also fighting these demons, suffering from depression and having a difficult time."
Sharples regrets that his brother did not feel like he could turn to someone for help.
"What he was feeling was normal, nothing to be ashamed of or feel guilty about. Someone could have sat with him to tell him it would be okay if he could just speak to somebody," he said.
He added it is "disappointing" that it took a charity and a TV station to raise awareness about the suicide epidemic plaguing Britain's male community.
Given it is the biggest killer of men under 45, he said one would think it is a "priority for the government to put money and people in place to stop that."
'Taboo'
Sharples echoed claims that the stigma attached to suicide is an obstacle to its prevention. "Suicide in general is not something that is discussed. It is taboo and a dark, very personal subject.
"Not many other ways to lose a loved one that is so tragic and heartbreaking."
He said that despite today's improved gender equality, there is "still a hangover that men should keep things to themselves.
"If a man talks about this problems he won't be taken seriously, he'll get shot down by someone or seen as [not] masculine or weak.
"But it's a very brave step to open up in such a way that you are talking about your problems," Sharples stressed, before adding: "It is important we have a society where men feel comfortable to open up."
If you like this story, share it with a friend!
You can share this story on social media: