Posh Saudi cars vandalized on third anniversary of 'brutal' Yemen bombing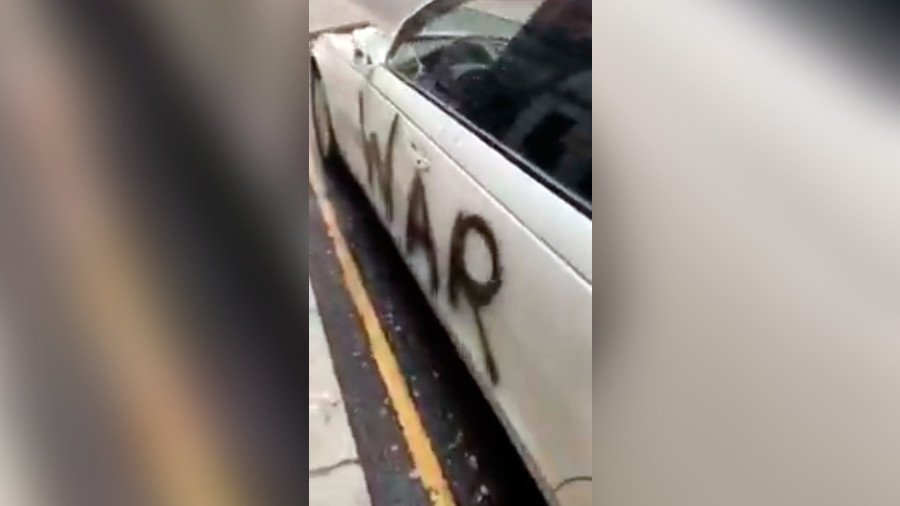 Luxury Saudi cars have been defaced in London by a vandal or vandals condemning the country's bombing campaign in Yemen, which is currently the scene of what the UN has described as the "world's worst humanitarian crisis."
Images have emerged on social media of cars with Saudi number plates being sprayed with words such as "war" and "Ya Ali," a common expression used by Shia Muslims. It comes as a protest is due to be held in Central London on Monday evening to mark the third anniversary of the Saudi Arabia-led coalition's bombing of Yemen.
In one video, a man can be heard saying: "I parked the car for a minute in Sloane (Square), look what the son of a b***h did," the New Arab reports.
In another video, the passenger of a 4x4 vehicle appears to be hit with a spray can as he confronted a man vandalizing another car.
Saudi Arabia has led a bloody aerial campaign in support of the Yemeni government and against the Iranian-backed Zaydi-Shia Houthi rebels since March 26, 2015. Some 10,000 people are estimated to have died in the conflict, with more than 50,000 injured and millions in need of humanitarian assistance. Save the Children has estimated that more than 50,000 minors may have died in 2017 as a result of the conflict.
The UK has been accused of being "complicit" in the mass killings as it licensed £4.6 billion ($6.5 billion) worth of fighter jets and bombs to the Saudi regime since the bombing of Yemen began.
Campaign Against Arms Trade's Andrew Smith said the UK is still colluding with the Saudi's human-rights abuses. Despite international criticism and mass protests, the UK announced earlier this month that it was close to confirming a new deal to sell the regime 48 more Typhoon jets.
"Yemen has endured three years of destruction, but the arms sales haven't stopped. The war is entering its fourth year, and the humanitarian crisis is only getting worse," Smith said in a statement on Monday.
"Theresa May and her colleagues must end their shameful complicity in the destruction. If the government wants to do the right thing for the people of Yemen then it must stop arming and supporting the brutal Saudi regime."
The new arms deal was announced just after a visit by Saudi Crown Prince Mohammad Bin Salman – considered to be the "chief architect" of the Yemen war – sparked mass protests outside Downing Street earlier this month.
If you like this story, share it with a friend!
You can share this story on social media: