Jewish groups brand Jeremy Corbyn anti-Semitic – but his supporters hit back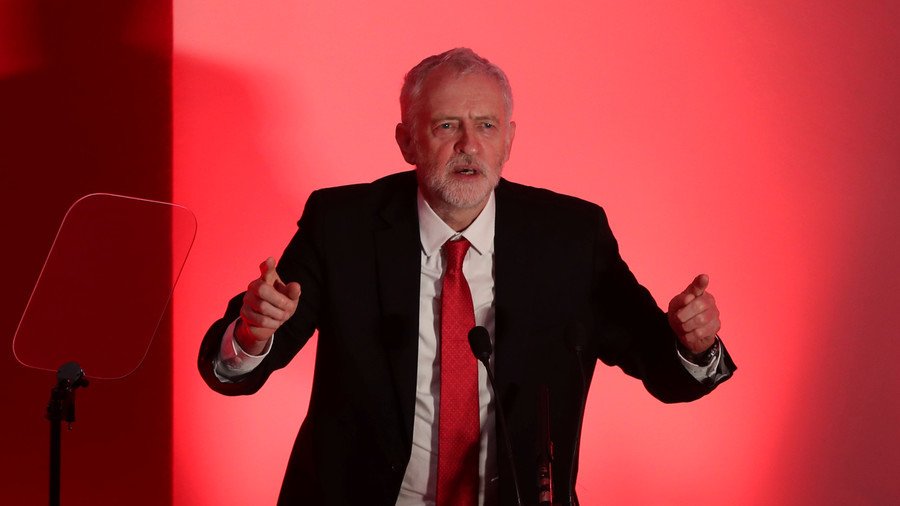 Labour leader Jeremy Corbyn is receiving huge support after two British Jewish groups accused him of being anti-Semitic. #IStandWithJeremyCorbyn is picking up steam on Twitter as his supporters dismiss "nasty smears" against him.
While accusations of anti-Semitism have been levelled at Corbyn since he became leader, tensions flared over the weekend when the Labour leader expressed regret for backing the artist behind an anti-Jewish mural in London's East End over five years ago. At the time Corbyn questioned a decision to whitewash a mural of bankers – some of whom were depicted using anti-Semitic imagery – playing Monopoly and counting money on the backs of men.
The two most senior Jewish groups in Britain will take aim at Corbyn on Monday, when the Labour Party holds its weekly parliamentary meeting, rallying against the opposition leader in Parliament Square.
The Board of Deputies of British Jews and the Jewish Leadership Council will lead the protest to tell Corbyn that "enough is enough." In an open letter, the former said that Corbyn has a "conspiratal worldview in which mainstream Jewish communities are... a hostile enemy."
Jewish Voice for Labour has thrown its support behind the opposition leader, releasing a statement late in Sunday to express their disgust over the claims levied against Corbyn. "We are appalled by the actions and statements of the Board of Deputies. They do not represent us or the many Jews in the Party who share Jeremy Corbyn's vision for social justice and fairness. Jeremy's consistent commitment to anti-racism is all the more needed now."
In turn, Twitter users have rallied around the opposition leader, sharing previous comments made by Corbyn. Pictures of a younger Corbyn protesting Apartheid were shared, while a recording of a speech he made on the anniversary of the Battle of Cable Street also went viral. Some even suggested the smear campaign has stemmed from his rivals in the Conservative Party.
The letter vilifying Corbyn, written by the Board of Deputies of British Jews, has also been shared repeatedly on social media. "When Jews complain about an obviously anti-Semitic mural in Tower Hamlets, Corbyn of course supports the artist," the letter said. "Hizbollah (sic) commits terrorist atrocities against the Jews, but Corbyn calls them his friends… exactly the same goes for Hamas.
"Raed Salah says Jews kill Christian children to drink their blood. Corbyn opposes his extradition and invites him for tea at the House of Commons. These are not the only cases."
Corbyn has denied the allegations made against him, releasing a statement on Sunday evening to make it "clear that I will not tolerate any form of anti-Semitism that exists in and around our movement," he said. "We must stamp this out from our party and movement."
"We recognise that anti-Semitism has occurred in pockets within the Labour Party, causing pain and hurt to our Jewish community in the Labour Party and the rest of the country. I am sincerely sorry for the pain which has been caused." He also said that Labour was campaigning "to increase support and confidence among Jewish people in the UK."
Think your friends would be interested? Share this story!
You can share this story on social media: