Nazi pug case causes freedom of speech row in parliament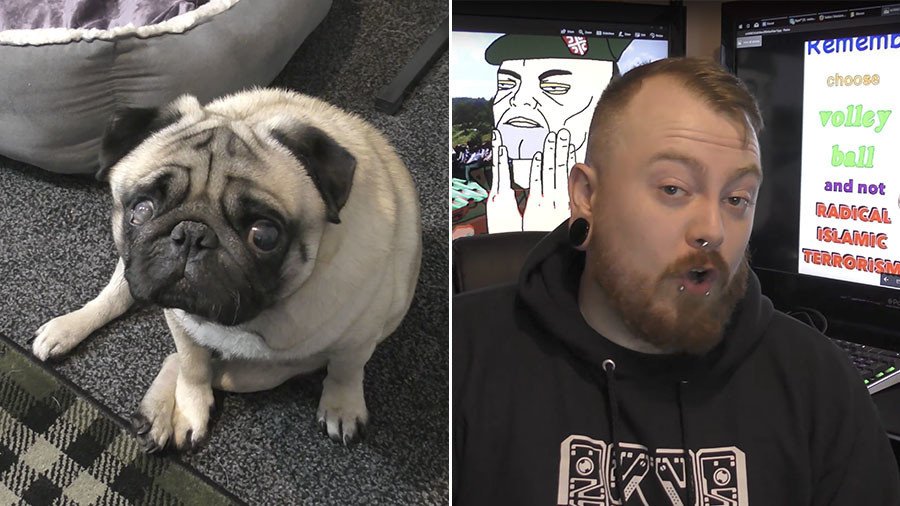 Freedom of speech is being eroded in the UK, according to an MP. The claim comes after a viral video of a dog doing 'Nazi salutes' led to a YouTube vlogger being convicted of hate speech.
MP Philip Davies has called for an immediate debate on the issue. He is joining the ranks of campaigners who claim the basic freedom is being eroded.
The Yorkshire MP spoke up after YouTuber Count Dankula, real name is Mark Meecham, was convicted of a hate crime for teaching his girlfriend's dog to perform a Nazi salute while he used anti-Semitic statements. In the viral video, seen three million times, the pug to reacts to Meecham's phrases such as "Sieg Heil" and "Gas the Jews."
A court found the video to be "grossly offensive." However, high-profile Britons have come out to support his right to make the film – whether or not they agree with the content.
Meecham said the video had been taken out of context and called his conviction a "huge miscarriage of justice." The YouTube star describes himself as a "professional s*** poster" and free-speech advocate.
Speaking in the House of Commons, Davies said: "We guard our freedom of speech in this House very dearly indeed... but we don't often allow our constituents the same freedoms."
Recent court cases have thrust the issue of freedom of speech into the public domain. Comedians Ricky Gervais and David Baddiel spoke out on the issue, with the former saying: "A man has been convicted in a UK court for making a joke that was deemed grossly offensive. If you don't believe in a person's right to say things you might find grossly offensive, then you don't believe in freedom of speech."
Gervais responded to the video by telling fans that people have the right to make fools of themselves, and to make light of terrible situations, using the right of free speech. He said: "Freedom of speech does not include the right to be taken seriously, listened to, or even heard. But you have the right to speak. Enjoy."
OK, one more point. Why is it funny, and not prison-causing, for Borat to think Jews shape-shift into cockroaches? It's not cos Sacha is jewish. It's cos the joke is not on Jews, but anti-Semitism, made to look idiotic and absurd. As when a pug does a Nazi salute.

— David Baddiel (@Baddiel) March 22, 2018
Agreed: the company being kept is troubling. The principle of comedians being allowed to contextualise a joke is important, but - of course - the defence of Dankula is now being appropriated by (some) proper wankers. So I'm leaving it at what I said in @rickygervais podcast. https://t.co/UnM36bAGmO

— David Baddiel (@Baddiel) March 20, 2018
Davies called for a debate, claiming that freedom of speech was "something this country has long held dear and is in danger of throwing away needlessly." Andrea Leadsom, leader of the Commons, responded: "I absolutely commend (Davies) for raising this very important issue. We do of course fully support free speech, however, there are limits to it and he will be aware there are laws around what you are allowed to say and I don't know the circumstances of his specific point, but he may well wish to seek an adjournment debate to take this up directly with ministers."
Meecham is due to be sentenced on April 23. He said: "I think it is a very, very dark day in terms of freedom of speech and freedom of expression. One of the primary things that must be considered in cases like this is context and intent, and today context and intent were completely disregarded. For the system to disregard such things means that your actions no longer matter – they decide what your context and intent is. For any comedians making jokes in Britain, I'd be very, very worried about your future because – the context and intent – apparently they don't matter anymore."
The case comes after a number of prominent far-right figures were banned from entering Britain. Vloggers Lauren Southern and Brittany Pettibone, along with Generation Identity's Martin Sellner, were barred from the UK. A protest was held in Hyde Park over their detention – with activists suggesting that they no longer had a right to free speech. Those who oppose them assert that the much of the far-right's rhetoric amounts to hate speech.
In the UK, there is no specific law which protects free speech. Laws against hate speech and defamation are in place, with the former regularly exercised against figures on the far-right and radical Muslims. The right is enshrined in the European Convention of Human Rights which the UK is set to leave following Brexit.
If you like this story, share it with a friend!
You can share this story on social media: