'Sickening attack': City gang kicks and stomps on unconscious man more than 100 times (VIDEO)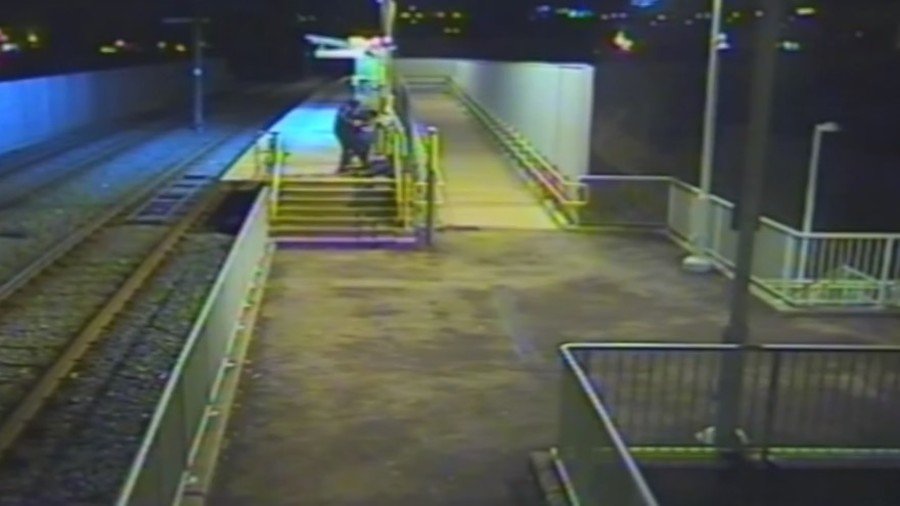 Horrifying footage of a brutal attack on a man lying on a UK tram platform has emerged. A police hunt for the victim's attackers is underway.
CCTV footage shows the teenagers stamping on the man more than 100 times before leaving him for dead. The 49-year-old man was brutally assaulted at the Metrolink station in Chadderton, Greater Manchester.
His ordeal continued even after he was knocked unconscious by the boys, described as Asian males aged between 15 and 18. A tram arrived during the attack, and the gang still did not stop. Instead detectives said the gang "played to the audience."
Greater Manchester Police are treating the attack as attempted murder and said it's "incredible" the victim survived and is now recovering in hospital. The man's ordeal began when he stepped off a train at the Freehold stop at about 9.35pm on Thursday, March 8.
It ended when a tram travelling in the opposite direction stopped and the driver, along with passengers, ran to help him. Manchester Police said: "Not only did these men target an innocent man for no apparent reason, they subjected him to a sustained and brutal attack and the footage is absolutely shocking. How anyone could kick a defenceless man in the head as he lay unconscious is almost unbelievable, but for them to return on three separate occasions to continue their assault and then leave him bleeding on the platform is beyond comprehension.
"The fact the victim not only survived but is now on the road to recovery is pretty incredible. We know a tram stopped on the opposite side of the tracks at the time of the attack and I would urge anyone who has any video footage to please send it in to us as a matter of urgency. It could be vital to finding the people responsible. Alternatively, anyone who thinks they know who did this, or has any information, please get in touch. This could have been your father, son or brother and we need to find these men immediately."
Transport for Greater Manchester's head of Metrolink, Danny Vaughan, said: "This was a sickening and sustained attack that has left a man seriously injured.
"We know there's been a spike in the number of incidents of crime and antisocial behavior in the Oldham area recently. It is something we are working with partners to try and tackle but the extent of this assault and level of force used was indiscriminate and wanton."
You can share this story on social media: