MPs compete to condemn Kremlin in ever more undiplomatic and insulting ways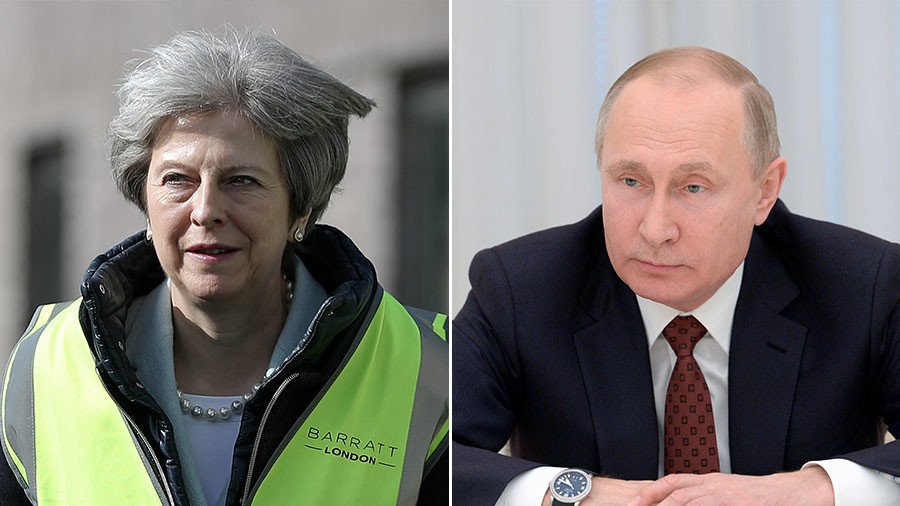 Theresa May arrived in Brussels with more doomsday warnings: Russia is not only a threat to the UK, but the whole of Europe. Her comments join a string of escalating accusations thrown at the Kremlin. Here are some of the others.
Theresa May
The UK PM arrived in Brussels, where it is understood she will try to convince fellow European Union leaders that Russia poses a threat to not just the UK, but the entire bloc.
"Russia staged a brazen and reckless attack against the United Kingdom," May told reporters upon her arrival at the EU summit. "It's clear that the Russian threat does not respect borders and indeed the incident in Salisbury was a pattern of Russian aggression against Europe and its near neighbors."
Gavin Williamson
The Defense Secretary loves a crack at Russia. He recently said Russia was planning to kill Britons by the "thousands and thousands and thousands" – and that was before Skripal even entered the picture.
Last week, he said Russia "should go away and shut up." He was responding to a question about Moscow's announcement that it would expel British diplomats. A very mature response.
Boris Johnson
Remember that infamous day in history when Adolf Hitler refused to award a gold medal to track athlete Jesse Owens because of the color of his skin? Well, BoJo recently raised the bar for the UK government's bizarre accusations against Moscow to a new level by comparing Russia's hosting of this year's World Cup to the 1936 Olympics in Nazi Germany.
"I think the comparison with 1936 is certainly right. It is an emetic prospect to think of Putin glorifying in this sporting event," he told a receptive Foreign Affairs Committee on Wednesday. The Kremlin was outraged by Johnson's comments. "This statement is totally disgusting, it is not appropriate for any foreign minister," Kremlin spokesman Dmitry Peskov said. "Undoubtedly, [this remark] is offensive and unacceptable."
Tom Tugendhat
Conservative MP Tom Tugendhat practically exploded over claims that Moscow attempted to murder ex-Russian double agent Sergei Skripal and his daughter Yulia in Salisbury. The Tonbridge and Malling MP described the poisoning as "a war-like act by the Russian Federation."
"This is not the first we've seen and, while some in this house have stayed silent and decided to join the information warfare that that state is conducting against us and our allies, we have seen them invade countries in the east, attack allies, attempt to kill prime minister and even now they are backing the murderous Assad regime which has no problem gassing its own people," Tugendhat raged.
Ian Blackford
The SNP MP committed his party to working with the Tories against Russia, calling the Skripal attack an "abuse of state power" by Moscow. "There has to be a robust response to the use of terror on our streets," Blackford said. "We must act in a measured way to show that we will simply not tolerate this behavior."
You read that right – terror on our streets. Extreme words when no second party has confirmed that it was actually Russia behind the attack. So far, the allegations are based on unverified evidence from samples held by the UK government… the same government that has ignored requests from Russia to test the nerve agent A-234 (dubbed 'Novichok'), so the source can be proven once and for all.
Think your friends would be interested? Share this story!
You can share this story on social media: