Violence breaks out at Tommy Robinson's 'free speech' rally (VIDEO)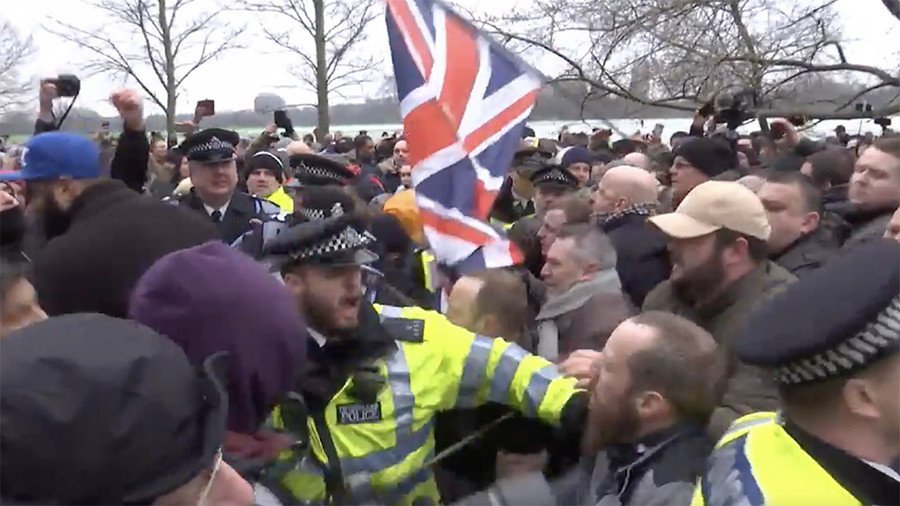 Supporters of the ex-English Defence League leader Robinson scuffled with counter-protesters during a 'free speech' rally held at Hyde Park's iconic Speakers' Corner. Scores of police were on hand to attempt to keep the peace.
Before Robinson's address, Speakers' Corner veteran HeikoKhoo was harangued and abused by the right-winger's supporters. One man ripped off Khoo's hat, while others shouted obscenities and surrounded the left-wing activist.
The supporters had rallied to hear Robinson read out a 'banned speech' by Generation Identity's Martin Sellner, who was denied entry to the UK. Robinson delivered the speech to thousands who braved the cold weather, gathering in the snow at Speakers' Corner, a landmark of free speech in London. Marx, Lenin, and George Orwell all gave speeches at the iconic Hyde Park location.
A handful of Muslim counter-protesters confronted Robinson and his group, pushing back against police and the protesters. Scuffles broke out and it is understood that police made a handful of arrests.
A live stream posted from Robinson's YouTube channel showed large crowds of supporters and counter-protesters, while police can be seen around the far-right speaker, who made headlines last week for punching a migrant in the face in Rome. Supporters could be heard chanting "free speech," making Robinson's voice impossible to be heard clearly for those viewing at home.
Robinson says he'll return to Speakers corner next week to challenge all the Muslim speakers who come here weekly. Says "speakers corner will be the new battleground for free speech"

— Hussein Kesvani (@HKesvani) March 18, 2018
Muslim protesters responded with cries of "Allahu Akbar!" with both groups trying to drown the other out. According to one attendee, Robinson vowed he would be back at Speakers' Corner next week to challenge the Muslim speakers who are there, among others, on a weekly basis.
Think your friends would be interested? Share this story!
You can share this story on social media: