British woman killed in Syria during Turkish airstrikes on Afrin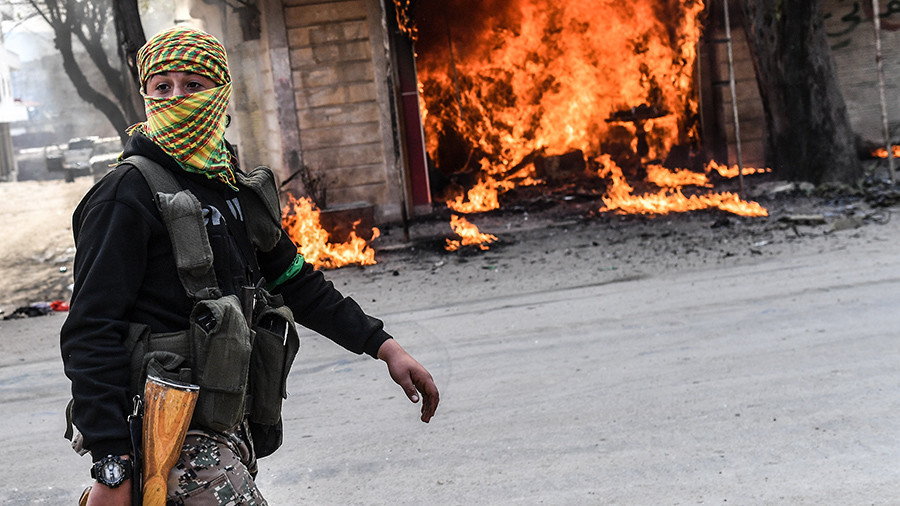 A British woman has been killed fighting in Afrin, Syria, with an all-female Kurdish armed unit, it has been revealed. Anna Campbell, 26, is the first British woman to have died in Syria fighting with YPG/YPJ forces.
Campbell, from Lewes in East Sussex, died on March 15 in the Syrian city of Afrin. Afrin has recently been surrounded by Turkish forces, which have entered Syria ostensibly to oust Kurdish forces from the Syrian border. Friends of Campbell in Syria told the BBC she was killed in a Turkish airstrike.
She had been fighting with the Women's Protection Units (YPJ). The YPJ is an all-female affiliate of the People's Protection Units (YPG) in the Kurdish-populated north western part of Syria.
Campbell's father, Dirk Campbell, described his daughter as "idealistic" and "determined." She traveled to Syria in May 2017 to work with Kurdish fighters who were battling ISIS.
"She wanted to create a better world and she would do everything in her power to do that," her father said. "I told her of course that she was putting her life in danger, which she knew full well she was doing. I feel I should have done more to persuade her to come back, but she was completely adamant."
Her father said that he understands that his daughter's Kurdish friends tried to stop her from going to Afrin. In January, Turkish forces kicked off a major offensive against the Kurds along the northern border of Syria, forcing more than 5,000 people to flee their homes in Afrin alone.
Many YPJ fighters who battled IS moved to defend the north. Some British volunteers, including Campbell, joined them.
Campbell's father said he contacted his local MP when he discovered that his daughter was in danger from the Turkish bombardment. "With fair hair and blue eyes they knew she would stand out, but she dyed her hair black and persuaded them to let her go," he said. "I emailed my MP and said my daughter is in danger, you have to get on to the Foreign Office and get them to put pressure on Turkey to stop."
A YPJ source told the Guardian that the 26-year-old Briton had insisted on heading to Afrin. "They refused at first, but she was adamant, and even dyed her blonde hair black so as to appear less conspicuous as a westerner," the source said. "Finally they gave in and let her go."
READ MORE: Briton arrested on terrorism charges… because he fought against ISIS
In a statement to the Guardian on Sunday, YPJ commander and spokesperson Nesrin Abdullah said: "[Campbell's] martyrdom is a great loss to us because with her international soul, her revolutionary spirit, which demonstrated the power of women, she expressed her will in all her actions… On behalf of the Women's Defence Units YPJ, we express our deepest condolences to [her] family and we promise to follow the path she took up. We will represent her in the entirety of our struggles."
Dirk Campbell described his late daughter as a "beautiful and loving," and someone who "would go to any lengths to create the world that she believed in." He said: "Anna was very idealistic, very serious, very wholehearted and wanted to create a better world. She wasn't fighting when she died, she was engaged in a defensive action against the Turkish incursion." He also said his daughter had dedicated her life to the fight against "unjust power and privilege."
Campbell is one of eight Britons to have died in Syria with the YPG or YPJ. Other Britons who left the UK to take up arms against ISIS have been arrested on terrorism charges upon their return.
Like this story? Share it with a friend!
You can share this story on social media: