'Poison storm, gas cuts & Cold War II': How MSM lost the plot over Salisbury attack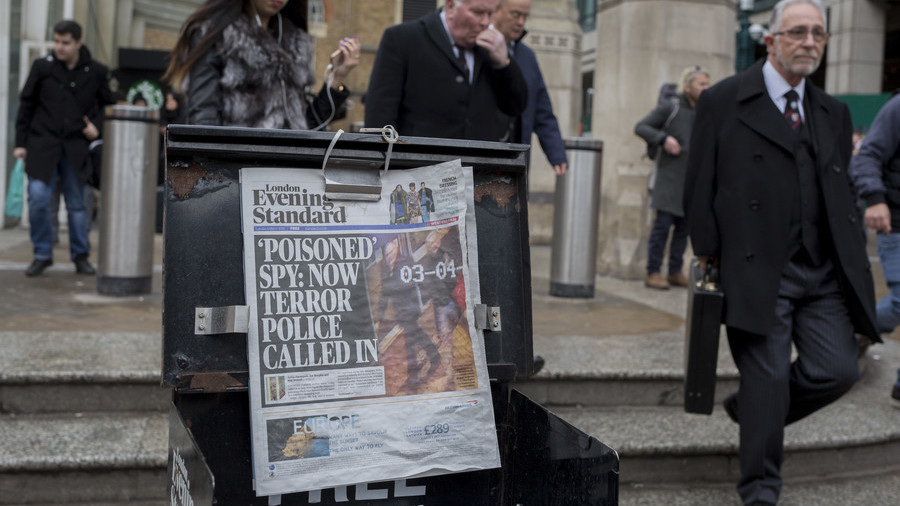 Diplomatic relations between Russia and Britain have nosedived in the aftermath of the Sergei Skripal poisoning. Media outlets in the UK and around the world are scrambling over themselves to declare a second Cold War.
British tabloid The Daily Mirror led the charge with a front page that screamed "Cold War II: Putin vows revenge as PM kicks out 23 Russian spooks in poison storm." And the paper didn't stop there, emphasizing its hot take by adding: "Britain is braced for Cold War II after Prime Minister Theresa May expelled 23 Russian spies."
Not to be outdone in the alarmist stakes the Daily Star's front page read "Putin: I'll turn off your gas", while The Sun's said "Russian crisis ramps up," beneath a story about a man who claims to be on Russian President Vladimir Putin's "hit list."
The front page frenzy wasn't limited to the tabloids as the broadsheets were quick to jump aboard. The Times went with "West unites to confront Russia over poisonings" alongside a photograph of President John F Kennedy, who led the US during perhaps the most dramatic phase of the actual Cold War.
Russia was also the subject of front pages splash on The Guardian throughout the week and Scottish paper, The National, were also on point with a suitably ominous red tinged front page.
Inside the papers have also been chock full of 'cold war' fear-mongering material. The Independent went right ahead and declared that Cold War II is already here, while The Express ran a helpful article explaining what exactly a 'cold war' is and where the term comes from – now that "Russia v UK war 2018" has arrived.
Whether or not we are entering a new cold war was also the subject for discussion on numerous TV and radio chat shows around the world. French President Emmanuel Macron took the anti-Russia theme significant lengths by telling reporters at the Paris Book Fair that he pointedly avoided the Russian pavilion. "I decided not to go to the official Russia stall... in solidarity with our British friends," he told the AFP.
Despite all the dire predictions floating around, Haaretz noted some possible silver lining in the deteriorating diplomatic situation by noting that a cold war could "warm ties" between the Pentagon and the Israeli army.
The leader of the UK Labour party Jeremy Corbyn was among the few prominent Western voices urging calm. Corbyn warned against rushing to judgement without full evidence. The Labour leader also said the lack of British diplomacy over the Skripal case could lead to a "McCarthyite intolerance of dissent."
Think your friends would be interested? Share this story!