Hard-hitting news: Tommy Robinson's journalism career starts with car-park brawl, punching a migrant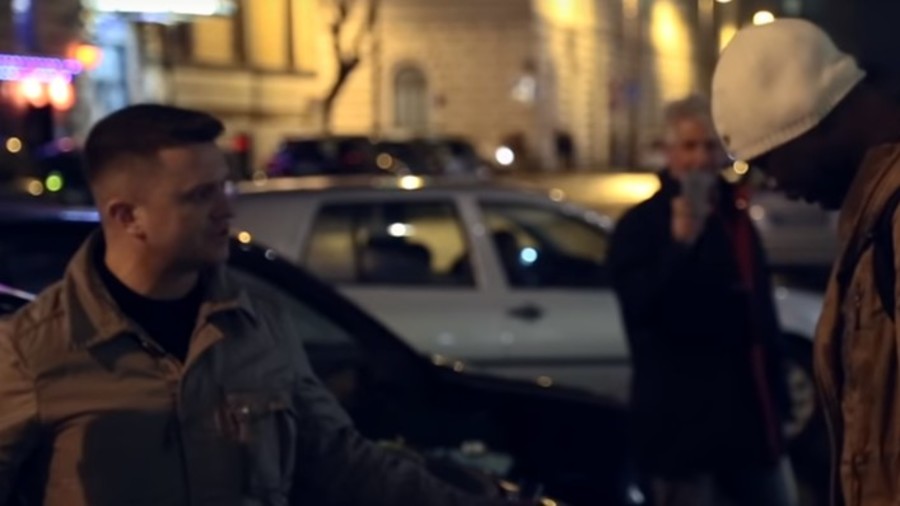 Right-wing campaigner and former English Defence League (EDL) leader Tommy Robinson is relaunching himself as an independent journalist – and he's got off to a rocky start.
In just one weekend, Robinson was involved in two brawls: one in Rome, and another in London. Footage of the first incident emerged on Friday evening on Robinson's own website. He claims he was forced to defend his camera crew against an attempted attack by a man he said was a migrant in Italy. The incident at Central Station was recorded as the right-wing advocate covered the Italian elections for his new website.
"I tried to start digging deeper into Italy's spate of high-profile migrant attacks," he said. Social media users and Robinson said the man was a migrant, but this has not been confirmed. The video, being promoted through his website, shows Robinson in an altercation with the man, who is protesting against the far-right campaigner being allowed in the area near Rome's Central Station.
"I'll get him," the man can be heard saying about Robinson's cameraman, to which Robinson replies, "I'll put you to sleep." The man then approaches Robinson from behind as he shouts, before the ex-EDL chief spins and hits him in the face.
Robinson told Breitbart London: "While I was filming a report in a no-go zone, a group of migrants tried to attack my camera crew. They were screaming abuse, coming at the camera repeatedly, and threatening to kill me. I was forced to act to defend my film crew. In this situation, the mainstream media would have preferred [if] I let him kill me."
A second video, filmed this weekend in London, shows Tommy Robinson himself being punched in the face and knocked to the ground. Robinson, whose real name is Stephen Yaxley-Lennon, says he was in Haringey, London to film people going to a "left-wing conference."
Men approach Robinson in a car park on Green Lanes, as he calls for them to approach him "one on one."
"I saw multiple men, six or seven coming towards me with masked faces," he said. "They've attacked my camerawoman and cameraman in broad daylight… they're wearing masks and violently attacking us."
Footage shows a female camera operator, Lucy Brown, on the ground with a male on top of her as she attempts to fight him off. Robinson's crew said their equipment, microphones and cameras had been broken. He later Tweeted: "I've done more scrapping as a journalist than I did doing football."
He also criticized police, who he said made no effort to find the group. The alleged assault on Sunday comes a few months after Robinson claimed he acted in self-defense when he was caught on camera throwing punches at a man at Royal Ascot.
Think your friends would be interested? Share this story!