Can you spot it? Warning over Russian warships carries propaganda plug for UK Royal Navy
Military resources are being ploughed into an operation to track Russian boats through the English Channel. At least that's what the Royal Navy told Britain.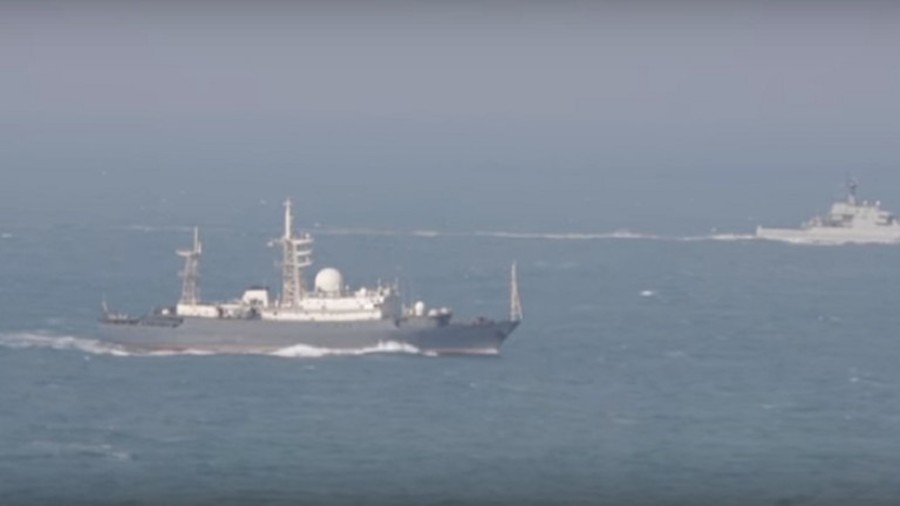 Hidden deep in the powerful press release about how the Navy is tracking boats from Moscow's war chest, however, was a different kind of message. Political paranoia about Moscow and an obsession with the Kremlin's every move has sparked a Royal Navy scramble to watch a flotilla of warships returning from Syria.
Two Russian ships and a tanker are travelling to base ports in the Baltic and Barents Seas after military deployment. Unconvinced that Russia could just be returning innocently from an operation, obsessed officials insist that British funds are spent watching their every maneuver.
HMS 'Mersey' was diverted from a routine fishery protection patrol in British waters to watch 'Feodor Golovin,' landing ship 'Alexander Ostrakovsky' and the tanker 'Yelnya,' a press release said.
"Ships like HMS 'Mersey' are the eyes and ears of the Royal Navy around the UK," Lieutenant Alexandra Karavla, the patrol ship's executive officer, said. "We are at sea for 320 days a year, so 'Mersey' provides the Navy with a ship ready to respond at short notice.
"In this, we have been well supported by a Royal Navy Wildcat from 815 Naval Air Squadron and by NATO colleagues. Operations like this would not be possible without such support and co-operation."
The 'Mersey' spent the past 72 hours eyeing up the ships with its crew of 34. Now they're the facts out of the way, what about the hidden message?
Well, the UK has also splashed out on the dispatch of a Wildcat helicopter from Royal Navy Air Station Yeovilton in Somerset. Hilariously, the Royal Navy took the opportunity to attempt to plug a recruitment drive for joining the Navy, as force figures in the country dwindle.
The press release detailing the operation carried a message from Able Seaman Ryan Flynn, a warfare specialist. "Exciting operations like these are why I joined the Royal Navy," he said. "I love these ships because one day I will be conducting a fishery protection boarding and the next day I will be following Russian warships off the south coast. It's the best job in the world!"
Lieutenant Alexandra Karavla also managed to get in his own subliminal message – apparently outlining how vital his ship is to the navy – convenient, when the government is looking to slash £30 billion ($42 billion) from the defense budget.
"This tasking proves why HMS 'Mersey' is vital to UK defense," he said. "The flexibility and options these offshore patrol vessels provide to the government is evident in the variety of tasking undertaken."
UK Defense Secretary Gavin Williamson is dangerously close to causing international tensions after insisting that the biggest threat to UK security is from states like Russia and North Korea. Williamson said his plans could involve restructuring the military to be ready for war.
He said jihadis who have maimed and murdered on Britain's streets are not as dangerous as Russia, which apparently poses an imminent threat. We'd ask for proof, but much like the Brexit meddling allegations, apparently it is not actually needed in the UK.
At the beginning of the year, HMS 'Westminster,' a type-23 frigate, kept track of two Russian ships and their support vessels returning to the Baltic after operations in the Middle East, while Christmas celebrations aboard HMS 'St Albans' were interrupted for a mission to monitor the new Russian warship 'Admiral Gorshkov.'
You can share this story on social media: