We're not racists, we're royalists: Henry Bolton defends girlfriend Jo Marney in TV interview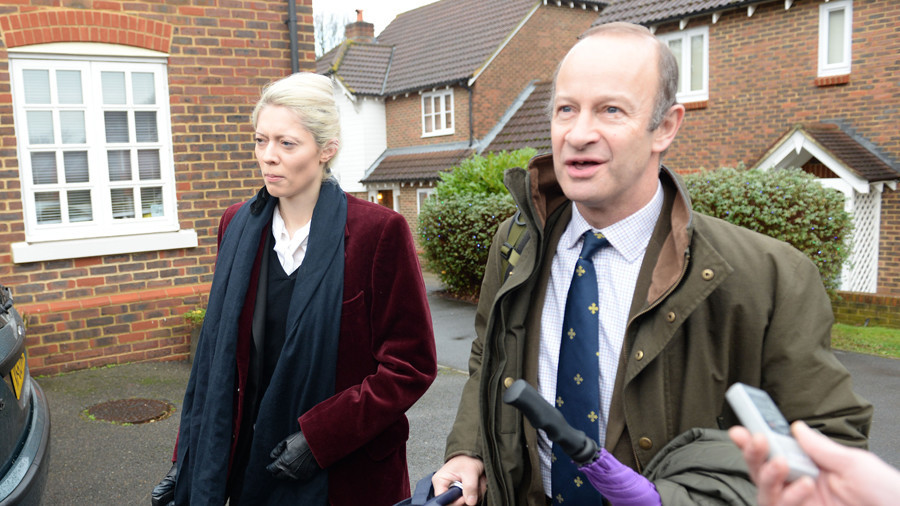 Former UKIP leader Henry Bolton risked further derision when he cited "social media" and "people in their early 20s" while defending his girlfriend Jo Marney's racist comments. Bolton was speaking on ITV's 'This Morning' show.
In their first interview together, Bolton and Marney, a former model, appeared on the channel on Thursday morning, interviewed by hosts Phillip Schofield and Holly Willoughby. Their appearance came just days after Bolton was ousted as UKIP leader, following a vote of no confidence. Bolton had been under increased pressure after it emerged that Marney had sent racist text messages.
In the texts, leaked from a WhatsApp conversation, Marney said Prince Harry's fiancée, Meghan Markle, would "taint the royal family" due to her race. She also described black people as "ugly," and wrote that Grenfell Tower was a "nest of illegal immigrants."
When challenged over her "outrageous" remarks by 'This Morning' the hosts , Marney said they were meant to "shock." She added the sentiments expressed do not reflect her views.
As Marney attempted to shield herself from the hosts' questioning, Bolton rushed to her rescue, saying a lot of what happened is to be blamed on social media. "There is a bigger issue here with social media."
Despite the hosts' perplexed looks, Bolton continued, adding: "A big question for society. Some of the stuff that is being spread around by people in their early 20s on private messages, on Facebook and other social media means is absolutely 'appalling' and they are the sort of things they would never say face to face or in public.
"There seems to be a sort of subculture of communication which would be unacceptable if it was out in a more open domain." Bolton went on: "There are people on social media who say things on social media[…] that they would never ever dream of saying openly."
The pair were then asked if they were "private racists," to which Bolton replied: "Absolutely, of course not," before adding: "No, I'm a dyed in the wool royalist."
His attempt to qualify and defend his girlfriend were slammed by Tweeters. One user was baffled by the amount of attention the couple were getting from ITV – but when they supply such TV gold, can you really blame them?
Why are we still talking about Henry Bolton? Seriously, why?

— Rachel Cunliffe (@RMCunliffe) February 22, 2018
Henry Bolton is now talking about the "context" of Jo Marney's Meghan Markle comments. Not sure there's any context on earth that explains them. https://t.co/u2t4J3IE9e

— Peter Walker (@peterwalker99) February 22, 2018
If you like this story, share it with a friend!
You can share this story on social media: