Police knew man had underage-sex fantasies years before rape & murder of 17-year-old niece (VIDEO)
Published time: 15 Feb, 2018 09:25
Edited time: 18 Feb, 2018 07:53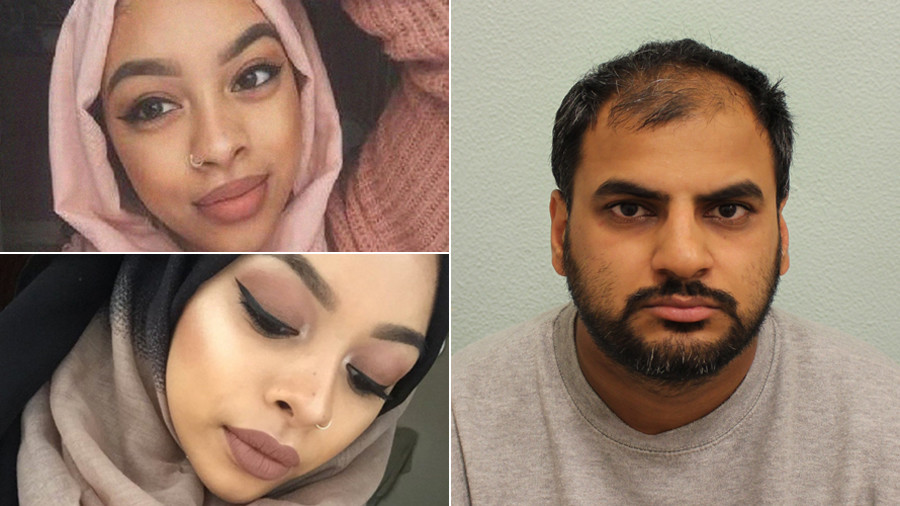 Police already knew that a man who was jailed for life on Wednesday for the brutal rape and murder of his niece already had depraved sex fantasies about raping underage girls, it has been revealed.
Mujahid Arshid, 33, was caught by police in a pedophile sting in 2013. He had been bragging online about having access to a 17-year-old girl that he intended to drug and rape in a sex session that he told undercover officers could last up to six hours.
When questioned by police, he shifted the blame for the messages to a colleague. In July 2017, the body of his niece, Celine Dookhran, was found stuffed in a southwest London property, stuffed in a freezer with her throat slit.
Arshid was jailed for life on Wednesday for his crime. He will serve a minimum of 40 years for his crimes, which included the kidnapping, rape and attempted to murder of a second young woman, who survived. She cannot be named for legal reasons.
Jurors were told during Arshid's trial that in 2013 he spoke with undercover police through a pornographic website. Arshid offered a woman up for rape to a police officer, who was using the name 'Andrew'. Andrew was investigating pedophiles as part of the Metropolitan Police's Operation Amazon.
Arshid, who was also using a false identity online, asked the officer: "How would you like to f*** a 17-year-old virgin?" When asked who the girl was, the court heard that Arshid replied: "My girlfriend… Wanna force f*** the bitch? Drug and f*** her."
He then allegedly suggested they do it in December 2013, asking the undercover cop if he could get his hands on illegal drugs, namely ketamine or GHB.
"It's going to be a very memorable Christmas," Arshid reportedly said. "These type of girls deserve rape. Lol.
"I was thinking (of doing it) in her bedroom . . . in the place she feels most safe," Arshid allegedly said over Skype. "I got access to her place and her parents leave early... remember we get a good five or six hours with her so pace yourself."
The force said that the case would be referred for a standard domestic review, but would not be referred to its directorate of professional standards or to the Independent Office for Police Conduct despite safeguarding concerns.
Co-director at End Violence against Women Rachel Krys called for investigation into whether or not police had followed their own safeguarding procedures when there was a young woman at risk.
"It's very important when these terrible things happen to know whether there could have been more done to protect the victim," she said.
A spokeswoman for Scotland Yard told the Times that a case file was passed to prosecutors, but it was deemed not to reach the evidence threshold because the device Arshid used could not be traced.
"All of the evidence at the disposal of the investigating team was reviewed and put to the Crown Prosecution Service who ultimately made a decision there was insufficient evidence to provide a realistic prospect of a conviction. Arshid was released with no further action," the spokeswoman said.
The Crown Prosecutors Service (CPS) said it had reviewed the evidence, which included an interview with Arshid.
"It was decided that the case did not pass the evidential stage so as to be able to charge the individual concerned with any offence," the CPS said.
Think your friends would be interested? Share this story!