Dilemma for Kate? Does the Duchess show solidarity with #TimesUp or stick to royal rules?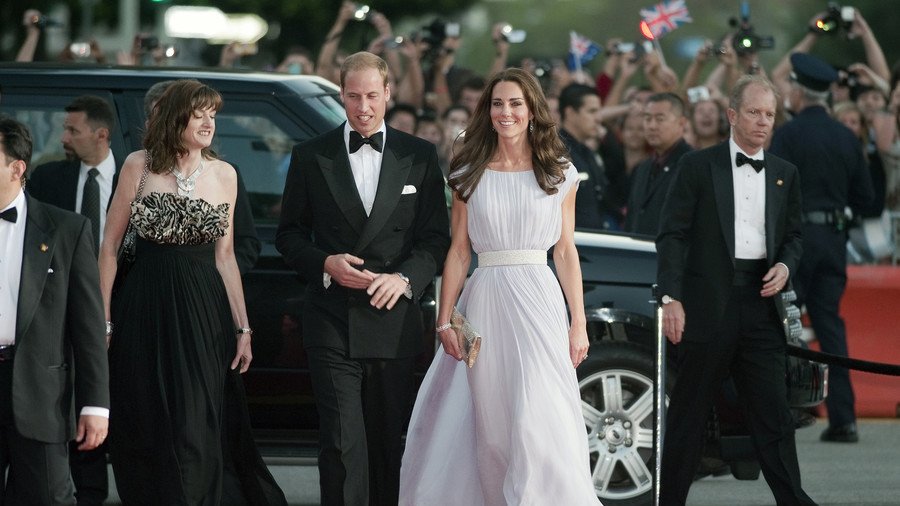 Kate Middleton has a tough choice to make for the BAFTAs – will she join legions of stars preparing to dress in black for the #TimesUp campaign, or risk criticism taking the royal stance of avoiding political comment.
The Duchess, who will attend this year's British Academy Film Awards (BAFTA) ceremony with her husband, the Duke of Cambridge, is about to be landed in a diplomatic minefield. Actresses are gearing up to don black dresses in support of the #TimesUp movement, a campaign against sexual harassment prompted by the #MeToo phenomenon.
The move comes after the Academy Awards in the US saw only a handful of women ignore the call of solidarity by wearing lighter shades. Kate is faced with a crisis: show solidarity or keep with the royal family's policy of avoiding political statements or comment.
Kensington Palace told RT that they would not comment, but they did confirm that Meghan Markle – Prince Harry's fiancée – would not be in attendance, only the Duchess and Duke.
A letter to BAFTA guests, published by film industry magazine the Hollywood Reporter, has laid out plans from a "collective of UK based female film and television industry leaders," for a "physical and visual representation of our solidarity with people across all industries who have experienced sexual harassment and abuse or have been held back due to an imbalance in power."
"Here in the UK, more than half of all women and nearly two-thirds of women aged 18 to 24 have experienced sexual harassment at work," the letter said.
"And we hope that those of us who are privileged enough to have a platform, can use it to raise awareness of the experiences of women beyond our industry, whose experiences are often silenced and marginalized.
"At this point, we are keeping things under wraps as the UK-side movement shapes up and we'll have some exciting plans to announce soon. We wanted to personally reach out to you at this point to let you know of the colour code and we will be in touch again with more information, including talking points on why we're wearing black."
While stars have not publicly vowed to wear black to the BAFTAs, Harry Potter star Emma Watson all-but confirmed it with a single, simple tweet.
BAFTA CEO Amanda Berry told the Telegraph that awards organizers are braced for speeches about the Hollywood harassment scandal. "It often has (been used as a platform) in the past, I think in different years there have been different issues," she said.
"People obviously feel it's a very powerful platform. The film awards go out globally so that makes it even more powerful, so we never say to people don't say anything, please just thank the crew or whatever it is. Because if somebody feels passionately about it, they are going to say it. There has been a lot of conversation to date and obviously that conversation continues, awards season shines a very bright spotlight on that conversation."
The BAFTAs will take place on February 18 at London's Royal Albert Hall.
If you like this story, share it with a friend!
You can share this story on social media: