Python that killed owner was showing 'affection,' inquest hears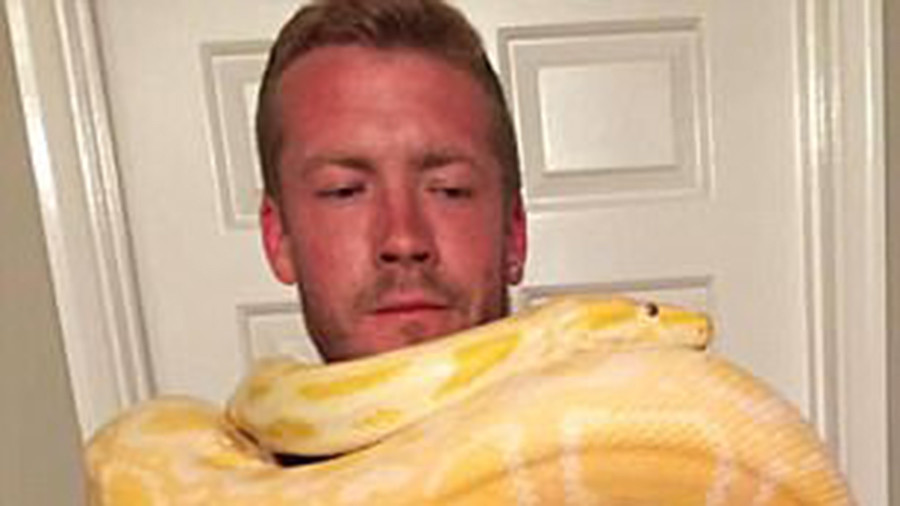 An 8ft African python that killed its owner may have constricted the man as a "show of affection" rather than aggression, an inquest heard.
Animal lover Daniel Brandon, 31, died from asphyxiation at his home near Basingstoke, Hampshire, on August 25. One of his 10 snakes, Tiny, who Brandon had owned for 16 years, was spotted out of her pen, hidden in a corner.
Brandon's mother told Basingstoke Coroners Court her son kept ten snakes and 12 tarantulas in their family home. She added that Brandon called Tiny his "baby."
Coroner Andrew Bradley said there was no doubt Brandon died "as a result of contact with Tiny" and he recorded a verdict of misadventure. But he added that he does not believe Brandon's death occurred by way of aggression.
"We have nothing apart from Tiny so I have to accept she is instrumental in Dan's death.
"I do not believe in any way it was aggression from Tiny nor a confrontation – if anything it was a show of affection, a moment of peace," Bradley said.
The coroner added the snake had probably then hidden "because of the shock of him falling or because of his reaction."
Pathologist Dr Adman al-Badri said there were no specific signs of strangulation on Brandon's neck, and that the asphyxiation diagnosis was only reached by exclusion.
Moreover, examination showed there were no scratches on the snake's skin either, which would indicate Brandon had struggled to pull the snake off.
But Brandon's mother said her son was more cautious with Tiny than with the other snakes as he was aware of how strong she had grown.
"He was more wary of Tiny than the other snakes. He said she's very strong.
"He had stopped putting her round his neck because she was so strong and unpredictable."
She later recounted in court the night of her son's death. She said had heard a loud bang from upstairs, but assumed it was a dumbbell which had fallen down or that he had knocked something.
But after calling him to dinner, she went upstairs to find him unconscious in his bedroom.
"I went up and he was face down on the floor. He felt a little bit cold. There were 10 snakes and 12 tarantulas all away in the vivarium but I could not see Tiny.
"At that point I shook him to try and wake him up and called 999. Nobody saw Tiny until later; she had hidden under a box that Dan used to put all his snake stuff in and she had found a way under there and was coiled up."
Paramedics arrived at their home eight minutes later but despite their best efforts, Brandon couldn't be saved.
You can share this story on social media: