Woman who cut off pet snakes' heads with scissors & ate them escapes jail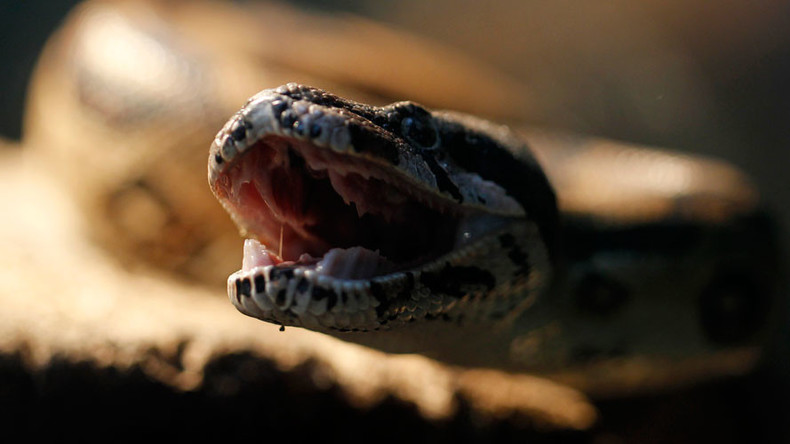 A drunken woman who decapitated her pet snakes with scissors and swallowed their heads has managed to escape jail time, despite causing "prolonged and painful suffering" to the reptiles.
After drinking seven cans of lager and shots of amaretto and whiskey on April 8, 28-year-old Jennifer Lampe decided to chop the heads off of her boa constrictor and ball python, at her sister's home in Church Stretton, Shropshire.
Following the decapitations, Lampe swallowed the heads but later vomited them up, stating that she had "wanted to keep them."
Lampe was discovered by her sister following the gruesome acts, who called the police.
Officers arrived to find Lampe covered in blood with the headless – but moving – body of her boa constrictor draped around her neck. Both of the reptiles' severed heads were in her trouser pockets.
In an interview with a Royal Society for the Prevention of Cruelty to Animals (RSPCA) investigator, Lampe said "the small head [of the ball python] went down easily," but she had trouble swallowing the larger head of the boa constrictor, the Evening Standard reports.
Price said the reptiles' heads could have been alert as Lampe swallowed them, noting that snake heads "can remain operable up to an hour after decapitation."
A vet confirmed they had most likely been decapitated with scissors, and concluded "the death of the snakes was not swift," noting that several attempts were made to cut through the animals' necks.
RSPCA prosecutor Roger Price told a court on Thursday the vet had also found the snakes went through "prolonged and painful" suffering.
Telford Magistrates' Court handed Lampe a four-month jail term suspended for two years for the "unpleasant, not to say bizarre, incident" of animal cruelty. She was also banned from owning animals for five years.
During the Thursday trial, RSPCA prosecutor Roger Price told the court Lampe had been living with her sister since May 2015, but killed the snakes because she feared she was about to be kicked out and made homeless, and would therefore be unable to care for them.
Price said Lampe had disliked her sister's boyfriend and that tensions "came to a head" on the day of the beheadings.
Prior to the sentencing, Lampe had already pleaded guilty to causing unnecessary suffering to the snakes "by doing an act, namely cutting their heads off," contrary to the 2006 Animal Welfare Act.
This wasn't the first case of animal cruelty committed by Lampe. The court also heard that weeks before the decapitations, she had thrown her pet hamster in a fish tank to watch it drown, after it made too much noise in the night. Price said Lampe later "put the dead hamster in a chest freezer."
Lampe also admitted to previously putting an unwanted cat in a carrier bag before taking it on a "long bus ride" and releasing it. She had twice tried to get rid of the cat, after successfully dumping another feline "behind a fence."
The 28-year-old's attorney, Sarah Cooper, told the court Lampe is a "loner" who has "some mental health problems," a drinking problem, and was taking anti-depressants.