Escaped 15ft python called Tinkerbell reunited with owners after poo found in neighbor's yard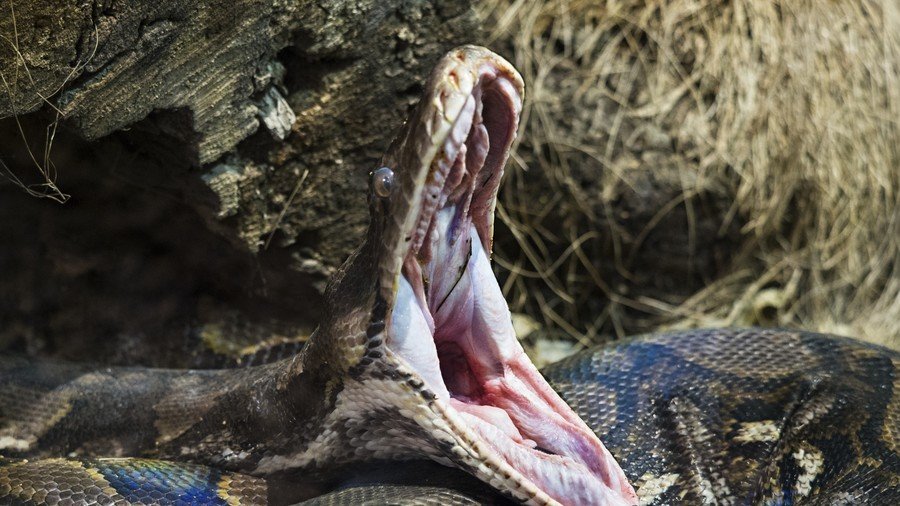 The owners of a 15ft python have been reunited with their exotic pet after the reptile went missing. The breeders noticed on Monday that the snake, named Tinkerbell, had slithered out of their home in Stockport.
Tinkerbell, owned by breeders Jade Sharmann and John Dean, made it several houses down the road after wriggling out of their home through a pipe. She was eventually tracked down after snake faeces were found in a neighbor's garden.
"We found a poo in a neighbor's garden so then we knew she'd got outside," said Sharmann, according to the BBC.
The couple realized their pet was missing while checking on the ten other pythons they own. Police and the RSPCA were alerted to the missing creature before the couple took to knocking on their neighbors' doors in Shaw Heath.
The six-year-old tropical creature was found "freezing" and a bit more placid than usual, but she fully recovered after being given a lukewarm bath and antibiotics.
"It took two of us to carry her back as she's heavy," Sharmann said.
The snake was being kept in a temporary vivarium in the couple's basement. Sharmann said the snake escaped through a broken pane.
"She'd lent against it and it'd fallen out," the breeder said.
Sharmann and Dean said they had faced a backlash after making an appeal online for their missing pet.
READ MORE: Giant bird-eating tarantula found abandoned on Leicester street
"What people don't understand is just because they're not fluffy doesn't mean they're not our babies," Sharmann said.
"It was good to have a proper cuddle with her too."
You can share this story on social media: