He's on his way: Theresa May confirms Trump will visit UK in 2018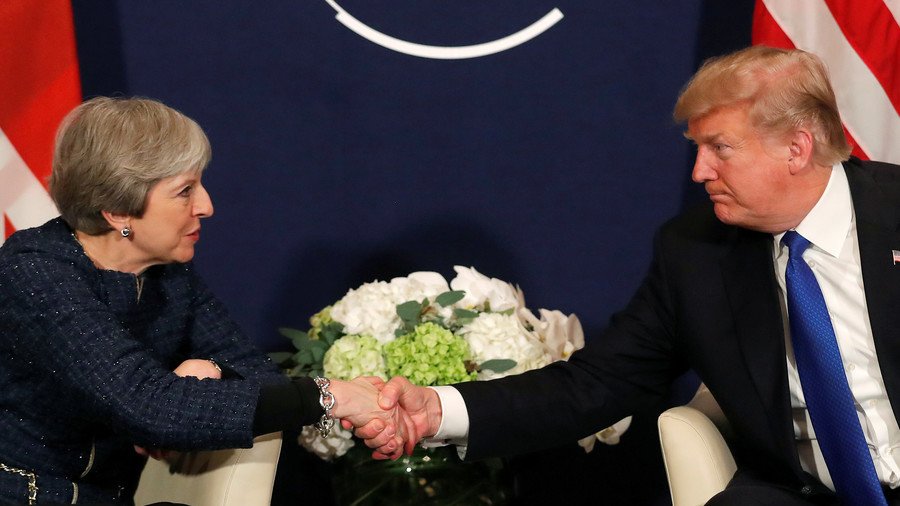 US President Donald Trump's UK visit appears to be back on the cards, despite his embarrassing snub of the British invitation earlier this month. Downing Street confirmed talks are underway to host POTUS later in the year.
The US president said on Thursday that he and UK PM Theresa May "will talk about" his visit to the UK, as the pair are currently rubbing shoulders with fellow global leaders at the World Economic Forum in Davos, Switzerland.
At the conclusion of a joint press conference at the political summit on Thursday, a reporter asked the Trump if he would be visiting the UK any time soon.
Trump guestured to May and said: "We will talk about it. We will talk about that." May nodded.
Number 10 confirmed officials in the US and UK had been instructed to "work together on finalizing the details of a visit by the president to the UK later this year."
Trump has reportedly been putting off his UK visit in the face of massive opposition from the British public. More than 1.8 million Britons have signed a petition demanding POTUS be blocked from visiting.
The petition was presented to parliament in February last year. It was ignored and the invitation remained in place.
Trump was initially scheduled to visit London in February this year to cut the ribbon on the brand new US Embassy. Trump then decided he will not attend the opening as he does not approve of the new embassy's Nine Elms location; south of the River Thames and slightly outside the center of London.
Despite this, the UK-US special relationship seems to be recovering, with May and Trump discussing a multitude of topics in Davos, including Brexit, the fight against Islamic State (IS, formerly ISIS/ISIL), and the future of jobs at aerospace manufacturer Bombardier.
During their join press conference, Trump told May that the US and UK militaries are "joined at the hip." He told her "there's nothing that would happen to you [where] we wouldn't be there to fight for you. You know that."
"We continue to have that really special relationship," May replied.
Like this story? Share it with a friend!
You can share this story on social media: