Make up or break up? May and Trump face awkward Davos meeting after months of bickering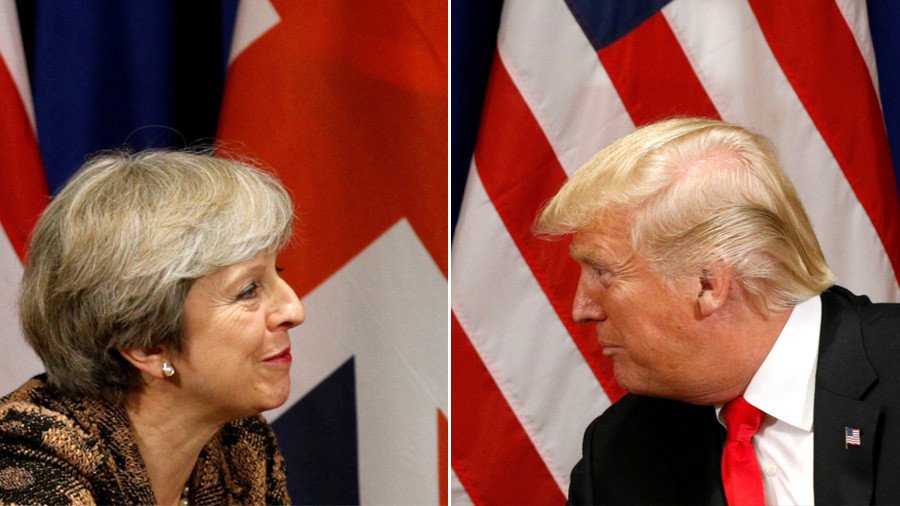 Theresa May and Donald Trump are set to meet in Davos - but following months of discord between the two, once-inseparable nations, will there be hand-holding and a rekindling of the famous special relationship?
In recent months, Trump's canceled state visit to the United Kingdom has symbolized the deterioration of the previously unbreakable UK-US special relationship. Although Trump had initially hoped that May would be the Maggie to his Reagan, referring to the close ties between Margaret Thatcher and Ronald Reagan, the relationship has soured in recent months.
Under the guise of issues with the new US embassy in London, Trump has snubbed May's offer of a state visit.
Reason I canceled my trip to London is that I am not a big fan of the Obama Administration having sold perhaps the best located and finest embassy in London for "peanuts," only to build a new one in an off location for 1.2 billion dollars. Bad deal. Wanted me to cut ribbon-NO!

— Donald J. Trump (@realDonaldTrump) January 12, 2018
The POTUS claimed he disapproved of the deal to sell the old US diplomatic headquarters in London's Grosvenor Square. According to insiders, May's offer included a banquet and an invitation for him and the first lady to stay at Buckingham Palace in an effort to "appeal to Trump's vanity."
According to anonymous sources cited in the Daily Mail, Trump complained to May about criticism he has faced in the British media. He told May in one phone call that he "would not be coming to the UK until she could promise him a warm welcome," amid threats that the president would face mass street protests upon his visit.
The UK PM allegedly told the Don that this is simply how the British Press works, with shocked advisers listening to the call in a secure bunker from beneath Number 10. Sources say May's staffers were "in astonishment at Trump's demand."
Citing senior current and former government officials as sources, Bloomberg News reported that phone calls between Trump and May have since headed south. They said that May now "finds it impossible to make headway and get her points across."
"Trump totally dominates the discussion, leaving the prime minister with five or 10 seconds to speak before he interrupts and launches into another monologue," the insider told Bloomberg.
The US president - in his usual form - has also been unafraid to take swipes at Theresa May on Twitter (albeit the wrong one). Trump hit back at the person the thought was Britain's leader when the UK PM condemned his retweets of anti-Islamic videos that were initially shared by Jayda Fransen, deputy leader of far-right political group Britain First. In reality, he tweet-attacked an innocent woman from Suffolk with only six followers.
The tweet was deleted 14 minutes later by the US president... and reposted, tagging the right Theresa May.
.@Theresa_May, don't focus on me, focus on the destructive Radical Islamic Terrorism that is taking place within the United Kingdom. We are doing just fine!

— Donald J. Trump (@realDonaldTrump) November 30, 2017
Despite a seemingly decaying relationship, Team Trump seemed optimistic about how things will progress between the two nations at the World Economic Forum in Davos. On Thursday morning, US Secretary of Commerce Wilbur Ross and US Secretary of the Treasury Steven Mnuchin spoke of a "very special economic relationship" with the UK at a press conference - a relationship which they expect to continue.
Mnuchin told reporters that the US has "been very supportive of the UK on the Brexit issues" and "as soon as the UK is ready, we are prepared to negotiate an attractive trade deal."
He also said that the UK is at "the front of the line" when it comes to some form of bilateral agreement - an encouraging sentiment, but only time will tell if talks will actually be attractive to the UK… or if they will continue to be overbearing and one-sided.
Like this story? Share it with a friend!
You can share this story on social media: