UKIP leader ditches lover over baby rape jokes, Meghan Markle racial abuse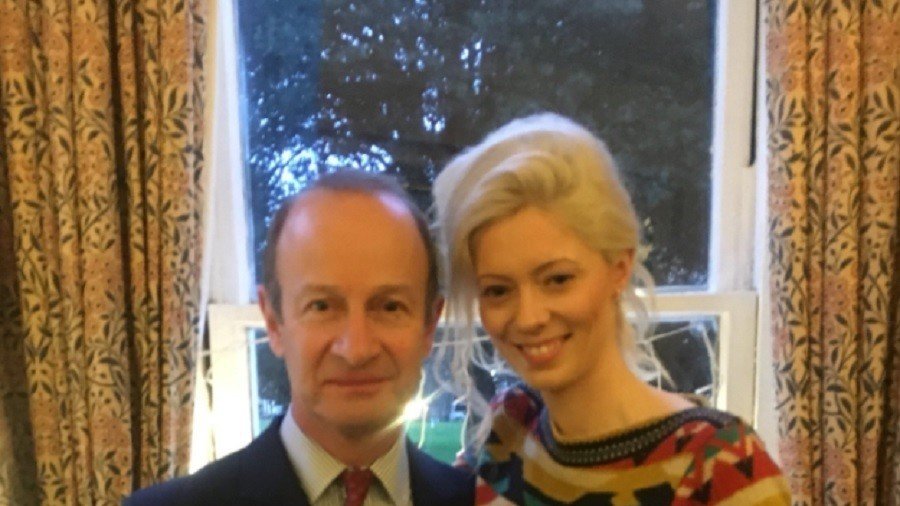 UKIP leader Henry Bolton has dumped the model lover he left his wife for, just days after it emerged she sent racist texts about Prince Harry's fiancée Meghan Markle and joked about baby rape, according to reports.
Party insiders say Bolton was told to end the relationship or quit from the top of the right-wing party. Bolton told ITV's GMB this morning that his and Jo Marney's relationship was over.
"I don't defend these comments whatsoever and indeed Jo has been suspended. It's against the constitution of the party to be racist in any way," he said.
"As of last night, the romantic part of our relationship has ended. We had that conversation last night when I returned from Yorkshire. The conversation will remain private, but it was a long and upsetting conversation for both of us."
The leader, 54, who hoped to bring the party back to the level of success it saw under Nigel Farage, has refused to resign.
Marney was accused of sending messages, seen by the Daily Mail, which branded black people as "ugly" and warned that Markle's genes would "taint our royal family." She has also been accused of discussing sexual abuse of babies in messages "too distressing" to be circulated in the media and has been suspended from the party.
Marney is an avid Brexiteer, a reader of infamously anti-immigration former politician Enoch Powell and a supporter of Donald Trump.
Bolton believes the attacks on Marney were an attempt to get to him, saying: "What I would say, I am not intending to resign.
"There is a failed group within the party that has been looking for an opportunity to criticize and attack me. They have looked at a young woman, whose life they have destroyed.
"I am blaming the people who have deliberately used her to attack me. What I am saying is that people have exploited her and have been prepared to throw her to the wolves to attack me.
"If people want to attack me for my politics then bring it on, let's have that debate. I am cross," he said.
Bolton maintains he did not cheat on his wife, adding that he met Marney on December 15 of last year. He then claims he split up with the mother of his two children, Tatiana, before Christmas and dated Marney for the first time on Boxing Day.
GMB host Susanna Reid read out a statement from his wife, which said: "When you've been with someone so long, have supported him through so much and always been there for him you feel so betrayed on every single level.
"What makes it worse is the lies. He told journalists his wife is fully aware of what's been going on. No I am not."
Despite UKIP battling to change its image, the leader defended his girlfriend before dumping her.
When questioned about the content of the messages Bolton said: "Those are appalling words. What I am saying is I absolutely do not defend those comments, I do not support them, I don't agree with them. I'm just simply saying they were Facebook messages between her and someone else that were not expected to go public.
"We had been together for four days by the time this broke – the fact that we were together broke. I suspect there's not one person this morning, who four days into any relationship, has gone through the Facebook and Twitter messages of their partner.
I'm embarrassed by it and shocked by it. But four days into a relationship you are still getting to know the other person."
A string of foul-mouthed rants from Marney has begun to emerge since she criticized Markle, claiming, "This is Britain, not Africa."
During an argument on Twitter she spoke about "Eastern European sl**s who would f*** a mangey [sic] dog for about 10 quid and a Big Mac". According to the Sun, Marney then said: "If I'm racist I don't give a f***."
Marney apologized for the racist messages yesterday, saying: "The opinions I expressed were deliberately exaggerated in order to make a point and have, to an extent, been taken out of context. Yet I fully recognise the offence they have caused."
UKIP members are calling for Bolton to quit. Indigo group spokesman and former leadership candidate Ben Walker told RT Bolton's position is now "untenable."
"I am calling for Henry to resign as leader for the good of the party," he said. "I have been contacted by party members who are deeply unhappy at these latest events.
"UKIP needs a strong leader to help us hold the government's feet to the fire and ensure a proper, clean Brexit and counter the current weakness in negotiation and the threats of a second referendum by people like Tony Blair storming back into the political arena.
"It is also needed to be that voice for all the patriotic working class voters who support Brexit but who are not represented by Keir Starmer or the majority of Labour MPs. Henry has been gagged by this controversy – by choice it would seem – and so is unable up carry out his job."
You can share this story on social media: