News stories from 2017 that British MPs would rather you forgot (VIDEO)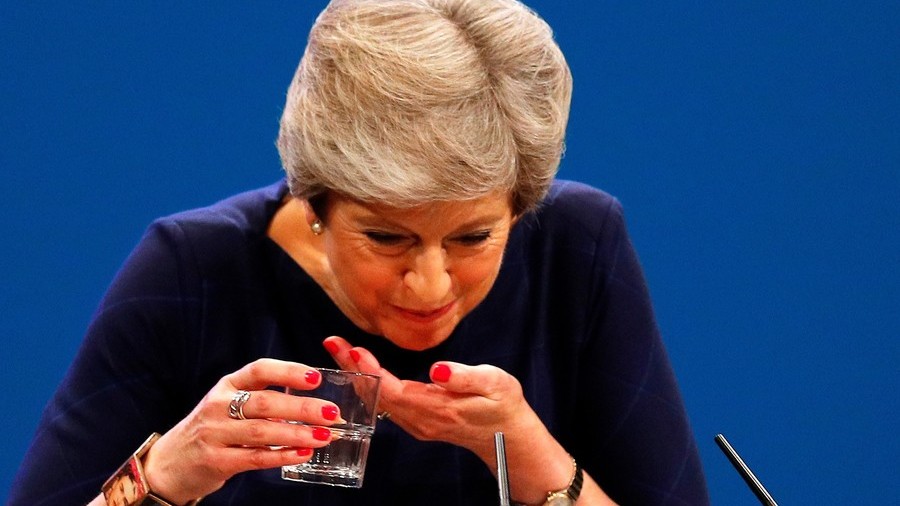 As the year of sex dossiers, Theresa May's election flop and failed high fives comes to an end, there are plenty of stories British MPs would rather you forgot. RT UK presents this year's top political fails.
May & Trump hold hands
US President Donald Trump and British PM Theresa May were caught holding hands as they walked down a small slope at the White House in January. Trump appeared to have initiated the contact and could be seen tapping the underside of her hand in thanks moments later.
According to Politico, which cited a Downing Street source, the president could have a crippling fear of falling down stairs - a condition known as bathmophobia.
READ MORE: PM Theresa May mocks Trump's 'small hands' at Tory fundraiser
Thornberry & Corbyn's failed high five
On a night of success for Labour as June's general election results came in, leader Jeremy Corbyn was seen alongside his frontbench ally Emily Thornberry surrounded by applauding supporters.
Corbyn tried for a high-five with Thornberry, but she changed her mind last minute. His hand was left flailing in the wind before it appeared to land unexpectedly on her breast.
May denies Scotland 2nd independence referendum
May claimed in March it was not the time for a second Scottish independence referendum while the government puts "all its energies" into negotiating Brexit.
"On the question of a second independence referendum, the question isn't whether there could be a referendum but whether there should be a referendum," May said. "I don't think people want a referendum today."
Scottish First Minister Nicola Sturgeon responded by calling the PM's decision undemocratic and "proof positive that the Tories fear the verdict of the Scottish people."
Diane Abbott's numbers fluff
Labour MP Diane Abbott was left red-faced after suggesting during a radio interview that new police recruits could be paid as little as £8,000 (US$10,000) a year under Labour's promise to introduce more officers.
When LBC radio asked her about Labour's policy to put 10,000 additional officers on the street, a confused Abbott initially said: "Well, if we recruit the 10,000 men and women over a four-year period, we believe it will cost about £300,000."
That would mean each new officer would cost £30. Host Nick Ferrari asked: "£300,000 for 10,000 police officers? How much are you paying them?" Abbott answered: "No, I mean, sorry, they will cost, it will cost about, about £80 million."
Despite struggling with the numbers, Abbott insisted the plan was fully thought through and had been costed.
Priti Patel's 'resignation'
Former aid minister Priti Patel was forced to resign after it emerged she held held a number of secret meetings with Israeli politicians while she was on a "family holiday" in the country. Those officials included Prime Minister Benjamin Netanyahu and Yuval Rotem, a senior figure at the Israeli Foreign Ministry.
Following the meetings Patel proposed that the UK government spend part of its aid budget on funding Israeli Defense Force (IDF) operations in the occupied Golan Heights.
She had not told Downing Street about the 14 secret meetings. As details of the meetings emerged, Patel was forced to return from a diplomatic mission in Uganda and was sacked.
Hammond's tax U-turn
The internet did not look kindly at Chancellor Philip Hammond's conspicuous U-turn on National Insurance Contributions (NICs) for the self-employed from March's budget.
In a letter to his fellow Conservative MPs, Hammond said he was retracting the 2 percent hike on Class 4 NICs. Many had complained the policy breached promises made in the party's manifesto.
Theresa May's election flop
When May called her snap election back in April, the talk had been of a 140-something majority. She spent the election promising "strong and stable" leadership.
But the votes saw the Tories lose their parliamentary majority - leaving the country uncertain about who would be running Britain 11 days before Brexit negotiations were due to begin. May's government had to be propped up by the Democratic Unionist Party (DUP).
Tory party conference
May's Tory party speech turned into a comedy of errors when she suffered repeated coughing fits, a protester handed her a P45 dismissal notice, and the stage set began to fall apart behind her.
She was forced to repeat her lines when a protester ran up to the stage and handed her a huge P45, a tax document usually handed to employees when they are fired. Comedian Lee Nelson claimed responsibility for the prank.
Her coughing fit worsened and she was forced to stop her speech. Even the stage scenery went awry. The letter 'F' fell off the slogan behind the PM, later followed by the letter 'E.'
Michael Fallon and the dirty dossier
Defense Secretary Michael Fallon resigned after admitting his behavior in the past may have "fallen short." He was the first minister to step down from May's government in the Westminster sex pest scandal.
READ MORE: UK Defense Secretary Michael Fallon resigns amid Westminster 'sex pest' scandal
He admitted to inappropriately touching a female journalist. He was also accused by Cabinet colleague Andrea Leadsom of making lewd sexual remarks towards her. When Leadsom complained of cold hands, he reportedly told her: "I know where you can put them to warm them up."
You can share this story on social media: