Rent-boy rape claim & 6 other allegations against ex-PM Heath would have been investigated - police
A summary report on Operation Conifer, launched two years ago by Wiltshire Police, states there were sufficient grounds to interview former Conservative Prime Minister Sir Edward Heath concerning seven allegations were he still alive today.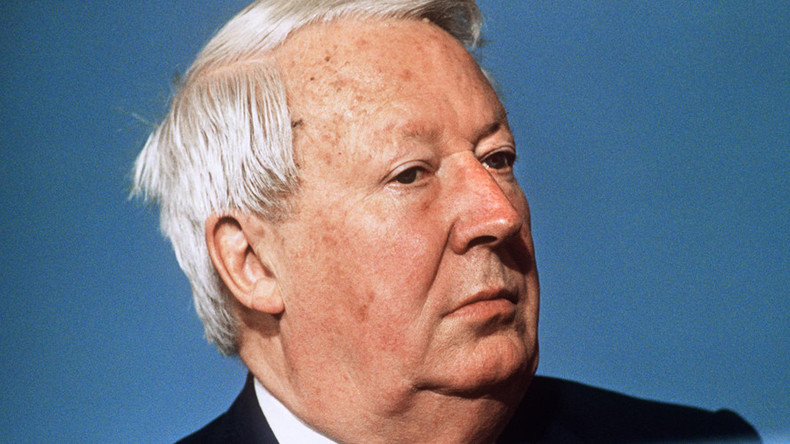 The report, examining allegations of child sex abuse perpetrated by Heath, was published on Thursday.
The report says: "Where it is concluded that if he had still been alive Sir Edward Heath would have been interviewed under caution to gain an account, it is emphasized that his account would be as important as other evidence gathered as part of the wider investigation.
"Accordingly it is critical to stress that no inference of guilty should be drawn from the fact that Heath would have been interviewed under caution."
Heath, who led the Conservative Party between 1970 and 1974, died in 2005 aged 89.
Among the claims, which span a period of 31 years, is the rape of an 11-year-old boy in 1961.
In 1962, Heath, in the company of an unknown male, allegedly indecently assaulted a 10-year-old boy during a chance encounter in a public place in Kent.
Heath is also alleged to have indecently assaulted a 15-year-old male during three paid sexual encounters in Sussex and London at some point in 1964.
In 1967, Heath allegedly indecently assaulted a 15-year-old male not known to him in private during a chance encounter in a public building in Guernsey. Then in 1976, Heath allegedly indecently assaulted over clothing an adult male during a chance encounter at a public event in Jersey.
The report also states Heath allegedly indecently assaulted an adult male after consent was withdrawn in what had been a paid consensual sexual encounter in a hotel in Wiltshire at some point in 1992.
Between 1990 and 1992, Heath allegedly indecently assaulted a boy aged between 12 and 14 not known to him during a chance encounter in private gardens in Wiltshire.
The report said he would have been interviewed under caution over this allegation, but it stresses there is undermining evidence.
Friends and supporters of Heath have criticized the £1.5 million (US$1.98 million) inquiry, as they believe it unfairly stains his reputation.
Although several of the more than 30 complaints about Heath received by Wiltshire Police were deemed credible, the validity of some allegations has been called into question, especially from an accuser known only as 'Nick', who has been labeled a "fantasist."
Lincoln Seligman, Heath's godson, is reportedly calling for a judicial inquiry into how the police handled the allegations.
"If you make a mass appeal for victims you are sure to get them, whether they are legitimate or not," he told Radio 4's Today program.
"A proper investigation should have taken place, but that's not what happened."
"We had really quite a close relationship... and I think I did know him very well.
"Our thinking is that he will be completely exonerated but I fear, even if he is, that damage has been done and that seems grossly unfair."
Speaking last month, Chief Constable Mike Veale, who led the investigation, said, "It is important to stress that it is not the role of the police to judge the guilt or innocence of people in our criminal justice system.
"Likewise, it is equally as important for people not to speculate about the veracity of the allegations against Sir Edward Heath."
The findings will be passed to the Independent Inquiry into Child Sexual Abuse, which is being chaired by Professor Alexis Jay, and which will likely consider the report as part of its efforts to see whether powerful people have been spared criminal investigation.
You can share this story on social media: