Jacob Rees Mogg: Have we found Britain's most honest politician?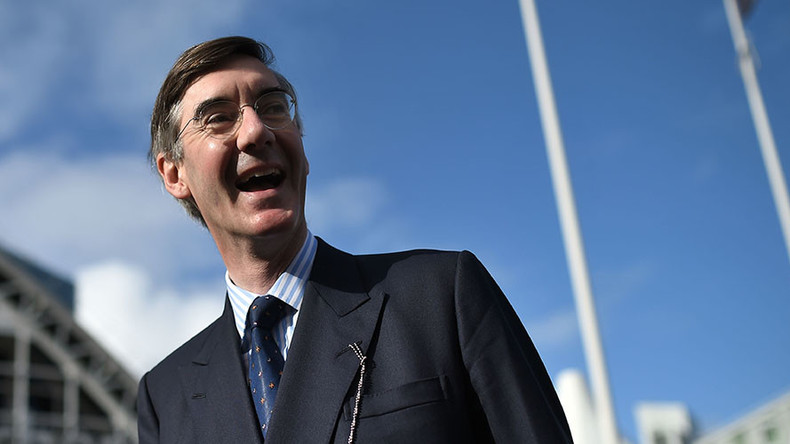 It was a novel approach for a Conservative MP – to strike up conversation with a baying mob – but Jacob Rees-Mogg did it anyway.
In a leveled (and uber-posh) tone, the Tory darling asked the protesters who had gathered to sneer and scream at him at the Conservative Party Conference on Monday what exactly it was they wanted.
The human engagement – a skill apparently quite beyond Theresa 'Maybot' – seemed to take protesters, and the rest of the room, by surprise.
While Boris Johnson is criticized at home and abroad for his bullish approach to Brexit, and blatant bid for leadership, Rees-Mogg, the MP for North East Somerset, is winning serious grassroots support.
There are even petitions signed by thousands calling for him to be put in 10 Downing Street.
The hardcore Catholic has become known for his 'honest' views, as he refuses to accept gay marriage and abortion – although he claims he would never try to undo progressive laws on the matter.
His unusual approach – frankness – is gathering him admirers. But is he really the best man for the job?
Anti-abortion, anti-homosexuality
Rees-Mogg earned plaudits after an appearance on national television defending his anti-homosexual and anti-abortion beliefs.
The Tory told ITV viewers he has personal views based on his religious beliefs, but that he would not seek to have his views imposed on the nation by law.
"People are entitled to hold these views, but also the democratic majority is entitled to have the laws of the land as they are – which do not go with the Catholic Church, and will not go with the Catholic Church," he said.
"I am completely opposed to abortion. Life is sacrosanct and begins at the point of conception ... abortion is morally indefensible."
His handling of the subject was far superior to that of former Liberal Democrat leader Tim Farron, who simply could not answer the question.
Investment in drugs?
When a story hit the headlines about Rees-Mogg making money from abortion pills, his 'honest' reputation took a battering.
The company of the millionaire MP has shares in Indonesian firm Kalbe Farma, which produces termination drug misoprostol.
There was uproar, just one month after he refused to support abortion.
But all was not as it seemed.
The drug, sold as Invitec, was actually made to prevent ulcers, but it is used widely in Indonesia to trigger abortions.
Rees-Mogg said he would never personally invest in something which would aid termination.
"This company does not procure the abortion of babies," he said.
"It's not my money in these investments and I profit from the total amount of client money we hold, not the investments we make."
Austerity
He was educated at Eton and graduated from Oxford, but the Tory MP didn't shy away from a debate on the most vulnerable in society.
Rees-Mogg received a standing ovation on Monday away from the main Tory party conference, but angry campaigners delayed the start of the fringe event when they accused him of having "despicable views" on austerity.
"There are people who are dying because of the things that you are advocating," one of the protesters shouted.
"It's not just a simple disagreement."
And, in a most unusual twist, Rees-Mogg left the stage to start a conversation with his critics.
"I don't agree with that. I think the policies the government is implementing are making people's lives better," Rees-Mogg retorted.
"You're welcome to talk to me, but it's difficult if your intention is to shout and wave leaflets."
The man then accused him and his party of driving people to food banks.
"This is not academic debate. Everything you say is despicable," the man replied.
Despite his straight shooting views and calls for a clear vision on Brexit, Rees-Mogg has not won everyone over.
When an LBC radio caller recently said on air he finds Rees-Mogg "refreshingly honest," presenter Beverley Turner summed up the views of his critics.
"I keep hearing this about him, the idea that honesty trumps any sort of decency," she said.
"Just because it's honest ... just because he's telling you the truth, does it mean he's right?"
You can share this story on social media: