Could hardcore Tory toff Rees-Mogg really replace PM Theresa May?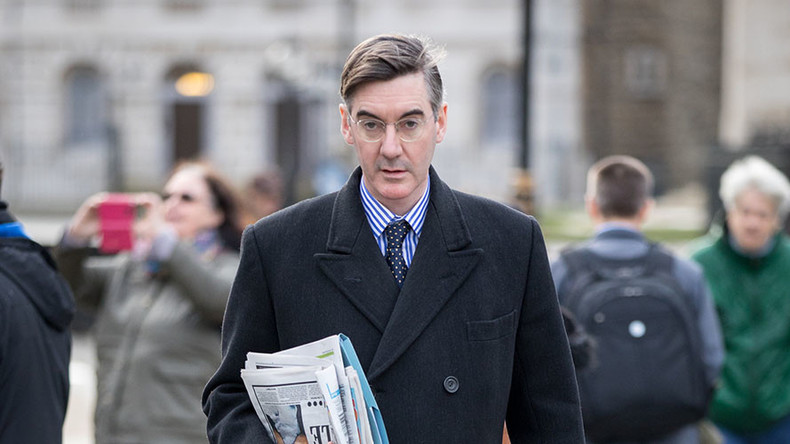 Could a 19th-century throwback father of six who has never changed a diaper and dresses his children in matching tailored double-breasted suits really become Britain's next leader?
Although confined to the backbenches, eccentric Conservative Party MP Jacob Rees-Mogg is causing a stir in the Tory ranks, with some whispers suggesting he may actually have a chance of pilfering the leadership – and 10 Downing Street to boot. But who is he?
An Old Etonian, the MP for North East Somerset has made the headlines dozens of times with his aristocratic, anachronistic demeanor and bizarre life anecdotes.
He has proclaimed himself a "man of the people," but many of his comments belie his privileged upbringing among the highest ranks of British society.
"It was a Mercedes. A Bentley would be most unsuitable for canvassing," is what the Tory replied when asked if he went out to fight for votes in a Bentley.
The "young fogey" also gained the spotlight when he said: "I don't have any casual clothing; I'll probably just wear this suit [on holiday]. When I'm overseas, I suspect I look like Mr Bean."
Many have compared the MP to Labour leader Jeremy Corbyn. Both faced ridicule for flouting the petty conformities of political life, before enjoying meteoric success among grassroots activists.
However, staunch Brexiteer Rees-Mogg is bound to be greeted with opposition from pro-EU Tory MPs, as well as those who have a more progressive outlook on social issues such as LGBT rights.
Writer and former Conservative MP Matthew Parris cautioned against Rees-Mogg's "poisonous" opinions.
"For the 21st-century Conservative Party, Jacob Rees-Mogg would be pure hemlock," he wrote in the Times.
"Rees-Mogg is quite simply an unfailing, unbending, unrelenting reactionary.
"His record on every moral, social, sexual or reproductive issue I've looked at is brute moral conservative. He has been a straight-down-the-line supporter of every welfare cut I've checked."
Rees-Mogg, a staunch Brexit supporter who has described himself as a member of the "copper-bottomed" establishment holding anti-establishment views, has until now rejected claims he plans to replace Prime Minister Theresa May. This is in spite of two Sunday newspapers quoting sources suggesting just such a bid is only a matter of time.
The Sunday Times said the Old Etonian is "sounding out" friends on whether to enter any leadership race should May be forced out, while the Mail on Sunday quoted Anglo-US academic Ted Malloch, who has close links to US President Donald Trump, as saying: "I was at a lunch with Jacob very recently and he indicated he would like to be considered for the leadership when the time comes.
"He did not mean now, but at some point in the future."
Rees-Mogg, however, dismissed the reports, saying they were merely the product of the "silly season" – the period in the year when the media gives excessive coverage to otherwise trivial issues.
"I wouldn't put any money on it.
"I think it's a reminder that it's August. People don't have a huge amount of pressing UK political news to write about, and therefore there's this jolly stuff about me," he told BBC Radio 4.
Rees-Mogg admitted having lunch with Malloch, but played down the suggestion he'd become PM.
"I said it is unrealistic for me to go from the backbenches to being leader.
"I am not a cabinet minister so it is hard to see how I could be a candidate. It is improbable bordering on impossible."
He pledged his loyalty to May.
"It's in the interests of the country that she remains in office with the full backing of the Conservative Party."
Rees-Mogg is unabashedly posh and will not refrain from flaunting his upper-class roots, but it is precisely his authenticity that has made him a contender.
A YouGov poll last week found that for many Britons he would be second choice to succeed May as PM after Brexit secretary David Davis.
Because of the similarities between his rise to prominence and the mass support behind Corbyn, a group of Tory activists has created a Facebook group called 'Moggmentum,' a play on the Labour leader's 'Momentum' campaign.
An online petition backing Rees-Mogg, founded by two Vote Leave campaigners, has garnered more than 20,000 signatures.