Crunch time for Theresa May as potential leadership battle looms after election calamity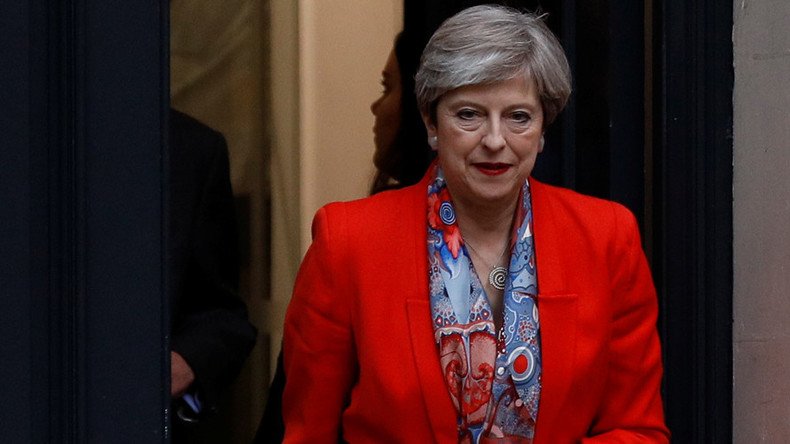 A tumultuous week in British politics has concluded with rumors of civil war among the Conservative party, contradictory statements from Downing St. and the DUP about their alliance, and Labour leader Jeremy Corbyn making bold predictions.
DUP leader Arlene Foster has been in contact with British Prime Minister Theresa May ahead of their Tuesday meeting in London to hash out the finer points of their proposed alliance.
The DUP are also scheduled to restart talks with Irish nationalists Sinn Fein to establish a power-sharing government in Northern Ireland by the June 29 deadline.
Many, including outgoing Irish Prime Minister Enda Kenny, fear negotiations between Theresa May and the DUP will greatly complicate matters in Northern Ireland.
On Sunday, Defense Secretary Michael Fallon was careful to state that the British Conservative party was not seeking a formal coalition with the DUP.
He said the two parties did not agree on everything but that the Tories were looking for DUP support on "big issues" such as the economy and security.
Meanwhile, speculation is rife about a possible schism within the Tory party which may lead to a leadership contest at a time when conservatives are still recovering from a bruising general election campaign.
A leadership contest can be triggered if 15 percent of the Conservatives' 318 lawmakers petition chairman Graham Brady for a vote of no confidence.
"We have to take this country through one of the most difficult processes it has been through for generations. The last thing we need is further political upheaval so I am very clearly of the view that Theresa May has to stay on, she has to take us into that process, take us through that process," Transport Minister Chris Grayling, a Brexit campaigner and ally of May, told ITV on Sunday.
"It would be absolutely the wrong thing to do now to react to a disappointing general election result, to create more political instability just at a time when we need stability for those negotiations," he added.
However, calls for unity may fall on deaf ears as the Tory party face the aftermath of losing its parliamentary majority and an alliance with the DUP.
Former Treasury chief George Osborne pulled no punches in his assessment of May's chances of survival as the conservative leader, though this may have been payback for his unceremonious dismissal from her cabinet last year.
"A handful of senior people have pledged their loyalty to Boris at cabinet level," an unnamed source told The Times.
"He has been inundated with messages of support. We are facing a populist and they have realised we need someone who can talk to the people. We need a Brexiteer. Boris is the only option with the liberal values, Brexit credentials and popular appeal."
Despite mounting speculation of a leadership contest between Boris Johnson and David Davis, the foreign minister has been quick to downplay such speculation as "tripe."
Johnson is reportedly reluctant to issue a formal challenge for the leadership role as he believes it could further destabilize the government and may even provide Labour leader Jeremy Corbyn with a real shot at No. 10 Downing St.
Steve Baker, leader of backbench Eurosceptics, was rather alarmist in his appraisal of Corbyn capitalizing on the Conservatives' disarray.
"There is a special circle of hell for Conservative politicians using current events to advance themselves," Baker said.
"We need a laser-like focus. If we make a mistake that leads to Jeremy Corbyn and John McDonnell getting their hands on power, this country will turn into Venezuela," he added.
In the midst of such chaos, Jeremy Corbyn appeared on the Andrew Marr Show – a weekly British politics show – confident and upbeat about his party's chances to make up even more ground on their conservative rivals.
"We are going to put down a substantial amendment to the Queen's speech which will be the main points of our manifesto so we will invite the House to consider all the issues we've put forward – jobs-first Brexit, policies for young people and on austerity," Corbyn said.
The Queen's speech is a statement read at the opening session of a new parliament which outlines the government's proposed legislative program.
"We will put forward a position in which we negotiate tariff-free access to the European market and legislate after that," he added.
When asked about the possibility of adopting a more reconciliatory relationship with his detractors in Parliament, Corbyn told Marr he would be very receptive to such opportunities.
"I'm the most generous person in the world… I'm not going to appoint the shadow cabinet here on the programme… [but] yes, of course we are going to reach out, ever since I became leader I had reached out," he added.
Brexit negotiations are due to begin on Monday June 19, and Theresa May has maintained that the talks will go ahead as planned despite the political turmoil.
You can share this story on social media: