'Pure speculation': British Home Sec dismisses Trump's Parsons Green tweets (VIDEO)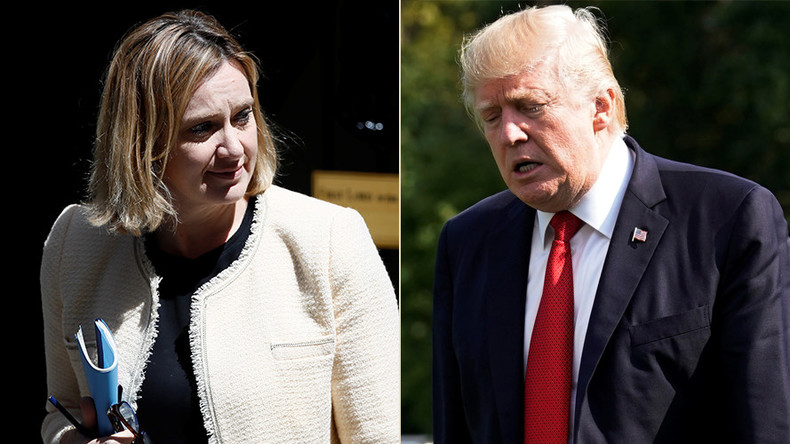 British Home Secretary Amber Rudd dismissed US President Donald Trump's tweets in the wake of Friday's terrorist attack in London as "pure speculation."
Twenty-nine people were injured when an improvised explosive device partially detonated on a London tube train in Parsons Green station on Friday morning.
Rudd made the comments on BBC's Andrew Marr Show on Sunday, after Trump claimed the person who carried out the attack was known to British police.
Another attack in London by a loser terrorist.These are sick and demented people who were in the sights of Scotland Yard. Must be proactive!

— Donald J. Trump (@realDonaldTrump) September 15, 2017
READ MORE: Hundreds of soldiers deployed across UK to free up police hunting for Parsons Green bomber
"It's never helpful to have speculation about an ongoing operation and I would include the President of the United States in that comment," said Rudd.
She went on to call the claim "pure speculation," and said the information is not a leak from Britain.
Prime Minister Theresa May also criticised Trump's comments about the attack as unhelpful.
"I never think it's helpful for anybody to speculate on what is an ongoing investigation," said May.
On Friday, a Metropolitan Police spokesperson described Trump's comment as "pure speculation."
READ MORE: 2nd suspect arrested over London Tube terrorist attack – Met Police
Two men, aged 18 and 21, have been arrested in connection to Friday's bombing. Britain remains on its highest level of alert on Sunday, meaning another attack is believed to be imminent. Police have asked the public to remain vigilant and alert them to any suspicious activity.