Hundreds of soldiers deployed across UK to free up police hunting for Parsons Green bomber
Soldiers have been deployed across the UK to free up the 1,000 policemen hunting for the perpetrators of a terrorist attack at Parsons Green underground station in London, which injured 29. The national threat level has been raised to maximum.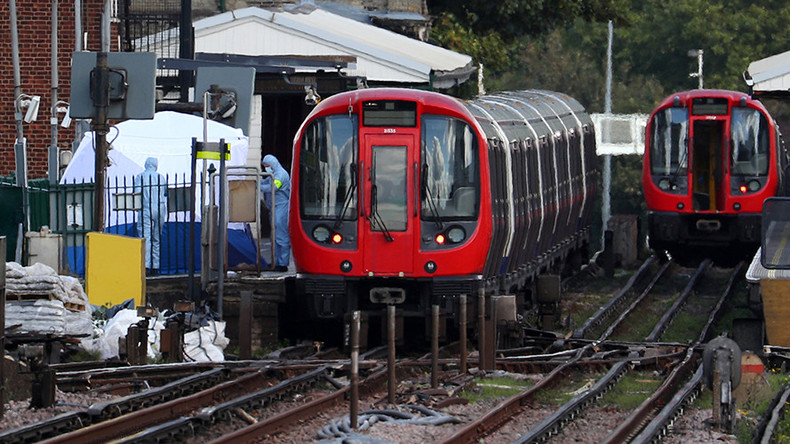 READ MORE: Year of terror: Timeline of ISIS attacks in Great Britain
UK Prime Minister Theresa May said military personnel would take over guard duty at certain "protected sites," freeing up police to be deployed on the transportation network and on streets across the country.
"For this period, military personnel will replace police officers on guard duties at certain protected sites," May said in a televised statement.
"The public will see more armed police on the transport network and on our streets providing extra protection. This is a proportionate and sensible step which will provide extra reassurance and protection while the investigation progresses," she added.
The use of military personnel to assist police is part of Operation Temperer, a British government measure designed to deploy troops at important security points to help police following terrorist attacks. The plan was activated for the first time on May 23 following the Manchester Arena attack in which a suicide bomber killed 22 people, many of them children, after an Ariana Grande concert.
Police say they are "chasing down suspects," with hundreds of law enforcement officials examining CCTV footage following the London tube attack.
No arrests have been made so far, but counter-terrorism police chief Mark Rowley said the investigation was making "really good progress."
"We're chasing down suspects," he told reporters, as cited by AFP.
"Somebody has planted this improvised explosive device on the Tube. We have to be open-minded at this stage about him and potential associates."
Metropolitan Police said earlier on Friday that an improvised explosive device [IED] went off in an underground carriage. They also said the IED did not fully detonate.
The attack could have been carried out by domestically radicalized people, former Pentagon official Michael Maloof believes. Speaking to RT, he said that there is anticipation of further attacks in Europe, given the wave of terrorism that has recently hit the region.
"It is not only returning jihadists, but radicalized people who never probably got to the battlefield," Maloof told RT.
People should go back to daily business, because "if they don't then, then the terrorists will win," he said. However, people should stay vigilant and report anything suspicious, as terrorists choose "soft targets" and places with low security to cause maximum damage.
"To see an object sitting in the tube and no one said anything is bizarre to me, given the heightened awareness they should already be exercising. The fact that it was not reported to authorities is troubling," Maloof said.
You can share this story on social media: