Helicopter police accused of filming couple having sex get off
Published time: 4 Aug, 2017 16:00
Edited time: 5 Aug, 2017 17:21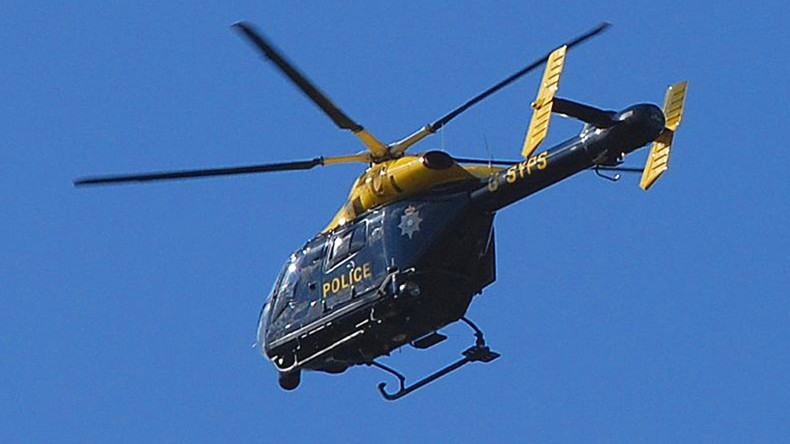 Police officers accused of spying on a couple having sex from a force helicopter have been cleared of misconduct, while one constable who filmed the whole thing has admitted fault.
South Yorkshire Police officers Matthew Lucas, 42, and Lee Walls, 47, and pilots Matthew Loosemore, 45, and Malcolm Reeves, 64, were acquitted after a three-week trial at Sheffield Crown Court.
PC Adrian Pogmore, 50, who shot the footage, and has been described as a "sex-obsessed air observer," admitted misconduct in a public office.
The case was opened after an eight-minute video emerged of a couple "brazenly" having sex in their garden.
At one point, the footage shows the woman waving at the aircraft, suggesting she and her partner knew Pogmore.
"The reason that this couple are so happy to be recorded engaging in sexual intercourse is that they are friends of Mr. Pogmore and shared his sexual interest in the swinging scene," prosecutor Richard Wright told the jury earlier in the trial.
"It was clearly, therefore, no coincidence that the helicopter orbits around their garden while they brazenly put on a show," he added.
Besides the video of the sexual encounter, the helicopter had also been used in 2008 to film a couple sitting naked by a caravan, the court heard.
There is also footage of a woman sunbathing naked in a garden with her daughters, taken back in 2007.
Pogmore was the only defendant present on all four occasions.
Prosecutor Kate Batty also accused the constable was of "swinging" with the couple he filmed having sex.
She said the officer had been "involved in swinging activity with the couple – watching and photographing them having sex and having sex himself with the woman."
The police tracked down the couple and found "they had been involved in the swinging, wife swapping, lifestyle for a number of years" and that Pogmore knew them and "shared their interests."
All the subjects of the videos, besides the couple filmed having sex, told the court they felt their privacy had been breached.
Pogmore, who has been sacked by the force, will be sentenced on Tuesday.